Mickey Carroll with his Wizard of Oz memorabilia. | Jennifer Silverberg
For five days last week, the family of the late Mickey Carroll suggested that their uncle's caretaker manipulated and financially exploited the Wizard of Oz actor prior to his death in 2009. Yet those arguments failed to sway a St. Louis County jury that needed just two hours to clear the former caretaker, Linda Dodge, of all 31 allegations brought up in the weeklong trial.
When Carroll passed away at the age of 89, both he and his disabled nephew, Frankie Parenti, were living with Dodge and her then husband, Gus, at their Crestwood home. Just how and why Caroll and Parenti ended up living with Dodge became a focus of the trial.
See also: Wizard of Oz Munchkin, Mickey Carroll, Dead at 89
In court testimony Dodge denied ever receiving a dime from Carroll. Instead, her attorneys painted a picture that she and the actor were like family, and her care for Carroll was done out of love and admiration. The four-foot-seven Carroll was just a teen when he was cast as one of the Munchkins in the famous 1939 film. The role would define his life, with Carroll (born Michael Finocchiaro) using his minor celebrity status to entertain fans and serve as an honorary guest at charity events and other gatherings. Dodge first met Carroll at a fundraiser and soon began chauffeuring him and Parenti to other engagements around St. Louis.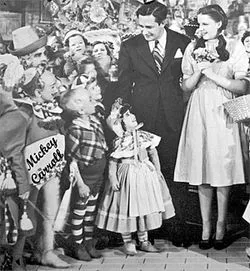 Carroll on the set of the Wizard of Oz.
Carroll's relatives accused Dodge of "socially isolating" Carroll and Parenti and convincing Carroll to change the telephone number he'd had since the early 1990s so that his family couldn't contact him. According to the family, it was Dodge who also convinced Carroll to take out a $100,000 line of credit to remodel his north-county home just months before his death.
"Linda Dodge wanted to take over every aspect of Mickey's life, especially the money," stated attorney Patrick J. McCarthy, who noted that two $27,000 checks for the home renovation were made out simply to "cash."
Moreover, the family suggested that Dodge was also negligent in her care for Carroll, with a social worker with the Missouri Department of Health and Senior Services finding Carroll and Parenti sharing the same bed at Dodge's home. A bizarre video shown during the trial suggested further neglect. In the video, Carroll sports a massive contusion on his forehead and seems confused as he rides around town in a taxi with two intoxicated strangers. The video was presumably shot at a time that Dodge had power of attorney over Carroll.
Watch the video on page two. Plus, find out how Carroll's financial adviser became concerned with his client's spending.
Dodge's counsel countered that it was Carroll's relatives -- not their client -- who were most interested in Carroll's finances. They wanted his money but didn't want the burden of caring for Carroll, who by 2007 was showing signs of what would later be diagnosed as Alzheimer's, and Parenti, who uses a wheelchair.
"How do you socially isolate someone from people who'd already abandoned him?" asked attorney Christopher Blaesing in closing arguments, adding that Dodge was there for the good and bad times sharing holidays with Carroll and also cleaning up his "urine, feces and vomit."
Earlier in the trial Carroll's former financial adviser with Merrill Lynch testified that he became alarmed by his client's increased withdrawals beginning around the time Carroll came under Dodge's care. In 2005 Carroll had as much as $377,000 in liquid assets. By the time of his death he had less than $10,000. In 2007 alone Carroll withdrew $141,000 from his accounts. In 2008 he took out another $109,000. When the adviser asked Carroll why he needed the money, the response he got back from Carroll was that he wanted to use it to "get out of the house."
In the last few years of his life Carroll became something of a regular on Rich Gould's KPLR (Channel 11) The Fan Show broadcast out of the Casino Queen. He also developed a reputation as a generous tipper at restaurants such as the former Ozzie's Restaurant and Sports Bar. Not only would Carroll take care of his own server, he'd tip the entire waitstaff. Carroll would also treat Dodge and her husband to his daily trips out to eat, something the attorney for Carroll's relatives brought up several times during trial.
"She wanted the life that Mickey provided -- to rub elbows with St. Louis celebrities like Rich Gould, Ozzie Smith and Albert Pujols," stated attorney Patrick J. McCarthy. "Linda Dodge's only entree into this lifestyle was Mickey Carroll. Mickey was also Linda's meal ticket."
Ultimately, though, it was difficult to prove to what, if any, control Dodge had over Carroll. She did not have power of attorney over him until January of 2009 (some five months before his death), leaving it up the jury to determine if Carroll's actions before then, such as draining his savings and changing his phone number, were his own decisions or done under the "undue influence" of Linda Dodge. The one person who was there to witness it all, Frankie Parenti, is mentally retarded and did not testify.
After the trial the family's attorney said that the real shame was what the jury's verdict meant to the 59-year-old Parenti, who now lives in a state-run facility in St. Charles.
"The worst part is that we won't be able to recover any finances for Frankie," said McCarthy. "A lot of that missing money was part of his trust that was supposed to support him."
Follow Chad Garrison on Twitter at @chadgarrison. Email the author at chad.garrison@riverfronttimes.com.