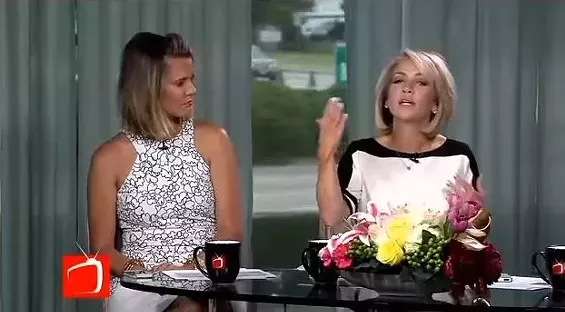 YouTube
Amy Kushnir is sick of all this homosexual kissing in her face.
Oh, Texas.
We've been curious about how the Lone Star State would react to the St. Louis Rams drafting Michael Sam since football is practically a religion down there. (How can St. Louis even relate to a state that cares more about high school football than professional baseball?)
Luckily, Dallas' janky version of The View, simply called The Broadcast, offers a fascinating glimpse into the debate over the kiss that shook the sports world.
See also: This Was the Stupidest Reaction to Michael Sam Getting Drafted on the Entire Internet
The second hour of The Broadcast's Tuesday morning show started with an innocent discussion about Sam kissing his boyfriend after being drafted into the NFL and ended with co-host Amy Kushnir storming off set in a homophobic haze.
Apparently Kushnir's problem isn't that Sam kissed his boyfriend; it's that she had to see it.
"Here's the thing, it's being pushed in faces...I don't want to see that. I don't want to see cake in your face, kissing each other," Kushnir says. Later, she adds, "He has every right to do what he wants. That's not my issue. I don't want it in my face."
The only kissing she wants in her face is when NFL players celebrate by kissing their moms, Kushnir says.
"ESPN wouldn't have aired any of it if he'd been kissing his wife. Can we agree this was an opportunity to make 'news'?" Kushnir asks, gesturing the largest air quotes we've ever seen. "This was an opportunity to make 'news,' period."
See also: Michael Sam Protesters Boycott St. Louis Rams, Visa While Supporters Start Online "Kiss-In" But Kushnir totally loses it when her cohost Courtney Kerr asks this relatively tame question: "You don't want people kissing? People kiss all the time. Why is that so awful?"
Cohost Suzie Humphreys, who also had a problem with Sam's kiss, tries to come to Kushnir's defense, complaining that people who complain about the kiss get "slammed."
"People don't have the right to express the way they feel if it offends somebody else," Humphreys says. (As our sister publication the Dallas Observer points out, that's exactly what Humphreys is doing.) "I live in America. I still feel I have the right of freedom of speech, and I don't have to be penalized for my own opinions, especially in my own house. I have that right in America."
But it's too little too late. Kushnir has clearly had enough. She gathers her things and leaves the set.
Follow Lindsay Toler on Twitter at @StLouisLindsay. E-mail the author at Lindsay.Toler@RiverfrontTimes.com.