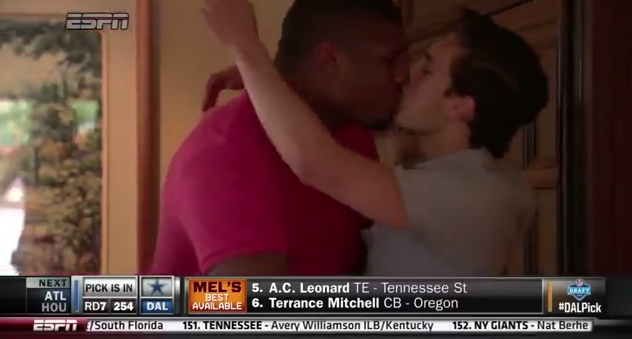 Michael Sam faces enough Twitter homophobia without your scientific inquiries, Marshall Henderson.
For most of America, Michael Sam getting drafted to play professional football for the St. Louis Rams was a watershed moment in sports history.
For former University of Mississippi basketball star Marshall Henderson, Sam's success was a chance to spew a bunch of nonsense on Twitter before (probably) retreating into sports obscurity forever.
See also: Sam the Ram? St. Louis Football Fans Would Welcome Michael Sam: Study
Henderson took to Twitter to protest the kiss Sam and boyfriend Vito Cammisano shared, and which ESPN aired without hesitation, after the Rams called to draft him Saturday. Within hours, hundreds of Sam supporters hit back at the former college athlete, causing Henderson's Twitter handle to start trending in St. Louis. The homophobic tweets took hold in the media, where reporters were hungrily awaiting any negative reactions to Sam. After two hours, Henderson started telling a different story. Turns out, Henderson knows a gay person, so he's allowed to tweet whatever he wants, especially if it's FOR SCIENCE, the athlete tried to explain in 140-character increments. Henderson tells
ESPN
that an unnamed gay friend asked him weeks ago to tweet something about Sam. Henderson declined.
But when Henderson watched his brothers react to the kiss between Sam and Cammisano, he decided to let loose on Twitter.
"I saw their reactions and thought, 'We've got something brewing here,'" Henderson said. "I knew I was sticking my neck out there doing it, but I wanted to see how people reacted."
It was all a great social experiment, Henderson tells ESPN.
See also: Michael Sam and the Rise of the Gay Athlete
"What better way to get research and feedback than to do it like I did," Henderson added. "Everything I did is a psychologist and educator's dream." The "social research" explanation seems dubious at best, especially since the Internet had no problem supplying
homophobic
,
offensive
and otherwise-negative tweets about Sam.
See also: A Miami Dolphins Player Is Already Suspended for Offensive Tweet About Michael Sam
When pressed about the gay friend Henderson supposedly sent the tweets for, Henderson admitted that his friend, who lives in Dallas and does not attend the University of Mississippi, had more personal reasons for keeping tabs on Sam: He's scared to come out himself.
"The point of this was to see the reaction and if he could feel more comfortable in his coming-out process," Henderson tells ESPN. Henderson says his friend "is scared. He hasn't come out yet. His family doesn't know."
Henderson's reasoning sounds a little my-gay-dog-ate-my-homework to us, but he's standing by it.
"My stance on gay athletes is irrelevant," Henderson told ESPN. "The whole reason we chose to do this is because my friend is gay. If it was wrong for me to do it, so be it."
Ross Bjork, the athletic director at Ole Miss, tried to distance the school from Henderson's tweets: Henderson hopes to play professional basketball now that his days at Mississippi are done, but that doesn't look too likely. Henderson was not invited to practice at this week's NBA draft combine, and
he's not expected to get picked during the draft
this summer.
Follow Lindsay Toler on Twitter at @StLouisLindsay. E-mail the author at Lindsay.Toler@RiverfrontTimes.com.