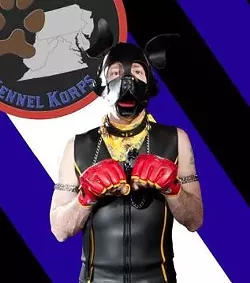 Rick Hutchings
The winner of last year's international Puppy Contest, Rick Hutchings, a.k.a. Pup Tripp.
Puppies are coming to the Bad Dog Bar & Grill this July. In fact, the club will welcome hundreds of puppies wearing their most adorable dog-head bondage masks and assless chaps, as contestants vie for the coveted title at the 2015 International Puppy Contest.
That's right, these puppies -- or pups -- are people with a particular fetish for acting out canine behavior. As is true with most kinks, there's broad variation within the puppy community: Some pups enjoy the kink with a partner, or "trainer," while others are "strays" who go solo.
"It's just a carefree life, there's no stress. That's what puppy play is about," says Christopher Roth, co-owner of the contest and a manager at Bad Dog. "For the majority of the pups I know, sex isn't involved in their play"
See also: Sex Positive St. Louis Bowls in the Buff at Saratoga Lanes (NSFW)
The contest, which was held in Tampa, Florida, the last two years, signed a contract with Bad Dog in 2013 that will keep IPC in St. Louis for the next five years. Past IPCs attracted several hundred puppy and leather enthusiasts, and Roth says he expects 400 to 500 of them to show up this year.
So what is a puppy?
"Pup play is not about bestiality; there's no bio dogs involved," says Rick Hutchings, a 47-year-old resident of Washington, D.C., who's making the trip to St. Louis in July. He says that's a question pup enthusiasts get a lot.
"Being a pup is about getting into a certain head space that's very canine in nature," he says. "For me, it's actually very spiritual."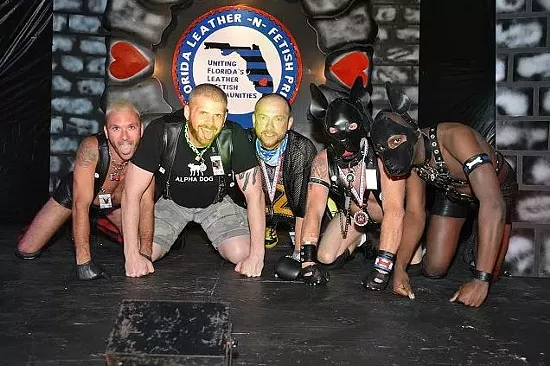 Christopher Roth
Who's a good boy?
The contest is also nothing like a traditional dog show. Hutchings -- who also goes by his pup name, Tripp -- says the competition gives pups a chance to show off their gear and playful personalities. Last year, the judges picked him as best-in-show.
"Going off from what the judges said afterward, it would be the pup energy that I demonstrated during the contest," he says, describing his win.
See also: Author Daniel Stern: In the Swinging Lifestyle, You'll Face Ball-Crushing Rejection Daily
The pup movement has been exploding for the past three years, says Roth. He attributes the growth to social media, as pups from all corners are finding leather-clad buddies who also enjoy barking and playing fetch on all fours.
"It is literally all over the world," says Roth, whose pup name is Papa Woof. He points to strong pup communities in Canada, Australia and South Africa.
"Puppy started out probably the '60s in the BDSM community. It was basically used as punishment. But then it was found out that quite a few people enjoy it," he says.
This particular contest is similar to the Mr. Midwest Leather contest, which Bad Dog also hosts. Like other major kink gatherings, the four-day IPC is more than just a competition: Visitors can attend classes and check out the vendors hawking leather. Playful pups will also be able to romp around in a non-sexual mosh pit, says Roth.
"The pet has everything taken care for them," he says, summing up what he sees as the appeal of the puppy lifestyle. (In addition to himself, Roth and his partner have adopted three actual rescue dogs.)
"Being an adult sucks," he adds. "You've got to worry about bills and various other stuff. But with puppy play you get a chance to escape for a bit, to leave behind all the sucky things that comes with being an adult and just relax and have fun and be silly."
Christopher Roth
Playtime for the human puppies.
The International Puppy Contest runs July 17 to 20 at Bad Dog Bar and Grill. You can find more info on the contest's website and Facebook page.
(PS: A heartfelt "woof-woof" to Realtime STL for tipping us off to this story.)
Follow Danny Wicentowski on Twitter at @D_Towski. E-mail the author at Danny.Wicentowski@RiverfrontTimes.com