Reset.me/Youtube
Psilocybin mushrooms in Mexico.
As a journalist for CNN, St. Louisan Amber Lyon had reported on some heavy issues, including war, government oppression, and sex trafficking. Being around that took its toll, and she showed symptoms of Post-Traumatic Stress Disorder. But instead of taking prescription medication for relief, Lyon turned to natural psychedelics, and the experience led her to create Reset.me, a news website devoted to psychedelic journalism.
The site, set to launch this month, aims to be a resource for people interested in learning more about psychedelics like ayahuasca and psilocybin mushrooms as treatments for a wide range of mental and physical ailments. But before last year, Lyon says she had never tried any of these substances before. A straight-edge woman from Chesterfield, Lyon only tried ayahuasca out of desperation to cure her PTSD.
"For me, I was out in the field for 10 years covering violence, fighting, slavery, drug abuse, the underbelly of society," Lyon tells Daily RFT. "I saw the worst of the worst in my career and I was kind of absorbing the pain of others. I started to have problems sleeping, problems with short-term memory, it got so bad that I couldn't write and I'm a writer, so that's when I knew something was wrong."
See also: The Vine of the Soul: Ayahuasca could revolutionize psychotherapy, but only if we're willing to do "the work"
But taking pharmaceutical drugs was out of the question because she had seen too much of the negative effects while reporting on those stories.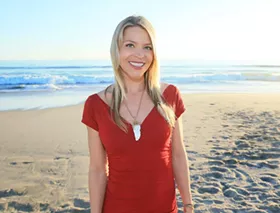 via Facebook
Amber Lyon.
"I had spent years covering prescription medication addiction to Xanax, Oxycontin, and really had developed a fear of whether these medicines were safe," she says. "And that's just personally -- I know these medicines have been very effective for people in emergency situations and people rely on these medicines to survive. But for me, I had just seen so many negative side effects of them that I just didn't want to go there."
Lyon recalls a story she did for CNN about babies being born addicted to prescription medication and how these babies had to be injected with morphine "literally out of the womb."
"At that point, I lost my faith in these medicines," she says.
So she tried ayahuasca after hearing about the psychedelic plant's healing effects while a guest on comedian Joe Rogan's podcast, the Joe Rogan Experience.
Lyon traveled to Peru and participated in an ayahuasca retreat. She describes the experience as incredibly healing and since then has taken ayahuasca seven times.
"It's like hitting the reset button on your brain and life and like going back to your true self." she says. "And it's like dissolving your personality and dissolving all of the trauma that you've had throughout your life and just starting over."
After the Peru trip, Lyon traveled to other countries to learn more about how psychedelics are used as medicines in other cultures. One of the first Reset.me pieces was a short documentary produced near Oaxaca, Mexico, where Lyon went to interview a "mushroom guide." The magic mushrooms have been used by indigenous people there for centuries and the town of San José del Pacífico has become something of a tourist attraction for travelers looking to partake in mind-alteration.
Click on the next page for more psychedelic info...
Through original work, aggregation, and links to scientific studies done on psychedelics, Lyon hopes Reset.me will be a resource for information on the medicinal aspects of substances that are beginning to get a little more respect these days. As medical marijuana has become accepted by more Americans as a healthier alternative to pharmaceuticals to treat some ailments, so has a more open-minded approach to other substances more often associated with tripping than healing.
Mushrooms and ayahuasca have both been studied to treat PTSD and although Lyon says her website will focus on natural substances, MDMA, better known as ecstasy, has been shown to treat PTSD and depression. And with the high rate of prescription drug abuse and heroin in the St. Louis area, Lyon says people here could especially benefit from a more natural approach.
"I see [Reset.me] as not only a form of activism but as a form of responsible journalism and I feel a duty to get it out there, especially here in St. Louis because so many people in St. Louis are suffering from prescription pill and opioid addiction," she says, adding that ibogaine, a substance made from a African shrub, has been used to treat opiate addiction, but is illegal under U.S. law.
See also: Ibogaine is a hallucinogen that has helped addicts kick their drug habits. Is it the trip that does the trick?
Lyon adds that in addition to treating ailments with natural substances, ayahuasca, psilocybin mushrooms, and other psychedelics could help people stop being so mean to each other, too.
" I think part of the problem of why we're having so many wars and fighting is because people carry around trauma that they haven't processed and that manifests itself into anger and in lying, cheating, and stealing," she says. "So if everyone is able to have access to these medicines to purge that trauma, then we won't have nearly as many problems in the world."
Follow Ray Downs on Twitter:
E-mail him at Ray.Downs@RiverfrontTimes.com.