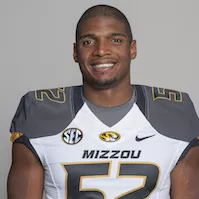 Michael Sam in his Mizzou uniform.
Miami Dolphins safety Don Jones' reaction to the St. Louis Rams drafting Michael Sam can be summed up in one word:
Horrible.
That's the adjective Jones tweeted out shortly after Sam celebrated joining the Rams by kissing his boyfriend, Vito Cammisano. Sam is the first out gay man on an NFL roster.
See also: Rams Draft Michael Sam, St. Louis Suddenly Cares About Its Football Team Again
Jones first tweeted a simple "omg" when the news broke that Sam made the NFL draft. A Twitter follower then asked him if his terse exclamation related to Sam. Jones responded, "Horrible."
Jones quickly took down the tweet and made his account private, but the
Miami Herald
grabbed a screenshot before the tweet disappeared into the ether of the Internet.
Jones was suspended and fined after his offensive tweet.
"We were disappointed to read Don's tweets during the NFL Draft," Dolphins coach Joe Philbin said in a statement about the suspension. "They were inappropriate and unacceptable, and we regret the negative impact these comments had on such an important weekend for the NFL."
See also: Sam the Ram? St. Louis Football Fans Would Welcome Michael Sam: Study
After all the speculation that a gay man could never fit into America's hyper-macho football culture, Jones' one-word tweet seemed a relatively minor blip of homophobia compared to the otherwise overwhelmingly positive statements from players, coaches and fans. Jones was quick to apologize to Sam:
"I want to apologize to Michael Sam for the inappropriate comments that I made last night on social media," Jones said. "I take full responsibility for them and I regret that these tweets took away from his draft moment."
Follow Lindsay Toler on Twitter at @StLouisLindsay. E-mail the author at Lindsay.Toler@RiverfrontTimes.com.