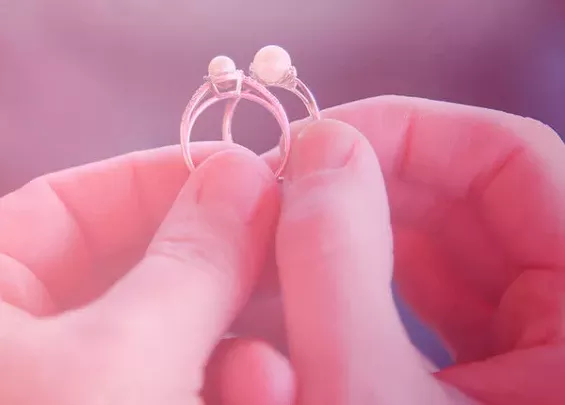 Gay marriage may be banned in Missouri's constitution, but gay divorce isn't.
A lesbian couple in Columbia appears to be the first to get a divorce in the state, which officially banned gay marriage in 2004.
Dena and Samantha Latimer married in Massachusetts, the first state to allow same-sex marriage, in 2009, and then moved to Missouri, according to the Columbia Daily Tribune. Because the couple doesn't live in Massachusetts, state law barred them from getting a divorce there, sending the Latimers to Boone County Circuit Judge Leslie Schneider.
See also: Missouri Recognizes Out-Of-State Marriage For First Cousins, Why Not Gays?
Dena Latimer's attorney Tana Benner tells the Tribune her client was afraid a Missouri judge wouldn't grant a divorce in a state that banned same-sex marriage. Legal experts can't find another local example of same-sex divorce.
"I think they just wanted to get some relief," Benner says to the Tribune. "They were in a position where they didn't think it would be possible."
Schneider did grant the divorce, citing the legal doctrine of "comity," which means that states can defer to another state's laws to answer a particular legal question. Because same-sex marriage is legal in Massachusetts, where the Latimers were married, Schneider followed Massachusetts laws and allowed the divorce, writing in her ruling that "the court maintains an authority to enter judgment with respect to a marriage that is not legally recognized."
See also: ACLU And Eight Gay Couples Sue Missouri Over Same-Sex Marriage Ban
It's not the first time a Missouri judge has ruled on a marriage that's technically illegal in the state. In 1993 the Western District Missouri Court of Appeals judged a marriage where the two parties never got a marriage license.
Schneider also said in her ruling that denying divorce to same-sex couples violates their due process obligations under the 14th Amendment to the Constitution.
Lambda Legal, the oldest and largest legal-rights organization in the U.S. for LGBT people, tells the Tribune that the Latimers' divorce is the first it has ever seen in Missouri.
"Same-sex couples are like everybody else in that they have relationships that sometimes don't work out," says Christopher Clark, an attorney for Lambda Legal, to the Tribune.
There has been a same-sex annulment in Buchanan County, which was filed about four years after the 2004 ban on same-sex marriage. An annulment retroactively cancels a marriage, like it never legally happened, whereas divorce ends a marriage.
Follow Lindsay Toler on Twitter at @StLouisLindsay. E-mail the author at Lindsay.Toler@RiverfrontTimes.com.