Jessica Lussenhop
Here is what a kid's face looks like moments after realizing his dad is home from prison (Mike Anderson at left).
Yesterday morning, Cornealious Michael Anderson III woke up in a prison cell at the Southeast Correctional Center in Charleston, Missouri. He said corrections officers threw him in "the hole," or solitary confinement -- he wasn't sure why. He didn't get breakfast.
Fast-forward several hours, and Anderson was at home with his wife and young children in Webster Groves, eating a meal of fried chicken and steak with all the trimmings. He struggled to remember how to use his smartphone.
"It feels like a dream," he said, over and over.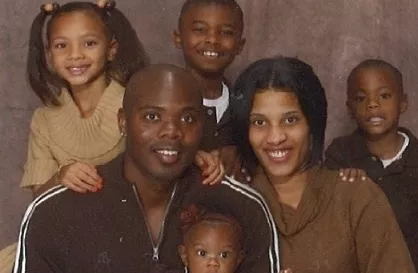 Here's our original breaking story on Anderson -- click through to page 2 for a full chronology.
Anderson was convicted of armed robbery in 2000, but he never served his thirteen-year sentence: A clerical error made by someone in the Missouri criminal-justice system prevented a warrant from ever being issued for Anderson. In the ensuing years he turned his life around, marrying his wife, LaQonna, having children and starting a contracting business. During that time he didn't commit any other crimes.
In July 2013, when the Missouri Department of Corrections was preparing to release Anderson, someone -- it has never been clear who -- realized the state never had him. A team of U.S. Marshals arrested Anderson at his home and upended the family's lives.
Yesterday was the first time a judge weighed in on the case. The Honorable Terry Lynn Brown received briefs from Anderson's attorney, Patrick Michael Megaro, arguing that incarcerating Anderson now is cruel and unusual punishment, as well a counter-argument from Attorney General Chris Koster, who wrote that Anderson used the clerical error to his advantage and was in part responsible for his tardy incarceration. Brown also received a suit filed by Megaro against Missouri Department of Corrections director George Lombardi, asking that the time Anderson was out improperly be counted as time served. This latter motion was what Brown took up in his court yesterday.
Anderson's wife, LaQonna, sat in the front row cradling their three-year-old daughter in her arms, surrounded by his parents, siblings and grandparents.
Megaro presented arguments first, then pleaded Anderson be returned home.
"My client has been his own parole officer for the past fourteen years. He's been able to accomplish on his own what the criminal-justice system often cannot accomplish on its own," Megaro said.
The attorney for the Department of Corrections, surprisingly, barely objected and asked the judge to consider Anderson's good behavior over the past fourteen years.
"Mr. Anderson," began Judge Brown. "In my 24 years on the bench I thought I'd seen everything. And then your case came along, and here we are. So I was wrong."
It didn't take long for everyone in the courtroom to tell that Brown was on Anderson's side.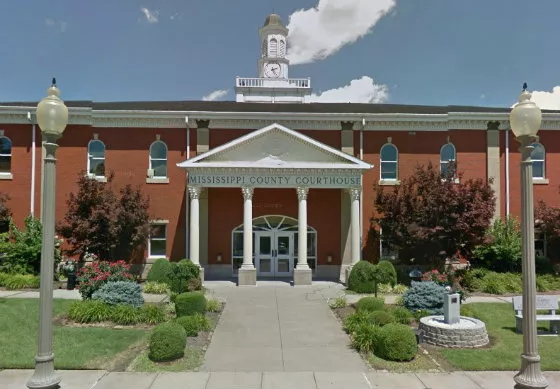 The courthouse where Anderson received his freedom.
"You're a good man, and you're a changed man, and that makes a huge difference in my decision today.... You're not the man you were fourteen years ago," said Brown. "I believe that continuing to [incarcerate you] serves no purpose" -- here there were gasps and tears from the Anderson family -- "I think it would be a waste of taxpayer dollars. I think it would unnecessarily punish an obviously rehabilitated man."
Brown then declared Anderson would receive credit for time served starting on the day he was released on bond to the day he was arrested in 2013, thereby satisfying his full sentence. Brown's alternative was to credit Anderson from the day in 2002 when his final appeal failed -- a credit of only 11.5 years that would have left Anderson's fate in the hands of a parole board.
"I don't like uncertainty," the judge told the courtroom. "As such your sentence will be fully served and satisfied today.... Go home to your family, Mr. Anderson, and continue to be a good father, a good husband, a good taxpayer.... Good luck to you."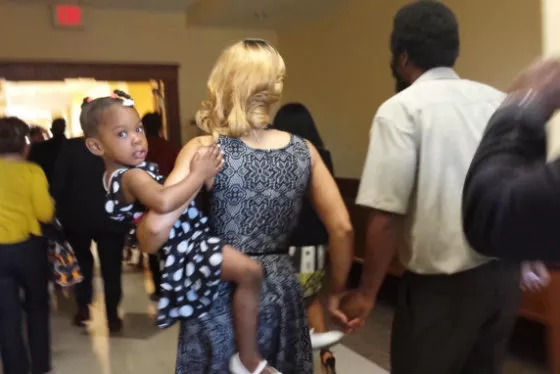 RFT
The Andersons leave the courtroom.
The Anderson family broke into clapping and tears, and Mike disappeared in the back room of the courtroom only to emerge minutes later with a huge cardboard box of his belongings. He took LaQonna's hand, and the whole family walked out of the courthouse and into a waiting SUV, where they were mobbed by reporters and camera crews, before speeding off toward St. Louis.
Hours later, Anderson hid in his kitchen in Webster Groves waiting for his two young sons to come around the corner. They'd been pulled from school in the middle of the day, but they didn't know why -- although the mob of reporters on their front lawn might have been a clue.
"Daddy!" yelled seven-year-old Jorden after a moment of incredulity.
Twelve-year-old JerQon just smiled silently and hugged Mike. Nine months after their father was whisked away from this very same kitchen in handcuffs, the boys, their youngest sister, Nevaeh, and their mom have him back.
"It feels good to have him home," said LaQonna, "the kids calling his name instead of mine. It just -- it feels really good."
Initially, Jorden seemed more preoccupied with blowing up balloons, JerQon was shy, and Nevaeh would only comment on how she didn't like how long her dad's hair was, but as the commotion died down, a sense of normalcy seemed to descend upon the house.
"I was treated with love from those guys," said Anderson of his cellmates and even the corrections officers he met behind bars. "As soon as they saw me on TV they flocked to me."
He said that even on the ride to the courthouse that morning, the two officers who drove him expressed anger that -- while they were making $29,000 a year -- Anderson's incarceration would have cost an estimated $20,000 a year.
"'There is no such thing as rehabilitation,'" Anderson quoted the officers saying, as he stood over a plate of fried chicken.
On Monday evening, the whole family boarded a plane -- along with a freshly shorn Mike Anderson -- for New York City, to do a series of network television appearances starting with the Today Show. It'll be their first time in the Big Apple.
"We can get out and tell people how grateful we are for their support," said LaQonna before their departure.
Anderson says he's looking forward to getting back to his business, taking the kids out on their go-karts and fishing.
"The only thing I can say is, it was bigger than me," said Mike. "Prayer still works. That's the only thing I get from this, really."
-- Original breaking story -- Cornealious "Mike" Anderson: An Epilogue to the RFT Story Featured On This American Life -- Petition Asks MO Attorney General Chris Koster to Release Cornealious "Mike" Anderson -- Mike Anderson Officially Asks Gov. Jay Nixon for Clemency, Rebuts AG Chris Koster -- Mike Anderson Sues MO Department of Corrections, Asks for Immediate Release
Follow Jessica Lussenhop on Twitter at @Lussenpop. E-mail the author at Jessica.Lussenhop@RiverfrontTimes.com.