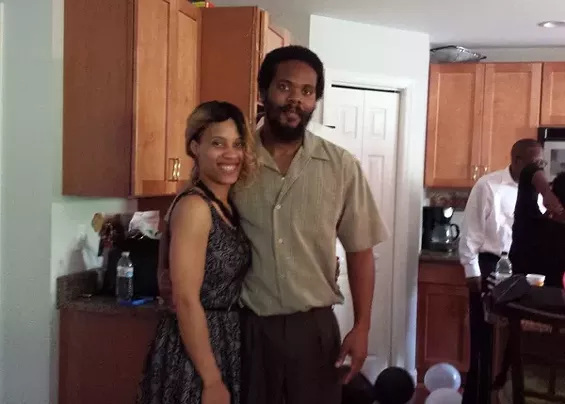 Jessica Lussenhop
Mike Anderson enjoys his first hours of new-found freedom.
Cornealious "Mike" Anderson is officially a free man.
Anderson was convicted in 2000 of armed robbery and sentenced to thirteen years in prison. Law enforcement should have re-arrested him and taken him to prison to serve his sentence, but for reasons that are still unclear, that didn't happen. Anderson remained free.
In the thirteen years Anderson was supposed to be in jail, he got married, became a father of four, a homeowner and a master carpenter living in a home he built himself in Webster Groves. But that didn't stop police from arresting him for his past crime once they realized their mistake in July.
Now, surrounded by his family in a small Missouri courtroom, Anderson learned he will officially be freed, according to a judge's order. From our reporter on the scene:
Update: 10:50 a.m.: Minutes after a judge ordered that Mike Anderson be released from prison, Anderson sped off from the Charleston, Missouri, court, driving towards freedom in a red SUV with his belongings in a big cardboard box and his wife and three-year-old Nevaeh in the car.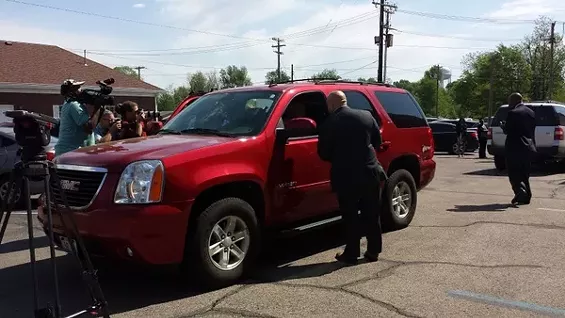 Jessica Lussenhop
Mike Anderson and his family drive away from jail (and reporters).
He'll serve no more jail time. He won't be on probation. According to the judge's declaratory judgement following a lawsuit against the Missouri Department of Corrections, Anderson is simply a free man.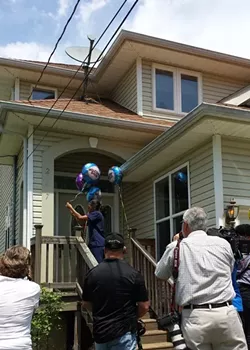 Jessica Lussenhop
Family and friends celebrate Anderson's release.
What does he want first? Chicken and bacon, Anderson tells the Riverfront Times. Family filled the first two rows of the courtroom as the judge called Anderson "a good man" and released him.
Update 11:30 a.m.: Attorney General Chris Koster made this statement on Anderson's release:
"From the outset, I have proposed a solution that balances the seriousness of Mr. Anderson's crime with the mistake made by the criminal justice system and Mr. Anderson's lack of a criminal record over the past 13 years. Today's outcome appears to appropriately balance the facts as we understand them."
Stay tuned for more updates from Anderson's Webster Groves home. In the meantime, get caught up with the whole saga here:
-- Original feature story -- Cornealious "Mike" Anderson: An Epilogue to the RFT Story Featured On This American Life -- Petition Asks MO Attorney General Chris Koster to Release Cornealious "Mike" Anderson -- Mike Anderson Officially Asks Gov. Jay Nixon for Clemency, Rebuts AG Chris Koster