John Zimmer, cofounder at Lyft.
Sure, Lyft isn't following the rules for ride-for-hire businesses in St. Louis.
And why should they, asks the company's cofounder, John Zimmer. The rules were designed for taxis and car services, whereas he created Lyft to be something else entirely -- a peer-to-peer marketplace where anyone with a car can find, verify, pick up, drop off and get paid by passengers all on the company's Facebook-integrated app.
"It is new, what we're doing is new," Zimmer tells Daily RFT. So why should Lyft abide by rules written in the days when you hailed a cab off the street with a strong whistle? "Those were written decades ago, when this wasn't possible."
See also: As Lyft Fights Back in St. Louis, Rival App Uber Gets Support from Mayor Slay
Tech Crunch on Flickr, cropped
Lyft co-founders John Zimmer (L) and Logan Green fist bump.
St. Louis officials don't seem to agree with Zimmer's "the-rules-don't-apply-to-me" take on his growing business. A judge has ordered Lyft to stop operating in the city and county, and Mayor Francis Slay is throwing his weight behind Uber, a rival app-based ride business that wants to move into the St. Louis market.
What's the problem? It all comes down to keeping drivers and passengers safe. An Uber driver is charged with running over and killing a six-year-old girl on New Year's Eve while waiting for a fare.
"This is about safety," Bob Olandi, the deputy director of the Metropolitan Taxicab Commission, told Daily RFT on the night Lyft launched and police cited a Lyft driver for operating without a proper license. "We have nothing against Lyft, but there's a process here. There's a state law that says there's a process here."
Charles Billings, a lawyer for the taxicab commission, put it even simpler: "This is flying an airplane without the FAA."
The taxicab commission recently changed some of its rules to create room for app-based, car-dispatching businesses. Carmel, a New York-based company, was the first ride-hailing app to go live in St. Louis, albeit without any fanfare.
But Zimmer says Lyft's business model is more collaborative and flexible than the new license allows for. Lyft drivers are typically students, artists and entrepreneurs selling an underused resource (the empty seats in their cars) to tech-savvy passengers looking for a cheaper alternative to taxis via an online marketplace.
And to Zimmer, that means St. Louis' code of laws governing taxis and ride-hailing apps just doesn't apply to Lyft.
"That's not our model, that's not how this operates," Zimmer says. "We're not trying to be difficult."
So if he's not trying to be difficult, what exactly is Zimmer trying to be? We had to ask.
Click to the next page for the five big takeaways from Daily RFT's conversation with John Zimmer, the cofounder of Lyft:
Lindsay Toler
A Lyft driver is cited by police in front of St. Louis City Hall.
So if he's not trying to be difficult, what exactly is Zimmer trying to be? Here are the five main takeaways from Daily RFT's conversation with John Zimmer, the cofounder of Lyft:
No. 1. Lyft is not backing down, even after a judge's order.
A judge has approved a temporary restraining order against Lyft in St. Louis until a hearing on May 6, but Zimmer says he has no plans to tell his drivers to stop picking up passengers.
"While we want to be respectful, we also need to stand up for our community and for our business," Zimmer says.
Zimmer says no one at Lyft knew about the hearing for the injunction until the judge had already granted it. Lyft's legal team met with the judge a few days later, but there was no change in the temporary restraining order.
"We never had notice and ability to defend ourselves," Zimmer says.
Zimmer says Lyft will defend its mission from the judge's restraining order.
"We care a lot about this mission," Zimmer says. "We care a lot about making transportation more community-oriented, more efficient. We have a responsibility to push that forward."
See also: Taxi Driver: Lyft is as Bad for St. Louis Workers as Walmart, Fast Food
No. 2. Zimmer is disappointed that the Metropolitan Taxicab Commission lied about Lyft in court.
As the taxi commission made its case to the judge, Billings, a lawyer for the commission, suggested one of the three Lyft drivers cited for operating illegally was also arrested on a felony warrant -- a claim he repeated to the Riverfront Times and St. Louis Business Journal.
As it turns out, the claim was false. Police told KMOX that no Lyft drivers had any outstanding warrants.
"It's disappointing," says Zimmer. "When people say things that aren't true, that's exactly why we want to make sure the message about what we do do is out there. There are people who don't want these solutions to be around and available to people in St. Louis."
Billings told KMOX he was given inaccurate information about an arrest by a source he would not identify.
See also: Judge Says Lyft Must Stop in St. Louis; Lyft Calls Restraining Order "Bullying and Intimidation"
"We are truly saddened that the court issued a temporary restraining order against Lyft after Mr. Billings made his false and reckless statements," says Erin Simpson, Lyft's director of communications. "We are currently exploring all legal options and we will, as always, continue to stand up for our wonderful driver community and the interests of the people of St. Louis who have so enthusiastically embraced Lyft."
No. 3. Zimmer thinks Lyft leads the industry in safety standards.
Zimmer says he's proud of the safety standards his company has developed to protect drivers, passengers and anyone traveling around them.
"We're protecting consumers more than they are being protected by current industries," Zimmer says. "It's important that our whole industry follows the safety standards we already do."
Lyft calls its $1 million excess liability insurance plan a "first-of-its-kind" solution. The policy covers driver liability for bodily injury and/or property damage of passengers and/or third parties from the time a driver accepts a ride request until the ride is ended in the app.
See also: Lyft Never Told New Drivers It's Technically Illegal, Not Licensed in St. Louis
Lyft's $1 million liability coverage and three other policies are supposed to cover drivers while they're working since their personal insurance policies don't apply to commercial uses.
Lyft also claims its background checks are more extensive -- looking for more types of crimes further back in time -- than the taxicab commission's standards. "It's important that our whole industry follows the same safety standards we already do," Zimmer says. "The fact is, we do more, and we want to make sure people know that. We achieve a higher degree of safety."
What does Zimmer think of Uber moving into town with the mayor's support? Find out on the next page.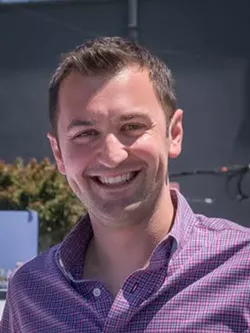 Lyft
John Zimmer, co-founder at Lyft.
No. 4. Zimmer's team at Lyft will meet with Mayor Francis Slay early this week.
After weeks of saying Lyft would be willing to meet with city officials, it looks like the meeting is finally happening now that the taxi commission is taking legal action. "I want our team to work together with the city," Zimmer says. "We work hard to be respectful and collaborative."
But it's hard to be respectful and collaborative, Zimmer says, when officials make false statements against the company, like perpetuating the untrue statement that a Lyft driver was arrested on an outstanding felony warrant. That's when Zimmer says he and Lyft will fight for the rights of their drivers and passengers.
"It's complicated, it's a constant balance," Zimmer says.
Slay is already lobbying the taxi commission on behalf of Uber, Lyft's most famous app-based ride business rival, because Uber agrees to be regulated by the taxi commission.
"[Uber] has led me to believe that if those changes were made, it would abide by the other 80 pages of regulations and would seek certification from the commission," Slay posts on Facebook. "Time will tell if Lyft ultimately opts to follow its larger competitor's useful example."
Which brings us to the final thing we learned from Zimmer this week...
No. 5. Zimmer isn't threatened by Uber's expansion into St. Louis.
This month Lyft launched in 24 new cities, including Kansas City, which is having some of the same problems with citations as St. Louis did. That means Lyft passengers can now catch rides in 60 cities nationwide.
Uber's American presence is smaller, just 52 cities, according to its website.
When asked if he was threatened by Uber's move into St. Louis, Zimmer pointed to the number of markets in which Lyft now operates and says he wasn't worried.
"We've seen that before, and our business has continued to grow," he says.
Follow Lindsay Toler on Twitter at @StLouisLindsay. E-mail the author at Lindsay.Toler@RiverfrontTimes.com.