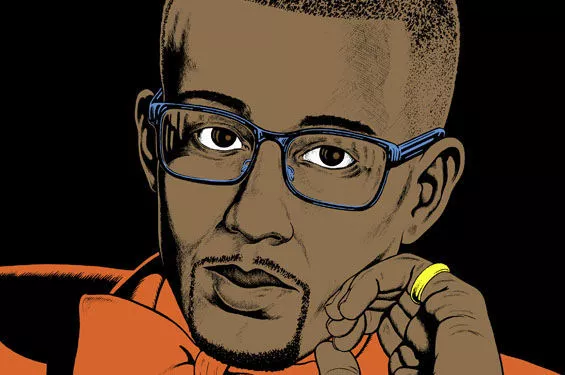 Fredrick Douglas Scott, the man who walked into East St. Louis with nothing but bow-tie and B.S., but managed to get the development rights to the beleaguered city's waterfront, was sentenced to five years in prison for fraud earlier this month. He could have received up to two decades.
In addition to the five years, Scott, 29, will have three years of supervised release and have to pay back the $1.3 million he stole from his victims. The sentencing judge also recommend Scott undergoes mental health treatment while incarcerated.
The Riverfront Times published the story of Scott's strange tale in March, shortly after he plead guilty to wire fraud conspiracy to steal more than $1 million from duped investors. His scam involved an elaborate show of wealth (with "show" being the key word here) and targeting fellow African Americans in an example of "affinity fraud" similar to the infamous Bernie Madoff's scheme, albeit on a much smaller scale.
Scott hired a public relations firm to build up his image and he even somehow got himself a write-up in Ebony magazine, which claimed he was the US's youngest African American hedge fund investor and handle assets valued more than $1 billion. None of this was true, but it was a good enough story to get him meetings with the top political brass in East St. Louis and eventually get the waterfront rights.
See also: Heard About the Developer, 25, with Exclusive Rights to East St. Louis Riverfront?
After he failed to secure investments in East St. Louis, Scott went to New York City and used the same show off tactics he used here, but instead of city governments, he targeted business owners looking to secure million-dollar loans. The con went something like this: He promised a businessman he could obtain a $5 million loan for a flat fee of only $250,000. Here's Scott playing the role of a financial guru on TV:
Some fell for it, gave Scott the money, and never saw a dime of any loan. Others smelled a rat and called the feds. Eventually, Scott was arrested in September, 2013. He declined his right to a trial and admitted his guilt in federal court in Brooklyn, NY.
According to the NY Post, Judge Roslynn Masukopf did not mince words with Scott during the sentencing.
"You are continuing your con in front of me," she deadpanned. "You were -- and you are -- an unmitigated conman." Mauskopf said she wasn't moved by Scott's silver-tongued soliloquy that blamed everything from his impoverished childhood to the inherent greed of all humanity for his actions. "You used your charisma, lies and fast talk to cheat your victims," she said.
The judge might not have been moved. But many others were.
- River of Schemes: Fredrick Scott claimed he could transform the East St. Louis waterfront. Now he's facing 20 years for fraud.
Follow Ray Downs on Twitter:
E-mail him at Ray.Downs@RiverfrontTimes.com.