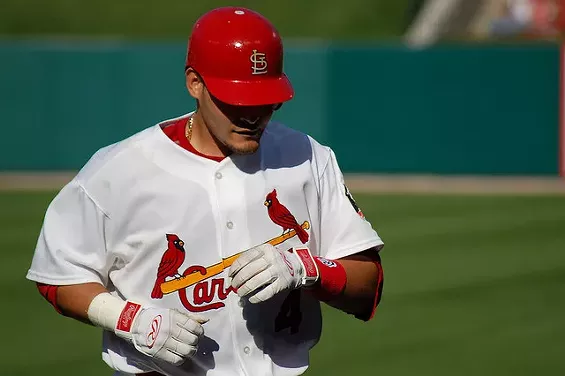 The New York Times calls Yadier Molina a master behind the plate.
Whether he's catching fastballs, stopping runs or hitting homers, Yadier Molina is exciting to watch when he's at home plate.
The New York Times noticed, so it sent a reporter to ask the St. Louis Cardinals catcher how he does it. In the Sunday story "From Behind the Plate, a Dutiful Master Orchestrates the Cardinals," teammates and opponents alike marvel at the semi-psychic wonder that is, as St. Louis affectionately knows him, "Yadi."
See also: Bachelor Contestant Sarah Newlon Defends Yadier Molina Cancer Sign During World Series
There are too many bits of Yadi goodness for Daily RFT to extrapolate them all, so we chose our six favorite quotes from or about Molina:
No. 6: "My family taught me about that, about being the leader, being there for your teammates and caring about everything during the game, after the game, before the game. Just care about your teammates, care about the game, try to be good each day. That's the way I do my part." -Molina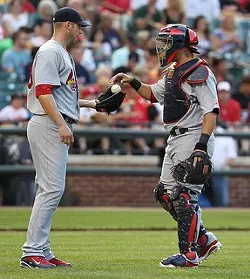 Yadier Molina gives the ball to Chris Carpenter.
Molina says he fine-tuned his catching skills with his family, which makes sense because his two brothers are also major-league catchers.
No. 5: "I pretty much worship the ground he walks on." -Shelby Miller, St. Louis Cardinals pitcher
Molina's pitch selection is so perfect that Miller says he shakes off his signs fewer than five times a year. His skills, the New York Times says, come from a mixture of preparation -- Molina sometimes comes to games six hours early -- and rapid improvisation.
See also: Cardinals Pitcher Shelby Miller's Wedding Featured in New York Times Society Page
No. 4: "I'm human. There's going to be a case when that happens. But right now, I'm faster to get it. You play more games, you get more maturity, and you get smarter." -Molina
When Molina was a kid, batters used to fool him by pretending they wouldn't swing at a pitch only to hit it at the last minute. Now, Molina uses this trick to fool MLB pitchers, Pat Neshek, new to the Cardinals, tells the New York Times. Molina's batting average, as of Monday, is .338.
Three more amazing quotes on page two.
No. 3: "The things he does midgame, you'd have to watch him with a pretty educated eye as far as realizing when he does something that has meaning. The other side won't even know." -Mike Matheny, St. Louis Cardinals manager
If anyone knows how hard Molina's job is, it's Matheny. Matheny used to have his job. As a catcher for the Cardinals, Matheny played in 611 games, racking up 4,938.1 innings and committing only fourteen errors.
See also: Yadier Molina Adds to His Trophy Case
No. 2: "It doesn't bother me," he said. "Seriously. Whenever I'm on the field, I'm another guy." -Molina
The New York Mets hate Molina after he hit the homer that clenched the NLCS in 2006. It didn't help that Molina and the Cardinals went on to win the World Series. But no amount of booing from Mets fans can shake Molina.
No. 1. "Little things." -Adam Wainwright, St. Louis Cardinals pitcher
In a 134-word quote, Wainwright describes in detail how he follows Molina's soft and steady hands from the mound. But then, Wainwright can aptly sum up Molina's skills in those two little words. It's the little things that make Molina so successful, Wainwright says.
Follow Lindsay Toler on Twitter at @StLouisLindsay. E-mail the author at Lindsay.Toler@RiverfrontTimes.com.