Danny Wicentowski
Bowling shoes? Check...
David Wraith raises his bare arms and waits for the dozen other naked people around him to quiet down. It's Friday night, and they've gathered in the second-floor bowling alley of Saratoga Lanes in Maplewood.
"Just a few announcements!" Wraith shouts, waving his hands for attention. He and fellow St. Louis sex blogger Kendra Holliday planned this outing for Sex Positive St. Louis. It's the organization's first ever "clothing optional" bowling party.
"Be care careful about bending over, people," Wraith begins. "Do what you need for the purposes of bowling, but if you drop something, please, for all our sakes, consider bending at the knees."
See also: Photos: People of The World Naked Bike Ride
Though bowling may seem a stodgy backdrop to a wild nudist retreat, there is precedent: The long-closed Carriage Bowl, which used to occupy the corner of Kingshighway and Arsenal Street, reportedly offered patrons the option to bowl in the buff, according to the Post-Dispatch.
"We're just carrying on tradition," says Wraith.
Danny Wicentowski
The chronically under-appreciated "bottomless" look was in full swing Friday night.
We asked Wraith the basics: What is nudism, anyway? Is it a sexual orientation? A lifestyle fetish like BDSM? Maybe an exhibitionist kink?
"It's a gray area," admits Wraith. "I'm not sure how I would define it in those terms. Personally, I am an exhibitionist and I am a voyeur, and I feel comfortable around naked people."
Despite the debauched atmosphere, Daily RFT could detect no orgies or associated hanky-panky at the bowling party -- other than some standard PDA between couples. At the party's height around 7 p.m., 30 or so people crowd the lanes, mingling and noshing on catered appetizers.
It's a diverse crowd of the naked and nearly naked: young, old, white, black, some chiseled like Greek statues, others pear-shaped and paunchy. More than a few generously portioned bellies broke free of their waistband prisons that night as well. Over the course of three hours, the bowlers play several spirited games. Thankfully, everyone brings their own towel to sit on.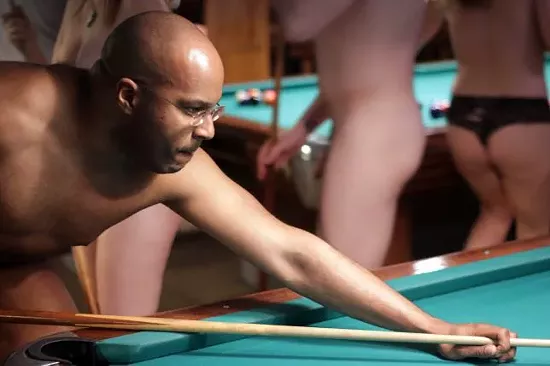 Danny Wicentowski
Wraith later used his towel to protect the dignity of this pool table when he needed to mount it for a tricky shot.
Continue for more NSFW photos, and learn why one nudist says "You can't go back" after a taste the naked life.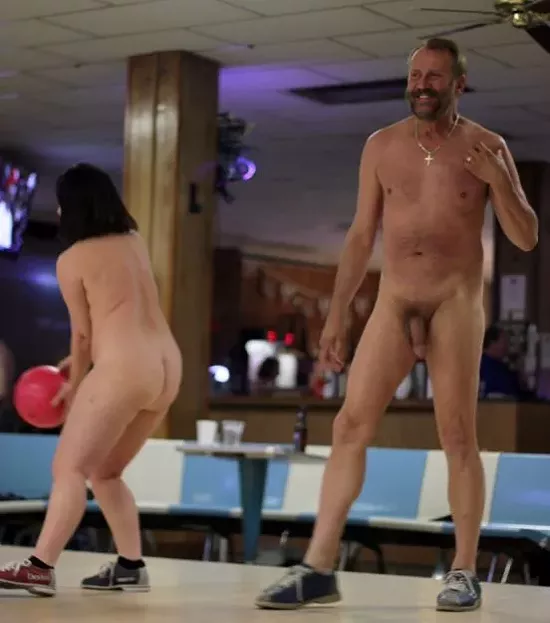 Danny Wicentowski
He barely missed the strike.
See also: St. Louisans Get Naked for "Bare As You Dare" Event, Celebrate "ALL Bodies" (PHOTOS)
A generally kinky kind of guy, Wraith says he doesn't get hung up on definitions. However, he does believe in one important baseline:
"There are those that say that nudism is absolutely not about sex, and I think that's kind of bullshit, honestly. I don't think it's all about sex, but I don't think you can say that anything is absolutely, 100 percent not about sex," he concludes.
In another corner of the bowling alley, we meet a naked man who introduces himself as "Pasha." He wears a wedding ring, looks to be in his early thirties, and speaks in a lilting, difficult-to-place European accent.
"Is nudism inherently sexual?" he repeats. "It is very complicated. It is yes and no."
He's been a nudist for almost four years.
"I remember it to the day," he trills, describing the transformative moment when he first disrobed at a nude beach in Riga, Latvia. "August the 31st, 2010. It was the day I turned."
Born in Soviet-era Belarus, Pasha immigrated to the U.S. in 1990. Today, he's a happily married American nudist. He recounts how he and his wife regularly make the hour-and-a-half drive from St. Louis to a 40-acre nudist resort.
"Once you turn," he continues, "once you first take your clothes off in front of other nudists you kind of realize that it was such an artificial barrier. And afterwards, you can't go back. When you go to a regular beach or to a regular pool, you'll be like, 'Why are people wearing all this?'"
We'll have to take your word on that, Pasha. For now.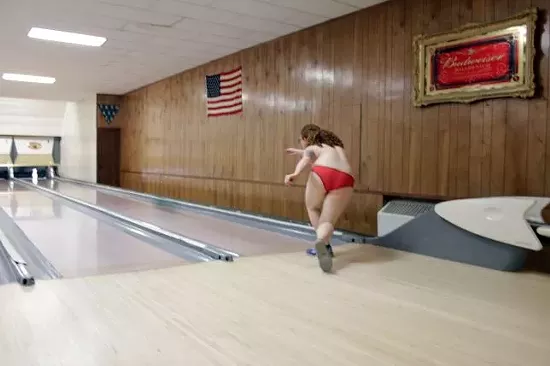 Follow Danny Wicentowski on Twitter at @D_Towski. E-mail the author at Danny.Wicentowski@RiverfrontTimes.com