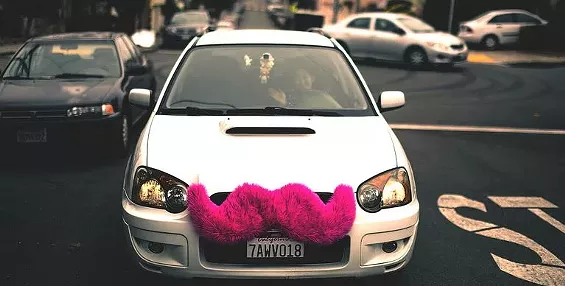 Lyft says it's staying on in St. Louis, even after a circuit court judge granted a temporary restraining order to stop the company from operating here.
"Lyft is now live and providing safe rides and economic opportunity in 34 cities across the United States," Lyft spokeswoman Paige Thelen said after receiving a copy of the injunction. St. Louis and Salt Lake City were the 33rd and 34th cities to join Lyft's list. "St. Louis deserves the same modern transportation choices of other large leading U.S. cities."
See also: Taxi Driver: Lyft is as Bad for St. Louis Workers as Walmart, Fast Food
Lyft decried the restraining order as an intimidation tactic from the St. Louis Metropolitan Taxicab Commission (MTC), which is citing Lyft drivers for operating in St. Louis without proper licenses. Thelen says Lyft didn't know about the restraining order until Judge David Dowd granted it.
"We never received notice or an opportunity to appear in court to defend ourselves, drivers and passengers prior to the injunction being issued," Thelen says. "This violates our due process rights under the U.S. Constitution. We will defend our rights and the rights of drivers and passengers in court. We will not let bullying and intimidation by the taxi commission keep the people of St Louis from exploring this new model of community-powered, safe rides and economic opportunity."
UPDATE, 11:15 a.m.: St. Louis Metropolitan Police issued summons to two Lyft drivers for driving an unregistered car and for driving without a license on Saturday.
The drivers are Melanie Darmsteadter of St. Louis and Nicholas Gordon of O'Fallon. End of update.
Update, 4/24: Police say that despite the taxi commission's claims, no Lyft drivers have been arrested. End of update.
Lindsay Toler
The first Lyft driver is cited in St. Louis.
The taxi commission sent Lyft a cease-and-desist letter before Friday's launch.
"They ignored that," says Charles Billings, a lawyer for the taxicab commission, "and decided to launch vehicles for hire that the MTC believes are in violation of Missouri law."
See also: Lyft Driver Cited By St. Louis Police Says He Wasn't Doing Anything Wrong
The judge will hear arguments from Lyft and the taxi commission on May 6. If Lyft violates the judge's order to stop business in St. Louis, the judge can hold the company in contempt of court.
The fight over Lyft in St. Louis all comes down to safety. Lyft says its standards are thoroughly strict, but the taxi commission says one of Lyft's drivers has already been arrested on a felony warrant.
Read more about how Lyft's safety standards stack up on page two.
lizasperling on flickr
Lyft's famous pink 'stache.
For both Lyft and the taxi commission, the issue all comes down to safety. Billings says letting Lyft run in St. Louis is like "flying an airplane without the FAA," but Thelen points to the company's strict background checks and $1 million insurance policy as proof that Lyft doesn't need oversight to be safe.
See also: Lyft Never Told New Drivers It's Technically Illegal, Not Licensed in St. Louis
How do Lyft's safety guidelines fit with St. Louis' rules for taxis? Lyft explains in this helpful chart:
Thelen says Lyft's safety screening is "far more strict than what taxis provide," including background checks for violent crimes, sex offenses, property damage and theft. Passengers can also see photos of their driver and car before they arrive and verify their driver's identity on Facebook.
"There is accountability within the app," such as a five-star rating system and a 24/7 hotline, Thelen tells Daily RFT.
Billings rejects Lyft's safety claims, saying one of the three Lyft drivers cited over the weekend was arrested on a felony warrant.
"They are doing nothing to protect the traveling public," Billings says. "They are not checking backgrounds. They are not insured."
Lyft calls its $1 million insurance policy a first-of-its-kind solution, but Billings and Bob Oldani, the deputy director at the taxi commission, say drivers are still subject to personal insurance plans, which don't cover commercial driving.
Lyft has said all along it is open to working with officials, including providing evidence of the company's insurance policy, but so far, Lyft hasn't made its case to the commission.
"The taxicab commission has heard nothing from Lyft," Billings says. "If they had that insurance, don't you think they would have brought it to us?"
Lyft has two choices, Billings says: Get a license or follow the judge's ruling and shut down.
"Our office is on Delmar," he says as an invitation to Lyft. "We know where we are."
Follow Lindsay Toler on Twitter at @StLouisLindsay. E-mail the author at Lindsay.Toler@RiverfrontTimes.com.