Umar Lee has worked as a St. Louis taxi driver since 2005.
St. Louis' newest ride-sharing app Lyft may attract a distinctly hipster and "progressive" clientele, but its business model is as damaging to middle-class workers as big-box stores and fast food restaurants, says one St. Louis taxi driver.
Umar Lee, who has been a cabbie for nearly ten years, penned a fervent response to Lyft's St. Louis launch on the Huffington Post, arguing that the company steals middle-class jobs that pay living wages from taxi drivers -- many of whom are minorities or immigrants -- and turns them into low-wage, part-time gigs for semi-affluent white hipster kids.
See also: Lyft Never Told New Drivers It's Technically Illegal, Not Licensed in St. Louis
"Lyft and Uber are part of the Walmartization of America, part-time workers earning fast-food wages," says Lee, who works more than ten hours a day, six or seven days a week. "These drivers are in a very real sense akin to scab workers, and like the companies they drive for, represent regression and not progression."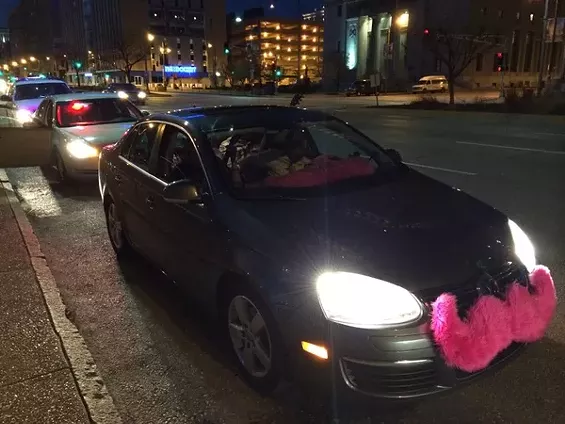 Lindsay Toler
The first Lyft driver is cited by police on Friday night in front of city hall.
Lyft touts itself as subverting the transportation scenes in major cities, offering a new option for people who want to minimize their carbon footprint, live without a car or just get a safe ride home after a night on the town. But Lee calls Lyft's set-up "a brutal economic model," something out of a pre-labor-movement society.
"There's nothing remotely progressive about their vision for society," Lee tells Daily RFT. "Outside of all the irony and the sarcasm, at the end of the day it's very 19th century." Lyft is technically illegal in St. Louis, and St. Louis police cited a driver less than two hours into Lyft's weekend launch.
See also: Lyft Driver Cited By St. Louis Police Says He Wasn't Doing Anything Wrong
But the real problem isn't Lyft's business model, Lee says. It's how little St. Louisans understand one another.
"There seem to be a lot of misconceptions about who actually catches cabs," Lee writes. "In a city with the 'Delmar Divide,' where black and white don't mix as much as we should and the poor and the rich mix even less, people tend to not know a lot about each other's lives."
Continue reading to see why taxi driver Umar Lee thinks Lyft is elitist and will end up hurting St. Louis' working poor.
Driving drunk urbanites home from the bars may mean big money for St. Louis cabbies, Lee says, but that's only a small part of what it means to drive a taxi in this city.
"Those are really the nights that put the gravy on the job, really take it to the next level, from subsistence to earning a decent income," Lee tells Daily RFT.
See also: Lyft Plans Weekend Launch in St. Louis, But Will the City Shut It Down?
On a typical weekday, drivers are picking up elderly, homeless and working-poor passengers, people who need to get to work, the hospital or the grocery store but can't afford a car of their own or access public transportation.
Some of Lee's customers in north St. Louis, where he lives, hire him to drive them just a few blocks down the street because they're afraid they'll be mugged or robbed if they walk, he says.
Lee fears the high-paying nightlife crowd will flock to Lyft, which could shrink taxis' major funding source and result in cuts in service to more vulnerable weekday riders.
"Lyft and Uber are not designed to serve the poor and working-class populations in the St. Louis area," Lee writes. "It's an elitist concept for an elite crowd. But rest assured, its casualties will be in deep south city, north city and north county."
St. Louis isn't alone in trying to figure out how Lyft fits in its transportation scene.
The fight over Lyft is heating up in Minneapolis, Minnesota, and Madison, Wisconsin, where city officials are trying to regulate ride-sharing apps according to the same standards set for taxis. Madison mayor Paul Soglin says Lyft is trying to "muscle their way into the Madison market" instead of respecting city laws in the Milwaukee Journal-Sentinel.
California rejected Lyft's donation-based business model, forcing Lyft and similar companies to institute mandatory pricing.
Companies such as Lyft are banned in Miami, New Orleans, Houston, Austin and Portland. To fight back, Lyft recently hired two boutique Washington lobbying firms to pave the way for Lyft nationwide, according to the Huffington Post.
Follow Lindsay Toler on Twitter at @StLouisLindsay. E-mail the author at Lindsay.Toler@RiverfrontTimes.com.