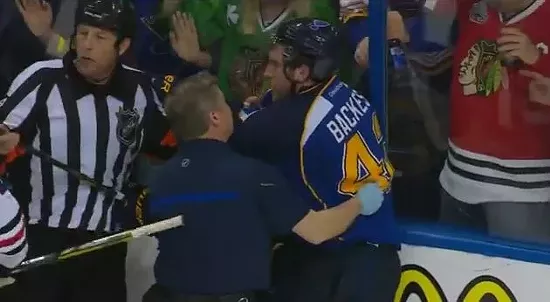 Youtube
If Backes was more than half-conscious, he would have kicked every Blackhawk's ass.
Blues captain David Backes took a vicious hit from Blackhawks defenseman Brent Seabrook during Saturday's game. And as Backes struggled to stand on his own two feet, obviously dazed and confused from being pummeled into the boards -- a Blackhawks player taunted him, saying, "Wakey wakey, Backes! Wakey wakey!"
NHL writer Dave Lozo noticed the incident, which was caught by CBC's microphones that hover over the ice, and tweeted the video, adding, "Gross." You can hear the Blackhawks' taunt at approximately 40 seconds:
Seabrook, who was suspended for three games, is not believed to have made the taunt. Yahoo hockey writer Greg Wyshynski says Duncan Keith is the culprit, but he isn't sure. But it probably was, at least if you go by what Canadian legend/fabulous suit-wearing Don Cherry has to say about Keith's recent performance against the Blues.
Update: Keith tells the Chicago Tribune that he doesn't remember if he taunted Backes.
"There are lots of things that get said out on the ice in the course of a hockey game -- especially in the playoffs," Keith said after Monday's morning skate in preparation for Game 3 at the United Center. "I'm an emotional guy, it's an emotional game. I don't remember everything that gets said out there.
Hockey commentators and fans online have predictably expressed outrage over the insensitive smack-talk, calling it immature and classless. But the Chesterfield Falcons midget hockey team probably had the best reaction:
Backes is expected to miss game 3 tonight. The team has not said if he would miss more games.
Meanwhile, the Blues are winning, and Blues fans are happy and having fun -- so much so they're showing off boobs.
Follow Ray Downs on Twitter:
E-mail him at Ray.Downs@RiverfrontTimes.com.