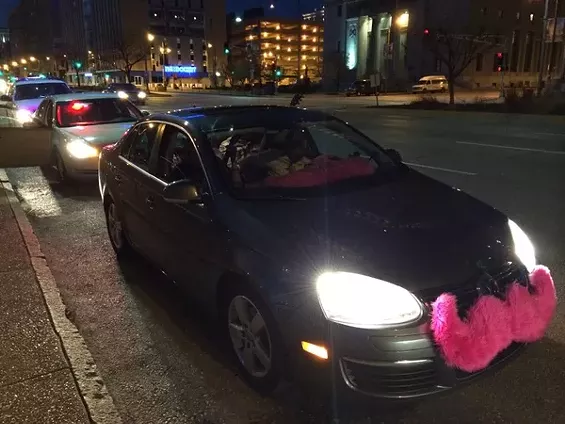 Lindsay Toler
A Lyft driver is pulled over in front of City Hall Friday night.
Lyft was only live in St. Louis for about an hour and a half before police pulled over and cited a driver for operating an illegal taxi service.
The driver, a Nashville native who said he'd come up to St. Louis for Lyft's debut, was issued two summonses and a temporary restraining order Friday night after St. Louis Metropolitan Police pulled him over in front of City Hall. When told that Lyft is unlicensed in St. Louis, the driver said he and his four passengers "weren't doing anything wrong."
"They'll catch up," he said.
See also: Lyft Never Told New Drivers It's Technically Illegal, Not Licensed in St. Louis
Lyft spokeswoman Paige Thelen tells Daily RFT the company promises to cover all court and attorney's fees for drivers busted by law enforcement because trying to license the company is like "trying to fit a square peg in a round hole."
Police Chief Sam Dotson sent two officers to the St. Louis Metropolitan Taxicab Commission (MTC) for the weekend to prepare for Lyft's start. Two police cars, each with one officer and one MTC agent, patrolled in neighborhoods that draw Lyft's hip, plugged-in clientele: downtown, the Grove, Washington Avenue, the Delmar Loop, Soulard, Ballpark Village, Cherokee Street, Laclede's Landing and "wherever the younger crowd goes," as MTC Deputy Director Bob Oldani puts it.
But the pink mustaches were nowhere to be found after 8:30 p.m. No other drivers received summonses Friday.
You have to wonder what the cops would do if Lyft lost the mustache.
"There's not much you can do with two police cars and two agents," Olandi tells Daily RFT. "This is only the beginning. We'll adjust to them; they'll adjust to us. We just have to take it night by night."
See also: Lyft Plans Weekend Launch in St. Louis, But Will the City Shut It Down?
On a typical shift, MTC agents turn their trained eyes to typical illegal cabbies, mostly drivers registered in Illinois trying to pick up fares in Missouri or drivers working even after their MTC privileges were revoked. They also check on legal taxis, making sure drivers have the proper license and uniform, a white shirt and black pants.
Lyft's launch changed that. Now, police and MTC agents look for the emblematic pink mustache that marks Lyft cars, pulling over any with one or more passengers.
"This is about safety," Olandi says. "We have nothing against Lyft, but there's a process here. There's a state law that says there's a process here."
MTC agents and city police will patrol for Lyft drivers Saturday night, but after this weekend, it'll just be the MTC looking to cite drivers in cars with fuzzy pink mustaches.
See why MTC Deputy Director Bob Oldani says he's concerned about clashes between cabbies and Lyft drivers on the next page.
Olandi says he's concerned about violence breaking out between Lyft drivers and full-time taxi drivers who think Lyft is encroaching on their turf. The MTC already heard a report of cabbies threatening a car with a pink mustache in front of a downtown hotel, but investigators couldn't find any evidence.
Full-time taxi drivers are a diverse group, but many, Olandi says, are recent immigrants who turn to driving full-time when their educational or professional qualifications don't translate to the U.S. workplace.
"These guys are trying to support families," he says.
But Lyft drivers are a totally different crowd, famous for driving part-time for beer money or to help pay off student loans. When Olandi briefed police on Friday's assignment, he described Lyft drivers as college-educated people who work during the day and drive mom and dad's car on the side.
"We're trying to get this person to do business the way everybody else does business," Olandi told police before Friday night's shift.
When Lyft drivers get pulled over, MTC agents give them a list of St. Louis taxi companies they can work for legally.
Their passengers, however, get kicked to the curb. After a Lyft driver is cited, his or her passengers have to find a new ride, Olandi says.
The MTC's reaction to Lyft drew prompt Twitter criticism from Ward 24 Alderman Scott Ogilive:
Follow Lindsay Toler on Twitter at @StLouisLindsay. E-mail the author at Lindsay.Toler@RiverfrontTimes.com.