Jon Gitchoff
The Khaleesi and Khal Drogo found each other. Who's next?
Earlier this week, we shared how an ingenious local man used a Wizard World photo opportunity with Firefly and Castle star Nathan Fillion to propose to his girlfriend. It's an adorable story, but unfortunately, not everybody was as lucky in love at the comic book/pop culture convention.
See also: - Nathan Fillion Unwittingly Helps Local Nerds Get Engaged at Wizard World - The Three Best Things About Wizard World 2014
A look at the Missed Connections section of Craigslist reveals that a number of people were hit by "love at first sight" at Wizard World, held April 4 through 6 at America's Center. And we're down with kismet! But because many of the personal ads still are online nearly two weeks after the event, we can only assume that the love connections are still yet to be made.
So help us out, readers! Check out the enchanting Missed Connections ads below, and help us find the folks who might be somebody's love of a lifetime.
Note: all spelling, capitalization, wording and punctuation are exactly as they appear in the original ads.
CURIOUS ABOUT A CAT
Sexy Catwoman - m4w (Wizard Con)

Saw you a couple times during the con. Wasn't really in a good situation to approach you, but I really liked your costume and I think that you are beyond gorgeous. To filter out all of the other cat ladies, you were wearing glasses and had gold nails on your gloves. We got into a little staring contest during one of the panels. If you're interested and remember me, email me back.
--
Contact the ad author
.
During our many, many hours of walking the convention floor, we saw the Catwoman with the gold nails! Her costume was rad, but we weren't able to snap a photo of her. We did, however, get a shot of this other lovely Catwoman. She doesn't have special claws, but we wonder if she'd give the ad author cat-scratch fever anyway. Mreow!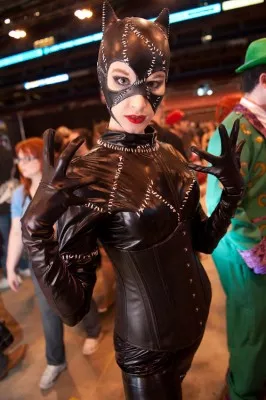 Jon Gitchoff
There's a Catwoman out there who's purrrrfect for the ad author above.
TURNED INTO A PUMPKIN
comic con after party - m4w (wizard world)

i seriously doubt this works but we meet at the after party during comic con on Saturday and danced for a bit then kissed good night. U told me u was 31 and I said i didn't believe u. U left and said u had to meet your friend. u were gone before I could get any info from u. if u see this email me
--
Contact the ad author
.
That after-party was a pretty big deal, with hundreds of cosplayers shaking their thangs to trance while rapper Tech N9ne gave out limited-edition prints with collaborator/artist Rob Prior. But we didn't notice Cinderella dashing away from the ball. Will her prince ever see her again?
On page two, we look for a worldly lady, an electric Pokémon and el doctor número diez.
HOME OF HODORI THE OLYMPIC MASCOT
South Korea is Best Korea - m4w - 23 (Wizard World)

Chatting with you about South Korea was a nice break from the forced conversation that came with selling books to a lot of dudes.
--
Contact the ad author
.
Wizard World brings all kinds of people together, and it's neat to see that a couple struck up a conversation about geography and world news instead of just debating which version of Batman is best (but that's cool, too!). We're a little surprised about the dude's admission of "forced conversation," though -- doesn't chatting with enthusiastic fans help you sell crap?
See also: - Story: Wizard World Inc.: A roving comic con looks to corner the geek market - Slideshow: Wizard World St. Louis Comic Con 2014
PIKACHU, I CHOOSE YOU!
pikachu - m4w (wizard con)

Met you at comic con and didn't get a chance to talk with you much after a picture together
--
Contact the ad author.
Yay! A picture should help us reunite Ash with his Pikachu, right? Besides, we've seen this particular electric Pokémon before, both at Wizard World and at other conventions. Here she is at Archon last fall:
Jon Gitchoff
Gotta catch 'em all!
C'mon, Pikachu! Ash says, "I choose you!"
JUST AVOID THE DALEKS
The Doctor - w4m - 27 (Wizard World)

I never do this, but I just want to make sure I wasn't imagining things. You were dressed as David Tennant and we posed for a picture and you said I was pretty. I looked for you at the after party, but you were nowhere to be found. I'm just curious.
--
Contact the ad author
.
Oooooh, David Tennant! We can't really fault the OP for her choice in Doctors. Unfortunately, we won't be much help in her quest to be a Companion, as we only nabbed photos of this Doctor: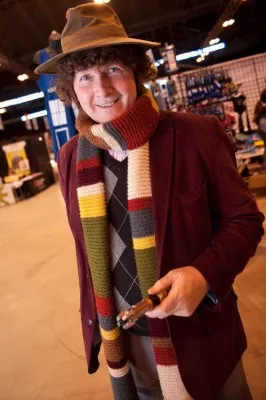 Jon Gitchoff
Glory days, they'll pass you by.
and this Doctor:
Jon Gitchoff
He's probably too young for her.
We hope her Doctor left the after-party with Cinderella from page one!
Follow Allison Babka on Twitter at @ambabka. E-mail the author at allison.babka@gmail.com.