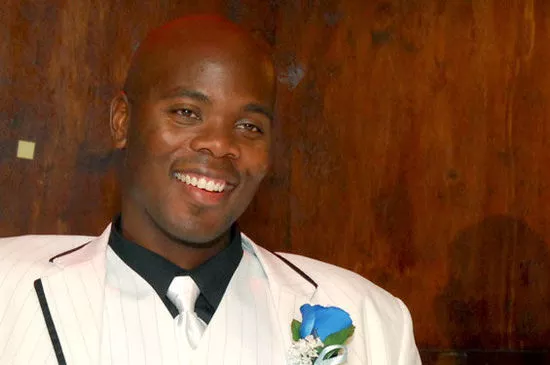 Cornealious "Mike" Anderson. | Courtesy LaQonna Anderson
Yesterday, Attorney General Chris Koster filed a response to Cornealious "Mike" Anderson's plea to be released from a Mississippi County prison. Unsurprisingly, it argues that the judge hearing this case should deny Anderson's request.
Anderson is nine months into a sentence for an armed robbery that took place in 1999 -- he was mistakenly free from prison for thirteen years because of a clerical error, and during those years completely turned his life around. He's a dad, a businessman, an upstanding member of the community. Riverfront Times broke the story of his arrest in July in our cover story "The (Extremely) Long (and Sometimes Forgetful) Arm of the Law."
Anderson's attorney filed a writ of habeas corpus back in December calling this "cruel and unusual punishment" and asking for Anderson's release. While Koster argues against this, his response lays to rest what caused the delayed sentence and includes a possible path for Anderson to be immediately considered for probation.
If you're unfamiliar with the saga, check out some of our previous coverage to get up to speed:
-- Original feature story -- Cornealious "Mike" Anderson: An Epilogue to the RFT Story Featured On This American Life -- Petition Asks MO Attorney General Chris Koster to Release Cornealious "Mike" Anderson
Koster's filing is the first official response from the AG's office. It answers one key question that we were unable to get a response to in the course of our reporting: How did this happen? According to Koster, the screw-up occurred when someone in the St. Charles County Court failed to alert the Missouri Supreme Court that Anderson was issued a bond and released:
Missouri Supreme Court Rule 33.10 requires the clerk of the releasing court to transmit a copy of the release and conditions to the court in which the person on bond is to appear. The docket sheets of the Missouri Court of Appeals and the Missouri Supreme Court do not indicate a clerk of the trial court ever forwarded Anderson's bond to the Missouri Court of Appeals and the Missouri Supreme Court (Resp. Ex. 1).
However, it rejects the idea that Anderson was an innocent victim of a bureaucratic flub. It states that he does not have "unclean hands" because he knew that he was out improperly and did not "make an inquiry":
The record does not indicate that either Anderson or his appellate or post-conviction counsel ever told the Missouri Supreme Court that Anderson was on an appellate bond that had terminated. Instead Anderson took advantage of the situation in the apparent hope that no one would ever bring the bond to the Court's attention.
But perhaps the most interesting and unexpected part of the reply is that it lays out a possible path for Anderson to be immediately considered for parole.
Koster cites a past case in Cole County (also involving an "Anderson," bizarrely enough) wherein an inmate was erroneously released on an appellate bond and then was re-arrested after some time free. The inmate argued he should be credited for the time he was out erroneously, because it wasn't his fault he was improperly released. The trial court in that case granted he should get credit for that time.
Anderson is in the wrong form of action and the wrong venue for the relief granted in Anderson v. Crawford. Rule 91 habeas corpus actions are generally limited to suit seeking immediate discharge from confinement, and the director of a department may only be sued in Cole County. But if Anderson re-files this matter as a declaratory judgment action and names the Director [of the Missouri Department of Corrections] as the defendant, the Director consents to the venue in this Court. If this Court accepts the facts as set out in this pleading, the Director takes no position on whether this Court should declare Anderson entitled to credit on his sentence from the time the opinion issues in his direct appeal. If the Court grants time served from the issuance of the opinion in 2002, Anderson would have served his 11.5-year mandatory-minimum prison term under Mo. Rev. Stat. 558.019 and 571.015 and be immediately eligible for parole consideration.
That sounds awfully promising -- but it also means the decision to credit Anderson with the time he was out improperly is now up to Judge T. Lynn Brown of Mississippi County. And even if Anderson is given credit for 11.5 years, he will then be at the mercy of the parole board, which Koster acknowledges has "almost unlimited discretion."
We've reached out to Anderson's attorney to see what he makes of this, and we'll update when we hear back.
Meanwhile, the story has been featured on several national television news shows, including the TODAY Show and CBS News, and a petition asking for Anderson's release has surpassed 20,000 signatures.
Chris Koster Final Response to Show Cause Order on Cornealious "Mike" Anderson
Follow Jessica Lussenhop on Twitter at @Lussenpop. E-mail the author at Jessica.Lussenhop@RiverfrontTimes.com.