A 29-year-old man is in jail after a four-month police investigation revealed he held women captive in his squalid south-county apartment while raping and torturing them with utensils, including scissors, plastic wrap, a mallet, knives and a can opener.
A grand jury indicted Adam Michael Capriglione, of the 13000 block of Butler Oak Drive, on nineteen felony counts, including rape, sodomy, domestic assault and felonious restraint ranging back to 2006.
Capriglione also faces charges of child endangerment for filming himself having sex with a girl under eighteen in 2007 and for exposing a four-year-old to his dangerously unsanitary apartment, where investigators found a knife in a cereal box.
"The level of violence and torture and depravity that has been inflicted on these women is something that makes him a particularly dangerous man," says St. Louis County prosecuting attorney Bob McCulloch. "Nobody wakes up one morning and does this. This is something that develops over time."
See also: Ten Worst St. Louis Crimes of 2013
Police started investigating Capriglione when one victim managed to leave the apartment and seek help at a medical center. When staff saw the extent of her torture wounds, they sent her to a hospital and called the police, McCulloch says.
Police say Capriglione first met the victim, who is not from St. Louis, online and brought her to his south-county home. During two weeks in January, Capriglione penetrated her vagina with a can opener, choked her unconscious, hit her with a mallet, burned her, cut her, forcibly restrained her and forced a dildo into her anus and vagina, according to the probable-cause report. Doctors found burns on her cervix.
Police are currently working with four victims, but McCulloch says he's certain there are more.
"We know there is at least one other victim out there," McCulloch says. "I have no idea how many others there are."
Read what Capriglione's other victims are claiming, and read a statement from Capriglione's lawyer on page two.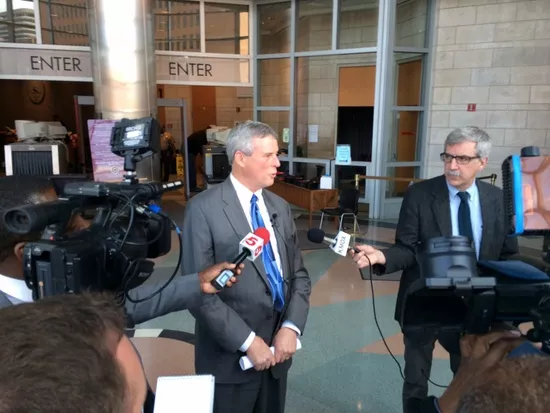 Lindsay Toler
St. Louis prosecuting attorney Bob McCulloch tells reporters about the charges against Adam Capriglione.
The St. Louis County Police investigation shows Capriglione uses a system, McCulloch says: He meets women -- sometimes online, using a variety of social sites -- and gets involved with them romantically or intimately before turning violent, holding them captive in his apartment so he can restrain, rape and torture them. McCulloch added he typically held the women one at a time.
See also: St. Louis Named Number One Most Deadly Place to Live in America
The probable-cause document describes Capriglione's torture of three additional women, whose identities will not be released.
One woman was choked, burned with a hot knife and punched in the eye while living with Capriglione from August 2011 to July 2012. Capriglione also forced a dildo into her vagina and restrained her by wrapping her face in plastic wrap, according to the charges.
Capriglione forced oral, anal and vaginal sex on another victim in 2011. He restrained, choked and forced sex on another victim in 2012.
Joseph Green, Capriglione's attorney, released this statement Tuesday:
The police are not bound by the rules of professional conduct that restrict attorneys regarding the information we are allowed to disseminate to the public. Bound by that restriction, my comment is that Adam Capriglione is a young man of 29 years facing felony charges for the first time in his life. One of the alleged victims is the mother of Adam's child with whom he has been in heated custody battles. Other alleged victims are former girlfriends. In order to ensure a fair trial, this case will be dealt with in the courts and not in the media. I encourage people to not rush to judgment. As the case proceeds forward, facts will come to light that will dampen the sensationalism.
Capriglione is being held on a $500,000 bond.
"He won't be getting out," McCulloch says.
McCulloch asks anyone who has additional information or was victimized by Capriglione to call the prosecuting attorney's office at 314-615-2600.
Follow Lindsay Toler on Twitter at @StLouisLindsay. E-mail the author at Lindsay.Toler@RiverfrontTimes.com.