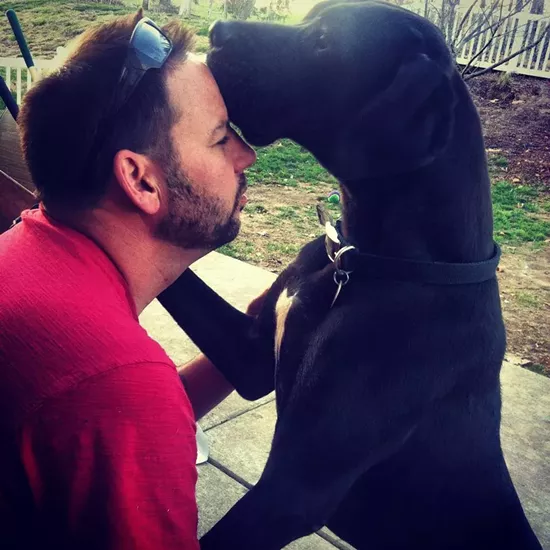 Zeus' owners shared photos and stories of their beloved dog online after shocking charges emerged.
Zeus, the Great Dane accused of killing a Golden Retriever at a Wentzville dog park last month, returned home to his family Friday after an autopsy failed to find a cause of death for the Golden.
Zeus' family celebrated his homecoming by posting photos to the "Free Zeus" Facebook page, which Zeus' owner Bryon Orzel launched after news broke that his dog had killed a eleven-year-old Retriever named Buddy.
"I would personally like to say sorry for the pain and loss that the owners of Buddy are going through," Orzel says on the Facebook page, which drew 3,000 fans in two weeks. "For myself and my family, this has been extremely hard...Seeing all four of my girls and my girlfriend upset everyday broke me down, but I had to stay strong for my family and not let it show."
See also: Owner Turns In Great Dane Accused of Killing Golden Retriever in Wentzville Dog Park
Orzel used the Facebook page to tell his own side of the story after the news broke that his beloved dog killed a family pet. He says he brought Zeus to the Quail Ridge off-leash area for the second time ever on Sunday, March 30.
Buddy the Golden Retriever.
While Zeus was leaning against Orzel's girlfriend, Buddy "came up under Zeus' belly and between his legs and nipped at his front paws," Orzel describes. "This in turn startled Zeus, and they began to fight. My girlfriend tried to break it up, and I immediately ran over."
Another dog got into the fight, Orzel says, and more people at the park rushed over to help. While Buddy's owner, Nick Andres, ran over to rescue his dog, a man at the dog park started screaming for the owner of the third dog to come claim his animal.
"The gentleman that was laying on [the third] dog started getting extremely vulgar and aggressive towards the young dog owner," Orzel writes. "I got up and walked away with Zeus and left."
Orzel says he was worried the other dog owner and the man who helped stop the fight would get into a physical altercation.
"Buddy was still breathing when I left," Orzel says. Orzel heard Buddy died from his dog groomer the next day. Then he turned Zeus over to authorities.
Authorities have not identified the third dog or owner involved in the fight.
An autopsy of Buddy showed "no puncture marks, crushing or other identifiable causes of death," according to Julie Eckstein, director of the St. Charles County Department of Community Health and the Environment.
Animal control officials aren't pressing charges, but they are putting Zeus on a special doggie probation: He'll have to attend training and socialization classes, submit to future behavior evaluations and wear a no-bite muzzle in situations with unfamiliar animals or people. Zeus is no longer allowed in dog parks or other off-leash animal facilities.
Andres, Buddy's owner, says he's staying away from dog parks forever after losing his dog.
"He was so intelligent and so intuitive," Andres told Daily RFT. "If he could talk, he'd be a person. I'll never be able to replace him."
Follow Lindsay Toler on Twitter at @StLouisLindsay. E-mail the author at Lindsay.Toler@RiverfrontTimes.com.