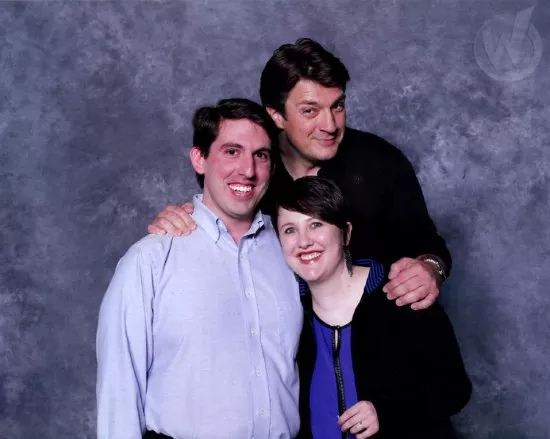 Wizard World
Actor Nathan Fillion made a love connection for James Dauer and Jenna Nurnberger.
When Jenna Nurnberger became engaged at the Wizard World convention held in St. Louis just over a week ago, she had no idea that Nathan Fillion, her long-time Firefly crush, would be part of it.
But her fiancé James Dauer did. Well, sort of.
"You can't say 'no' to serendipity," Dauer says.
See also: - Story: Wizard World Inc.: A roving comic con looks to corner the geek market - Slideshow: Wizard World St. Louis Comic Con 2014
Fillion's unwitting participation (we'll get to that later) is the perfect coda to the lovebirds' courtship. Like many couples, Nurnberger, who lives in Columbia, Illinois, and Dauer, of Waterloo, Illinois, found each other on the dating site OkCupid a little over a year ago. With each of their profiles professing love for various nerdy pursuits, the duo seemed destined for a love connection early on -- especially since TV show Firefly was a factor.
"I liked how smart she came across in her profile," Dauer says of Nurnberger. "And it didn't hurt that she put Firefly down as one of her interests."
"I did have nerdy things in my profile," Nurnberger adds. "I believe I mentioned Firefly on my profile and most likely mentioned my love for the TV show Castle [another vehicle starring Fillion]. I had really gotten into that show about the time I was doing online dating, and I seemed to be marathoning it every night!"
courtesy of Jenna Nurnberger
Jenna and James before they sealed the deal.
Since Dauer was very familiar with Nurnberger's appreciation for Fillion, he purchased Wizard World tickets as soon as the Firefly star was confirmed as a guest, adding on a VIP experience that included early entry for Fillion's limited-seating panel and a photo opportunity.
"Just the week before the tickets went on sale, I had told my best friend that I wanted to propose to her, and that I wanted to get Nathan Fillion involved somehow," Dauer tells Daily RFT.
See also: The Three Best Things About Wizard World 2014
Dauer's wish came true during the final afternoon of the three-day Wizard World convention. April 6 was huge for Firefly fans, with Summer Glau ("River Tam") signing autographs and Fillion ("Captain Malcolm Reynolds") entertaining guests in the photo op booths before later joining Adam Baldwin ("Jayne Cobb") and Alan Tudyk ("Wash Washburne") for a Q&A panel in the Ferrara Theatre of the America's Center. With so many activities planned, Dauer just had to find the right moment to surprise the unsuspecting Nurnberger.
On page two, learn now Dauer pulled Fillion into his engagement scheme.
That morning, Dauer put on the same clothes he had worn during their first date more than a year ago, and he reminded Nurnberger to look her best for the photo op with Fillion. The couple arrived shortly before their noon appointment to stand in line, and neither of them fully knew what would happen next, though Dauer's wheels were turning.
Finally deciding to strike, Dauer let Nurnberger go into the photo area first, realizing that this would be the only calm picture of his beloved and Fillion before craziness ensued.
See also: Wizard World Celebs Bruce Campbell & William Shatner Have St. Louis Ties
"Nathan started to say his last remarks and then realized James was going to take a second picture with me," Nurnberger said. "That's when he got down on one knee and asked if I would marry him!"
Fillion was just as surprised as Nurnberger was, as shown in this photo taken by the Wizard World staff: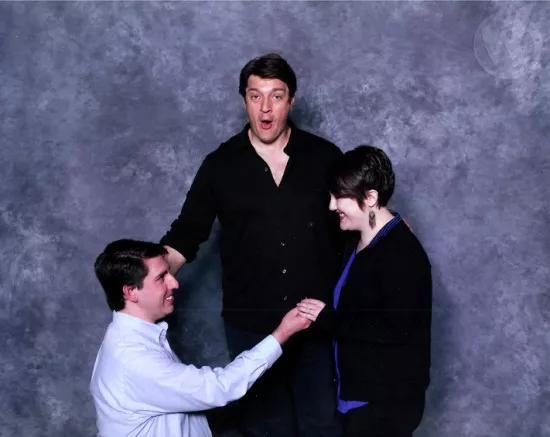 Wizard World
A nerdy proposal in action.
"I didn't get to say much in the proposal. Just one quick, 'Jenna, will you marry me?'" Dauer says. "Everyone was cheering and clapping. Fillion kept saying 'Wow' and 'Congratulations.'"
With a long line of anxious fans waiting for their turn with Fillion, the Wizard World staff started pointing Dauer and Nurnberger toward the exit, but the Firefly star wasn't ready for the moment to end.
"Nathan reached for us and said, 'Hold on,'" Dauer says. "He pulled us back towards him, gave us a hug and told the photographer to get one more picture."
"Nathan was a great sport," Nurnberger adds. "He was definitely surprised by the whole thing, and he still managed to make the moment special!"
With excitement and emotions running high at Wizard World events, proposals aren't rare. Jerry Milani, PR director for Wizard World, shared a video with Daily RFT of a proposal that happened during the Matt Smith/Karen Gillan Doctor Who panel at the Louisville show just a week before the St. Louis event:
"We are excited when fans choose Wizard World shows to make their special moments even more memorable," Milani tells Daily RFT. "We wish the best of luck and love to Jenna and James and others for whom Wizard World will always be a cherished experience in their lives."
Nurnberger and Dauer have begun planning their wedding, tentatively scheduled for summer of next year. They're not too far along yet, but chances are high that they'll incorporate some nerdy goodness into the event to honor their memorable engagement day.
"Jenna is super special to me, so I want to give her cool stories to tell or friends and family," Dauer says. "And of course, it's something to tell our future kids."