Lindsay Toler
We could have two cul-de-sacs facing each other, or St. Louis could open up the streets and heal the grid.
Sometimes, getting around St. Louis by car feels like driving in a maze.
A straight line is not the shortest path from one neighborhood street to another when the road is blocked off by planters, barriers and Schoemehl pots -- the concrete sewer pipes filled with dirt named for former mayor Vincent Schoemehl -- to make a cul-de-sac.
An electrical engineer and the man behind the @STLUnite Twitter feed, Richard Bose, says if he had his druthers, St. Louis would ditch the cutoffs, open up the streets and, as he puts it, "heal the grid."
See also: Green Means Grow: Gateway Garlic Turns Old Traffic Signals into Grow Lights
"The grid is an outcome of millennia of urban building, and it turns out to be the most efficient way to arrange cities," Bose tells Daily RFT. But in some St. Louis neighborhoods, the grid is instead a series of cul-de-sacs. "If you explore the city, you run into this all over the place."
Bose argues that when city officials cut off neighborhood streets from one another, they only worsen the problems the cutoffs were supposed to fix in the first place -- especially traffic congestion. In a nine-minute video, he compiles all the Google Street images he can find of streets blocked by barriers:
"It makes traffic worse," Bose says. "Streets like that are more of an infrastructure burden because their utility is only for the residents there. Whatever street traffic would have gone through that area has to find a new place to go."
Bose says he sees this every day during rush hour at Forest Park Parkway and Skinker Boulevard, where surrounding cut-off cul-de-sacs force more cars onto the two nearby arterial roads.
"You get dumped out onto these bigger streets, and it makes rush hour worse," he says.
That's not to say all of St. Louis' faux cul-de-sacs should be opened, Bose admits. He points to the 4500 block of Oakland Avenue, where blocking off the street helped with the drive-through drug dealing coming to the neighborhood from the nearby highway.
"I'm never going to say we should open them all right now," Bose says.
But turning through streets into cul-de-sacs might not be as effective in deterring crime as you think, Bose says. See why on page two.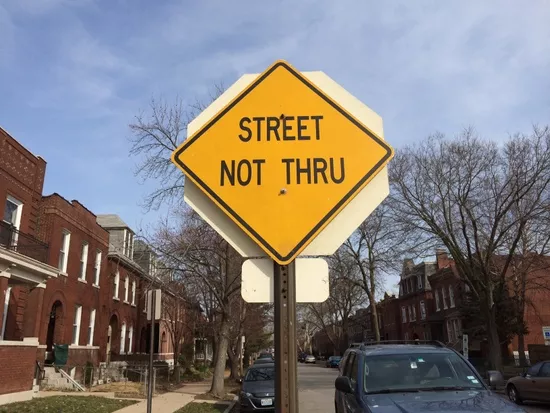 Lindsay Toler
Street Not Thru...because we closed it off with concrete balls.
Blocked-off roads are a one-size-fits-all crime-fighting tool, Bose says. Smart criminals know the barriers mean police can only enter a street from one direction, so they park their get-away cars on the other side of the barrier for a quick escape.
Not only that, police have to wind their way through the maze of cutoff streets, increasing the amount of time they need to patrol a neighborhood for car burglars and prowlers.
"Whatever motivation there was 30 years ago [for closing a street] might not be relevant today," Bose says. "We should at least be able to talk about it."
Bose wants an official, streamlined process for neighborhoods that want to reopen their blocked-off streets. Neighbors who want to open or close a street have to get an ordinance passed by the board of aldermen.
Bose blogged about the need to make it easier for neighbors to open up their streets on Next STL, named the best blog by the Riverfront Times in 2013. A reader suggested making street closings like liquor licenses: Neighborhoods should have to get nearby residents to sign off before the city blocks the street.
"The cul-de-sacing of St. Louis hasn't solved our problems," Bose writes on his blog. "It's given us the worst of both worlds -- streets that don't go through and stroads (streets + roads) that can't handle peak traffic volumes -- all at high cost.
"Removing them just takes courage and choosing to have an open city."
Follow Lindsay Toler on Twitter at @StLouisLindsay. E-mail the author at Lindsay.Toler@RiverfrontTimes.com.