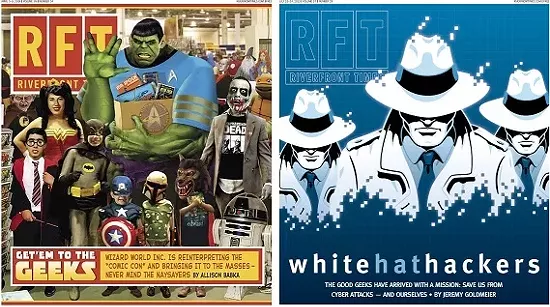 Two recent RFT cover stories written by freelance reporters.
You may not realize it, but much of what you see each day in the Riverfront Times comes from freelance writers. These scribes-for-hire fill our blogs with engaging content, keep you informed of all the latest happenings in our calendar section and even craft the occasional cover story. Now we are looking to expand our stable of freelance writers as well as enhance our website with additional video.
Here is what we are seeking for those interested in writing or filming for RFT:
Writers 1. First and foremost, we want writers who can report a story -- be it a news article or something for our food and music sections. By reporting a story we mean actually talking to sources and digging up real news and content. 2. The ability to write news articles in third person. (See above.) Yes, we do publish some first-person accounts of an event, but by and large we want writers who can keep themselves out of the story. 3. Experience and/or a degree in journalism is preferable but not necessary. Though if you have some published clips, please send us your best three. 4. Story ideas! We have a small staff here at the RFT , and we can't be everywhere at once. That's where our freelancers come in. We depend on you to keep our readers plugged in to the news and events that shape St. Louis. RFT does not feed its freelancers with stories. They come to us with story ideas. If we like the pitch, we then assign the freelancer to write the story.
For example, here are a few cover stories penned by freelancers: - Wizard World Inc.: A roving comic con looks to corner the geek market - White-Hat Hackers: Meet the geeks who make computing safer by exposing its flaws
And here are a few newsy freelance stories published in our music and food blogs: - Bluesweek Moves to Chesterfield Due to Financial Woes - Summer Rocks Music Festival Bill Passed By Aldermanic Committee - Still630 Distills Whiskey in Downtown St. Louis
Still interested? Send an email with the subject line "freelance writer" to chad.garrison@riverfronttimes.com.
Videographers Unlike the case with freelance writers, RFT will -- for the most part -- provide you with assignments. What we are looking for is someone who can quickly produce short videos that will serve as stand-alone stories on our website and/or augment our print and online articles. Here are a couple examples of the types of videos we're looking to produce:
- Home Sweet Homeless - Meat Fight
If interested, send an e-mail (subject line "videographer") to chad.garrison@riverfronttimes.com. Include a few links to your work and give us a ballpark of how much you'd charge to make the two videos linked above.
Thanks.