Danny Wicentowski
Michael Chaney, "chronically homeless" for years, now has a home in an assisted living center.
On one hand, the YouTube video is heartwarming: It shows a Saint Louis University basketball player and his best friend helping a 34-year-old homeless man named Michael Chaney, buying him his the first real meal in five days and his first new outfit in years. The clip has been seen more than 76,000 times.
But the video's final minute is hardly a feel-good ending: As they drive away from the homeless man they'd just helped, sophomore guard Justin McBroom and Blake Carell watch Chaney trudge back to same sidewalk where they'd found him hours earlier.
Yesterday, the ending got a lot happier: For the first time in nearly three years, Chaney has a home.
See also: Watch This SLU Basketball Player Treat a Homeless Man to KFC, H&M and a Haircut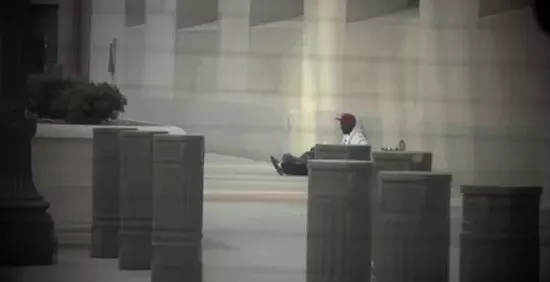 YouTube
The last time we saw Chaney, after his haircut, shopping trip and KFC lunch.
According to Katie Thumann, there was no connection between the YouTube video "Never Take Life For Granted" and Chaney's placement in an assisted living home.
"We'd already made the referral," says Thumann, a social worker with the St. Louis-based Places for People. She's been helping Chaney for the past three months, re-establishing his social security number, finding his birth certificate and getting him back on medication for his schizophrenia. "It just happened to all work out that same week. Very serendipitous."
Chaney has been "chronically homeless" for the past two-and-a-half years, says Thumann. "He wasn't connected to any doctors, he wasn't on medication, he was in and out shelters, but literally not connected to anything."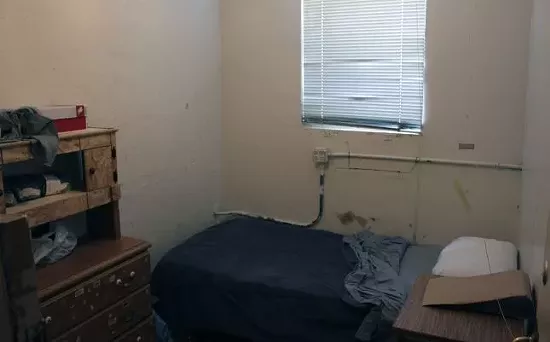 Danny Wicentowski
Chaney's new room.
See also: Group Can't Serve Hot Food To Homeless Without Permit, Says STL Health Dept.
His room is small and bare, but it's the one Chaney chose. Wearing a brand-new tracksuit, Chaney folded his own sheets for the first time in years. He says his last permanent residence had been in a nursing home where he'd been allowed to stay for six years. But he became stranded in St. Louis after a mix-up with some bus tickets.
"They sent me home after I left there," Chaney says, describing how he ended up in St. Louis. His destination was Arizona, but he never made it that far.
"They got a bus ticket for me, but the man made a mistake and forgot to connect one of the transfers. I asked them if I had enough money to get another bus ticket; they said it would cost $112. So I ended up homeless from that day on."
Cheney spent the next two-and-a-half years homeless, mostly hanging around the St. Patrick's Center and living on around $4 a day.
Danny Wicentowski
Chaney stands in the hallway outside his room, while a social worker helps fold his brand-new clothes and towels.
"It's hard out there," Chaney says. "There are different sites that help you do things when you're homeless, but I didn't know nothing. They would tell me where to go but I didn't understand the directions, because they wanted to just walk me there and I didn't know my way around."
His dream is to get a job, though that won't be easy: Chaney has a ninth-grade education. He's never driven a car before, let alone owned a driver's license.
"I'm going to get me a car and another apartment, when I get independent enough," he says.
He's got a long way to go.
Follow Danny Wicentowski on Twitter at @D_Towski. E-mail the author at Danny.Wicentowski@RiverfrontTimes.com