The true meaning of "For better or for worse."
No one ever said marriage would be magical.
Wait, that's not right -- marriage is that promise, and whether it's reality TV or the British royal wedding, that focus on happily ever after is a towering edifice within our cultural landscape. So it's refreshing when two lovebirds come along and burn that tower to the ground.
"Alice," a St. Louis-born writer now living in Boston, took detailed notes on her first year of marriage and turned those notes into 1styearofmarriage.com, a day-by-day account of shared indignities, many poop jokes, hellish periods and pranks gone wrong. Now, a Beverly Hills-based production company is wrapping up talks to option the blog as a sitcom.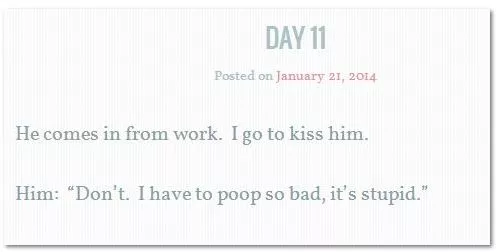 See also: 10 St. Louis Neighborhoods Where Married People Are Looking for a Side Piece Online
"Alice" asked Daily RFT not to print her real name to protect her husband, "Joe," who runs a computer-marketing company. Now in her mid-thirties, Alice grew up in St. Louis County and attended high school at St. Joseph's Academy. She eventually moved to LA, working as a screenwriter; There, she met Joe, then a film producer, on Match.com.
"I've been jotting things down for the past year and change," she says, describing the blog's inspiration. "I started with things that my husband and I say to one another, so I really started it for fun."
Alice launched the blog just two-and-a-half weeks ago, initially dating each post to correspond to the date written in her notes. Those conversations became the format for her blog posts -- crass, raw and frequently weird.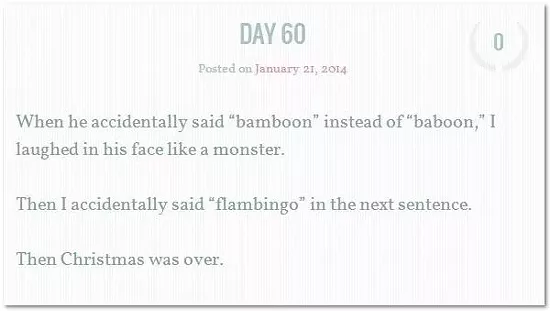 The blog has that just-keep-scrolling quality that can suck you in for hours. Since its launch, Alice says, the site has received a quarter of a million visitors. Daily RFT got ahold of the production company interested in optioning the blog as a sitcom, and a spokeswoman tells us the company is "close" to sealing the deal. (But because the deal isn't finalized, the company asked Daily RFT not to identify it by name. We'll update the story when things change.)
Though she says her notes provided the dialogue, Alice admits the blog isn't always an exact transcript.
"For the most part, yeah, it's real. There are parts that are exaggerated," she says, adding that many of these exaggerations occur in posts describing her "period weeks," which, like everything else on her blog, has its own special hashtag.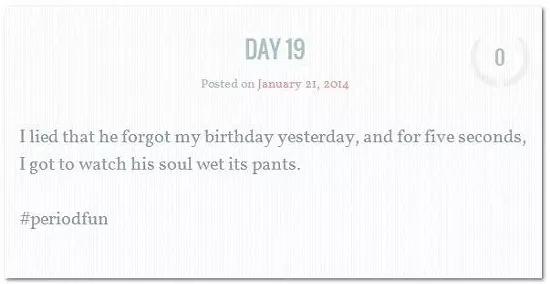 via
#yikes
"I think it's just kind of a more realistic look at what marriage is like," says Joe. Indeed, in a series of posts titled, "This Week = Grounds for Divorce," the blog chronicles how Joe accidentally got his wife fired from her job.
Continue to read about how Joe's love of potty humor cost his wife her job.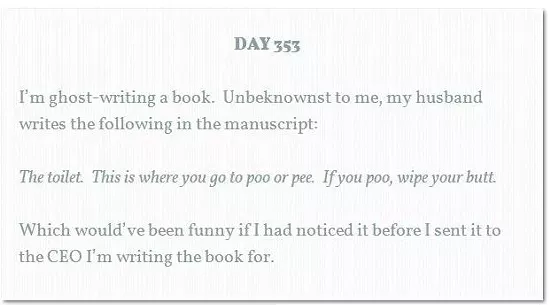 via
#uh-oh
Yes, Joe wrote: "The toilet, where you go to poop or pee, if you poo, wipe your butt," in a manuscript his wife was working on. Alice's Day 355 post begins, "Today I was fired."
"That's little bit of an embellishment, in that she didn't get fired from her job," Joe says.
"But," Alice says, "I was basically forced to quit."
The timing was especially bad as the incident occurred only a few days from their first anniversary.
"It was definitely serious," he says. "I thought she would see that and take it out. It was dumb to do that. And I'm not just saying that because I got yelled at about it."
Alice passed the the 365-day mark just a couple of weeks ago, and with the blog blowing up in popularity, she doesn't see a reason to stop writing.
"I just think it's a realistic picture of what marriage is actually like for people," she says. "But at the end of the day, it's worth it."
Awww.
Follow Danny Wicentowski on Twitter at @D_Towski. E-mail the author at Danny.Wicentowski@RiverfrontTimes.com