Bill Haas claims Schweich called him to ask a favor.
Bill Haas says he realizes this will cost him his friendship with Missouri auditor Tom Schweich. But he says he can't let it go, especially after a recent Politico article about the weakened status of the Missouri Democratic Party. In that article Schweich is quoted as saying he is "pleased that for the first time in over a century the Democrats have failed to field a Democrat for a statewide seat in Missouri."
But according to Haas, one of the reasons Schweich is running unopposed for auditor is because he called Haas and asked that he not run for the position.
Haas is no stranger to politics. He has run unsuccessfully for scores of local, state and federal positions (St. Louis mayor, Congress, and lieutenant governor -- to name just a few). Still he does hold an elected office -- of sorts. He's a member of St. Louis' elected school board, which lost all its power years ago when the state discredited the district.
This year Haas (a former corporate attorney, Walmart manager and -- full disclosure -- RFT love-advice columnist) is once again running for office. In February he filed as a Democratic candidate for the 77th District of the Missouri House, representing parts of St. Louis. Haas says he was in Jefferson City in February filing for that race when he ran into Schweich in the parking lot of the secretary of state's office.
See also: Audit of St. Louis Public Schools Finds Financial Woes, Inadequate Anti-Cheating Measures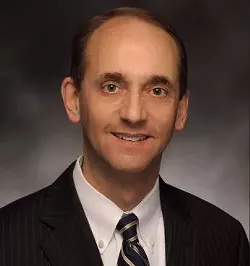 auditor.mo.gov
Tom Schweich is believed to be the first Republican in a century to run unopposed for statewide office.
"He rolled down the window and asked me what I was filing for," recalls Haas, who grew to know Schweich when his office audited the St. Louis schools. "I told him state rep."
It could have ended there, but Haas says he e-mailed Schweich a few days later to say that he had actually thought about running for state auditor but decided against it because he couldn't think of anything he'd do in office that Schweich hadn't already accomplished. Haas says that his e-mail prompted a phone call from Schweich in which the auditor explicitly asked Haas not to run.
"He told me he wanted to make history by running unopposed," says Haas, who by then had already made up his mind not to enter the race for auditor. Besides, says Haas: "I already had my car shrink-wrapped for my state rep campaign."
But the more he thought about it -- and after that Politico article last month -- Haas decided he couldn't keep quiet about Schweich's request.
Continue on for the strange e-mail exchange between Haas and Schweich. Last week Haas broke his silence and e-mailed Schweich, telling him that he hoped that they "could remain friends forever" but that he planned to discuss Schweich's request in a radio interview on KTRS 550 AM. The interview never happened, but apparently it did elicit a couple e-mails (below) from Schweich in which the auditor strongly discouraged Haas from discussing the issue.
"I do not think that our personal discussions should be made public," wrote Schweich in a March 31 e-mail provided by Haas. "I thought we had a relationship of trust."
Schweich followed that up with another e-mail the same day.
"Discussing our conversations will do nothing to advance your political aspirations, and it will cost you a friend," wrote Schweich. " I guess I was wrong about you. Best of luck."
Schweich's campaign declined to comment on Haas' allegation.
As the recent Politico article pointed out, Schweich running unopposed for auditor could strengthen his appearance within the Republican party and scare off possible in-party challengers. It is widely expected that Schweich will run for governor in 2016 when Democrat Jay Nixon is term-limited out of office.
The Politico article in which Schweich boasted of his fundraising strength and the lack of qualified candidates to challenge him.
For what it's worth, Haas also has his sights set on higher office. He's hoping to win the state-rep race this year and then run for U.S. Senate in 2016 when incumbent Roy Blunt is up for re-election. Speculation also has it that Jay Nixon will also enter that race, which means Haas would face lottery-like odds of winning the Democratic primary. But with Haas, that's not completely out of the question.
In 1992 Haas won $250,000 playing the Illinois lottery and sank $125,000 of it into his failed race for the St. Louis mayor's office that year. Haas is again buying lottery tickets in Illinois.
"I figure I'll need $5 to $10 million to beat Nixon," said Haas last week when the lottery was up to $19 million.
He'll also need better name recognition if he plans to be a senator, which makes him wonder if perhaps he should have run against Schweich after all.
"Losing a statewide office might help me more than getting elected into the state legislature," he says. Either way, he feels no remorse for making public Schweich's request that he not run for auditor.
"In politics, you don't say anything you don't want to see in the headlines the next day," says Haas. "That's lesson No. 1."
E-mail the author at chad.garrison@riverfronttimes.com or follow on Twitter @chadgarrison.