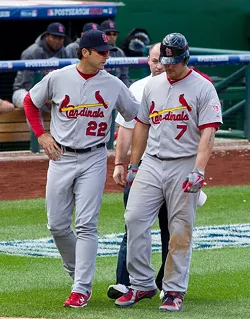 Keith Allison on Flickr
Mike Matheny walks with Matt Holliday at a National League Division series game in 2012.
St. Louis loves to believe it has the best fans in baseball.
And Cardinals Manager Mike Matheny seems to agree. In a blog post written in honor of the Redbirds first 2014 game at home, Matheny says the city's "tradition, history, legends and passionate fan base" make St. Louis a uniquely wonderful place to watch baseball.
"The truth is," Matheny says, "every big league ballpark in the country has a special day, when the boys of summer make their way home from Florida and Arizona...But somehow St. Louis makes our home opener extra special."
Matheny celebrates St. Louis baseball fans for their home opening day traditions, including the parades, concerts, tailgates and the sea of fans wearing red that fills downtown.
"The entire city basically shuts down when Busch Stadium's gates open for the first time," Matheny says. "It's no surprise that former Cardinal Ozzie Smith has been spearheading a movement to acknowledge opening day as a national holiday because nobody is at work anyhow."
See also: Think Opening Day Should Be a National Holiday? White House Says It's Up to Congress
And the news crews follow the fans, filing story after story from downtown about the ceremonies, hall of fame, the parking and more. This year, all eyes are on the weather as baseball fans hope for a break in the rain by the time the ump calls, "Play ball!"
"Anyone other than a baseball fan must be frustrated at the lack of news about life in the real world," Matheny says.
Home opening day is also a chance to see what Matheny calls "some of the most majestic animals created: the Clydesdales." In his post, Matheny marvels at their sheer size from his perspective down on the field.
The Clydesdales are always a fan favorite at the home opener.
"Looking up at the huge beasts from the dugout, you can't help but take a couple steps back in case they choose another course," Matheny says. And that's from a man who once took a baseball to the face and spit up what looked like brain without batting an eye.
See also: VIDEO: Watch Cardinals Manager Mike Matheny Take a Fastball to the Face
But home plate is where the real action is. Matheny says he's humbled to shake hands and receive a symbolic baseball blessing from ex-Cardinals like Red Schoendienst, Bob Gibson, Ozzie Smith, Lou Brock and, now, Tony LaRussa.
"The first time I walked through that procession and shook the hand of the great Stan Musial, I began to truly realize why opening day in St. Louis is so special."
Follow Lindsay Toler on Twitter at @StLouisLindsay. E-mail the author at Lindsay.Toler@RiverfrontTimes.com.