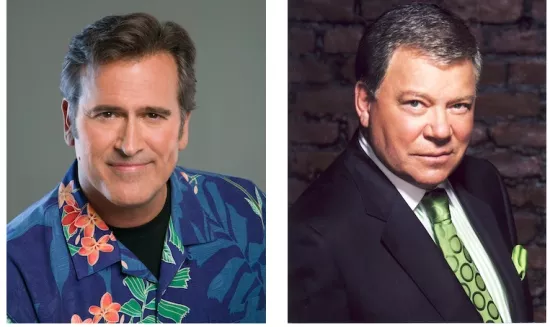 Photos courtesy of Wizard World
Bruce "Ash" Campbell and William "Kirk" Shatner are in St. Louis for Wizard World.
As noted in this week's cover story, traveling comic con Wizard World returns to St. Louis April 4 through 6, bringing with it nearly unlimited nerdery. Over the weekend, tens of thousands of cosplayers, comic-book collectors, video-game enthusiasts and casual lookyloos will gather for all manner of pop culture in the America's Center downtown (though Wizard World's photos on Facebook suggest record crowds will push the convention into the larger Edward Jones Dome), and one of the big draws for fans is meeting revered celebrities from The Walking Dead, Doctor Who and Firefly.
See also: Wizard World Inc.: A roving comic con looks to corner the geek market
Indeed, St. Louis will become the setting for a living People magazine, with Firefly's Nathan Fillion, Batman's Adam West and Burt Ward, Buffy the Vampire Slayer's Eliza Dushku and Lord of the Rings/The Goonies' Sean Astin all roaming the Dome. But two of Wizard World's most-anticipated guests have connections to St. Louis.
William Shatner, who played "Captain Kirk" on the original Star Trek television series, will join The Evil Dead actor and Burn Notice star Bruce Campbell at Wizard World this weekend, with both stars scheduled for Q&A panels and autograph sessions on Saturday. In our chats with the legendary actors, we found out enough neat stuff to beam us up and raise the undead.
Campbell will claim some family time while he's here. "I've always enjoyed St. Louis because, you know, it's the classic 'Gateway to the West,'" Campbell says. "All my relatives, my wife's relatives are from St. Louis, so when I go there, I'll be spending as much time with relatives as with fans."
Campbell's St. Louis clan will form their own mob at Wizard World. "Oh yeah, they'll come out. Believe me," Campbell says. "How many tickets do we need, like eighteen? Something like that."
See also: Star Wars vs. Star Trek: Which Space Saga Reigns Supreme?
Shatner has horsed around in the Gateway City. I used to go to a horse show all the time in Queenie Park [the St. Louis National Charity Horse Show] that actually has a class has my name on it," Shatner says. "It's called the Shatner Class as a result of my interest in Western horses as well as in American saddlebreds. I've been to St. Louis many times in that competition."
Shatner has a taste for quality St. Louis eats. "I know the barbecue there very well," he says.
Continue for Campbell's admiration for a star from The Walking Dead and Shatner's excitement for his one-man show.
Campbell loved bringing 2005's Man with the Screaming Brain, his feature film directorial debut, to theaters like the Tivoli. "You know, I just like touring with my own movie. It's one thing to tour with somebody else's movie and promote it, but if you made it, you gotta stick with it," Campbell says. "And what was really fun about touring with that movie -- and I later toured with My Name is Bruce -- is you can still get into small, little theaters. There are a lot of big chains, but there are still a lot of little mom-and-pop, funky theaters. And that was what was the most fun."
Campbell likely will spend about six hours at Wizard World on Saturday, but he's noticed that a certain The Walking Dead actor has even more stamina at other events. "Norman Reedus [who plays "Daryl Dixon" on the TV series], he's like the Lou Gehrig of the convention business. He just sits there going, 'Woah, woah, woah,'" Campbell says. "He doesn't leave. He's in it to win it. Oh my God, you should see his lines. He's freaking Elvis."
See also: Non-Nerd's Guide to Wizard World Comic Con
Shatner will be in St. Louis again later this month -- sort of. "On April 24, more than one theater in St. Louis will beam my one-man show Shatner's World," Shatner says. "It opened on Broadway, got great notices, and I toured it a lot last year. Then I filmed it, and on April 24, it will appear in movie theaters for one night only.
"It's a terrific piece of entertainment; it's gotten great notices in New York and everywhere else," Shatner adds. "People stood and applauded. It's a very unusual event in which electronically, all these theaters play this entertainment that I'm providing." [Tickets are available from Fathom Events.]
Campbell has become BFFs with his idol Shatner. "When I was a kid I couldn't see William Shatner. He was a hero of mine, but there was no format, no venue for me to meet him," Campbell says. "Now, I run into him every weekend. Shatner, he's all over this convention business."
Wizard World runs April 4-6 at the America's Center in downtown St. Louis. For programming details and tickets, visit wizardworld.com.
Follow Allison Babka on Twitter at @ambabka. E-mail the author at allison.babka@riverfronttimes.com.