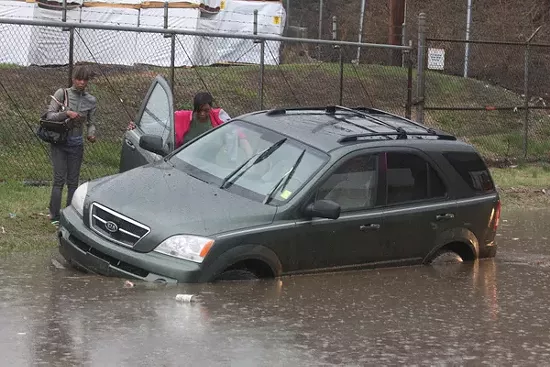 UPI/Bill Greenblatt
Three cars were stranded after heavy rains Wednesday. No injuries were reported.
So far, this spring is shaping up to have as much extreme weather as the frozen winter St. Louis just survived.
A tornado touched down in University City at 5:23 a.m. Thursday morning, according to the National Weather Service. About twenty homes reported damage, including twisted and snapped trees.
No one was injured, according to an early-morning report from the National Weather Service Thursday.
See also: Hilariously Shaped Winter Storm Could Penetrate Midwest, Make Things Slippery
St. Louis city and county arose to tornado sirens a little after 5 a.m. Thursday morning when the weather service started hearing reports of debris in the road in University City, especially damaged roofs and fences near McKnight Road and Olive Boulevard, according to the
St. Louis Post-Dispatch
.
About 2,000 University City-area neighbors lost power in the early morning, as well as 6,200 households in Madison and St. Clair counties, according to the Post-Dispatch.
Officials are clearing some University City homes to find the source of a possible leak after residents complained of smelling gas.
So far, Thursday's storm, which followed a day of rains and flash floods that left motorists just north of St. Louis stranded, hasn't caused any reported deaths or injuries, although the tornado sirens did cost these hotel-stayers a good night's sleep:
Follow Lindsay Toler on Twitter at @StLouisLindsay. E-mail the author at [email protected].