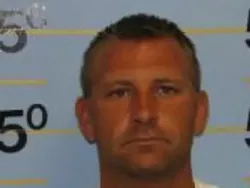 When a fifteen-year-old birthday girl decided she wanted friends to donate to the Wounded Warrior Project in lieu of gifts, William Harshbarger was there to help. Harshbarger collected donations from the birthday partygoers, saying the funds would go to help injured troops.
Then, according to Missouri Attorney General Chris Koster, Harshbarger kept all $1,080 -- as well as thousands of dollars in other donations -- for himself.
Harshbarger, of St. Charles, now faces eleven felony counts in St. Charles and St. Louis counties, including charges for stealing, forgery, financial exploitation of the elderly, making misrepresentations in soliciting charity funds and stealing by deceit.
See also: Missouri Firefighters Fall Victim to Beef Jerky Scam
"Many good-hearted people gave money to Mr. Harshbarger, believing that they were contributing to a well-established, nationally recognized charity benefiting our nation's service men and women," Koster says. "The Attorney General's Office, along with the St. Charles County and St. Louis County prosecutors' offices, cannot stand by when any individual, including Mr. Harshbarger, collects donations, falsely, in the name of a respected organization, and then keeps the money for his personal use."
Harshbarger didn't just steal from little girls, Kister says. He also solicited donations for the Wounded Warrior Project outside of retail stores in St. Louis and St. Charles counties, once even receiving a $1,000 check.
This is who Harshbarger was stealing money from.
He also took the $750 Living Word Christian School in O'Fallon donated to the Wounded Warrior Project after a three-day fundraising event.
When a senior citizen donated a $30 check, he added a zero and used the $300 for himself, Koster says.
Wounded Warrior Project staff realized someone was stealing unauthorized donations and tipped off law enforcement.
"It is important for people to know that we, as a reputable nonprofit organization, do not solicit cash donations door-to-door or outside of stores," says Michelle Roberts, communications director with the Wounded Warrior Project. "We greatly appreciate the hard work of the Missouri Attorney General's Office and prosecutors McCulloch and Lohmar in filing criminal charges to protect donors and help ensure their donations go to the charitable causes they choose to support."
In total, Harshbarger collected $6,200 for charity and kept it all, according to the Attorney General's office.
Follow Lindsay Toler on Twitter at @StLouisLindsay. E-mail the author at Lindsay.Toler@RiverfrontTimes.com.