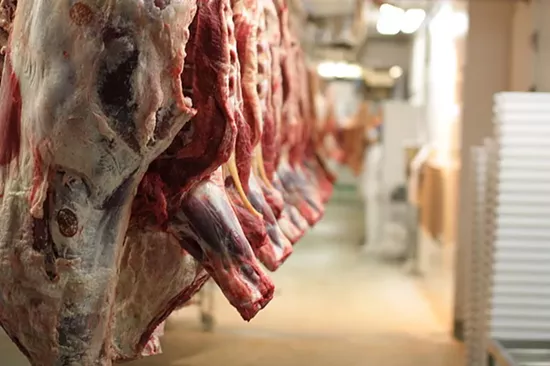 Thomas Bjørkan/Wikimedia
It's none of your business.
A bill has been proposed to the Missouri legislature that would make it illegal for anyone to obtain federal records about diseased cows, pigs, and other animals from all farms and factory meat producers in the state.
According to HB 2094, which was introduced by Rep. Jay Houghton, a Republican from Martinsburg, Freedom of Information Act or Missouri Sunshine requests pertaining to animal health or environmental protection data collected by state agencies under the federal Animal Traceability Program (ATP) would be legally denied.
The ATP was implemented by the USDA to facilitate tracking the origin of diseased animals and control the spread of any communicable threat by mandating state agencies collect a wide range of data, including health and location of movements, on farm animals that move between states for slaughter. This data is then sent to the USDA in hopes that when breakouts do occur, having the data will make it easier to isolate and eliminate threats.
Houghton's bill would make it illegal for non-governmental organizations to obtain the ATP-collected data through FOIA or Sunshine requests. For example, if a disease breaks out in a factory farm, journalists would not be allowed access to data collected before or during the threat to report on how it happened.
See also: Wash. U. Med School Says Memo Warning of "Eco-Terrorism" is a Hoax
Houghton tells Daily RFT that his bill is not an attempt to protect meat producers from bad press in the event that something goes wrong, he just wants to protect their privacy.
"If somebody is doing something wrong, if they're bad actors, they should be put out of business," Houghton says.
"What I'm after is to prevent the release of personal information. To me, it's no different than giving out information about who has concealed-carry permits," he says, referring to recent controversies over media organizations releasing information about individuals who have gun permits.
When asked what could be the potential dangers of releasing information about the health of farm animals being used for meat that humans will eat, Houghton says: "How about environmental terrorists? For example, if someone wanted to take a vial of foot-and-mouth disease to someone's cattle farm."
Click on the next page to read more about Houghton's bill...
He adds: "I'm looking at it from a human health standpoint. Environmental terrorism -- what would happen if we had a bunch of [terrorist acts] in the state because we handed out information to individuals and those individuals went out and poisoned a bunch of animals?"
Facebook/Jay Houghton
State Rep. Jay Houghton
On his non-legislation days, Houghton works as a manager at McCaw Farms' hog facility and in the past has worked for Monsanto's dairy research facility and Cargill, one of the world's largest meat producers. Nonetheless, Houghton insists that his bill is only only about protecting personal information like "addresses" and preventing terrorist attacks.
But Jim McCann, president of the Missouri Cattleman's Association says he supports the bill because it prevents information from getting into undesirable hands.
"If an activist, media or some other individual or group submitted a Sunshine request, the state would most likely have to surrender producers' private information," McCann tells the High Plains/Midwest Ag Journal.
See also: The Ag-Gag War: How undercover animal-rights activists are winning it
The criminalization of obtaining records resembles anti-whistleblower or "Ag-gag" laws that have successfully criminalized or greatly restricted the act of recording the inside of farms and slaughterhouses in several states, including Missouri, where a 2012 law signed into law by Governor Jay Nixon required evidence of animal abuse to be reported within 24 hours.
But Houghton insists that's not the intent of the bill.
"There is no Ag-gag bill," he says. "This is about privacy."
Houghton's bill has four co-sponsors, including Republican lawmaker Casey Guernsey, who sponsored a version of the 2012 Ag-gag bill and later unsuccessfully sought to criminalize flying drones with cameras over farms and livestock yards.
Lawmakers held a hearing on HB 2094 on Tuesday. It still needs a vote to get to the next step of the legislation process.
See also: Missouri House Passes "Ag Gag" Bill Designed to Stop Factory-Farm Investigations
Follow Ray Downs on Twitter:
E-mail him at Ray.Downs@RiverfrontTimes.com.