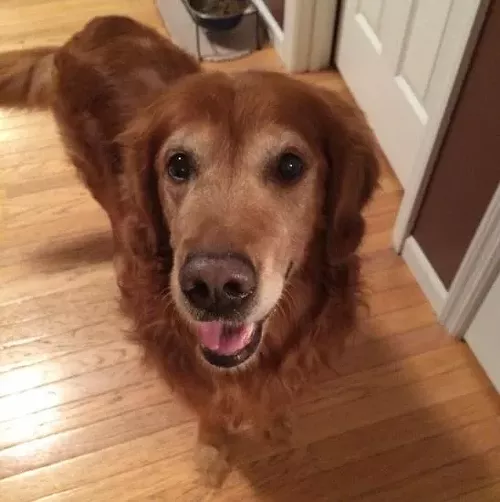 Buddy the Golden Retriever.
As eleven-year-old Buddy, a Golden Retriever, lay dying in the grass at a Wentzville dog park, Nick Andres wasn't thinking about finding the dog that attacked it -- or the owner who let it happen.
"I was only focused on my dog and my family," Andres tells Daily RFT. "I was hoping someone would do their part and let me handle my dog. I put him first. If [the Great Dane's owner] got away, he got away."
On Monday, the Great Dane's owner turned the accused dog over to authorities, according to the St. Louis Post-Dispatch. The dog is now being held in St. Peters by St. Charles County animal control officers.
About 75 people were at Quail Ridge's off-leash dog park when a black Great Dane apparently attacked and killed Buddy. Andres was at the park with Buddy, his fiance and her dog, Pongo.
"There were so many dogs there," Andres says, including puppies and older dogs. "Buddy was sniffing the ground like he always does, doing his thing, when he was attacked."
See also: Stray Rescue: $10k Reward for Info on Scumbags Who Tortured, Mutilated & Killed Dogs
Andres describes Buddy as a laid-back, loving dog who still caught frisbees, played with the neighborhood kids and jumped into his truck even after eleven years.
"He was so intelligent and so intuitive," Andres says. "If he could talk, he'd be a person. I'll never be able to replace him."
Skip to the 2:07 mark to see images of the Quail Ridge Park off-leash area.
Buddy's death has soured Andres on dog parks and off-leash areas, and he warns others to beware.
Editor's note: This story's original headline incorrectly stated that the Great Dane killed the Golden Retriever. We apologize for the error. "You don't know what kind of dogs are there, you don't know what kinds of owners are there," Andres says. "Think twice before you go. I won't ever be back to another dog park." Follow Lindsay Toler on Twitter at @StLouisLindsay. E-mail the author at Lindsay.Toler@RiverfrontTimes.com.