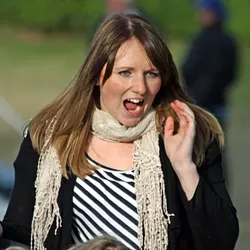 Calling all St. Louis ladies who can expel air from their digestive tracts and need a quick buck!
A local commercial crew filming a soda commerical is advertising on Craigslist for women who can burp on command.
Belchers can earn $750 for burps of any size, "from small, quiet burps to monstrously loud belches," according to the casting call.
See also: Casting Call: Are You Cool Enough To Be on St. Louis' Crappy Version of The Hills?
You don't need any previous acting experience to be a professional burping talent; you just need to be a lady between 18 and 40 who can be around for filming at the end of April.
To apply, send a recent photo and a sample of your burping oeuvre in a short video or sound file via e-mail to the poster of the Craigslist ad.
The burping samples "can be cell phone video or webcam quality, as long as we can see/hear what we will be working with and compare your ability to others trying out for our roles," according to the Craigslist ad.
Follow Lindsay Toler on Twitter at @StLouisLindsay. E-mail the author at Lindsay.Toler@RiverfrontTimes.com.