It's been a busy year for St. Louis soccer fans.
More than 40,000 of them raced to get tickets to Busch Stadium when Manchester City challenged Chelsea in May 2012. The same thing happened three months later, when more than 54,000 football fanatics packed the Edward Jones Dome to catch Real Madrid beating Inter Milan. The game set the record for the most fans at a St. Louis soccer event ever.
By November, when the Argentinian national team challenged Bosnia-Herzegovina at Busch Stadium, sales started to slip a bit. The crowd, mostly of die-hard Bosnia fans, wasn't record-breaking, but at 30,000, the message seemed clear: St. Louis is still a soccer-loving city.
Now, soccer lovers are wringing their hands as ticket sales for a pre-World Cup match between Bosnia and the Ivory Coast national teams seem stagnant.
"Early results ticket sales-wise have not been as strong as two of the three matches that were held last year with Real Madrid and Inter Milan and then the game last spring at Busch with [Manchester] City and Chelsea," says Jake Bye, the St. Louis Rams' vice president of ticket sales and premium seating, in an interview with FOX Sports.
"It's a little tricky because it's not apples-to-apples in a lot of ways as well, comparing the participating teams, the type of match that it is. Until you've sold 30,000-plus and you're on par with last year's numbers, I think the answer is always going to be, 'Yeah, we wish more tickets would have been sold.' But that's always the answer."
See also: One Step Closer to the MLS? St. Louis Soccer Club Owners Want USL Pro Team by 2015
So if the Bosnia v. Ivory Coast game doesn't match "apples-to-apples" with the other three games played in St. Louis in the last year, what's different?
Here are ten reasons why ticket sales might be slow this time:
1. There's no Cristiano Ronaldo.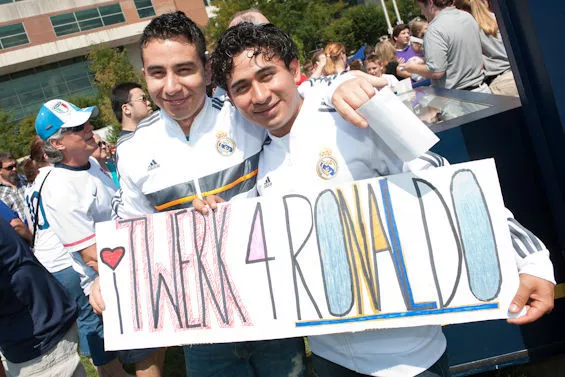 Jon Gitchoff
Fans at the Real Madrid v. Inter Milan game at the Edward Jones Dome.
Superstars sell tickets, and love him or hate him, Ronaldo is a soccer superstar. Fans rushed onto the field to meet the 2013 FIFA Ballon d'Or winner when he played against Inter Milan at the Edward Jones Dome, giving us this amazing image: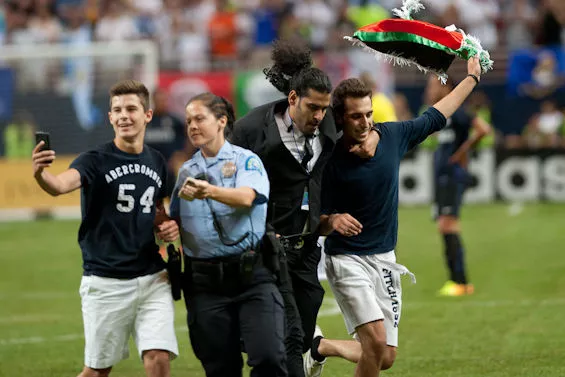 Don't get us wrong. Both the Ivory Coast and Bosnian teams have talented players poised to take their countries far in this year's tournament -- and who are well worth buying tickets to see. But players like Ronaldo are more than just talented players; they're world-wide brands.
2. Some fans wait until the prices go down.
The St. Louligans aren't worried about slow ticket sales.
3. There's no Messi.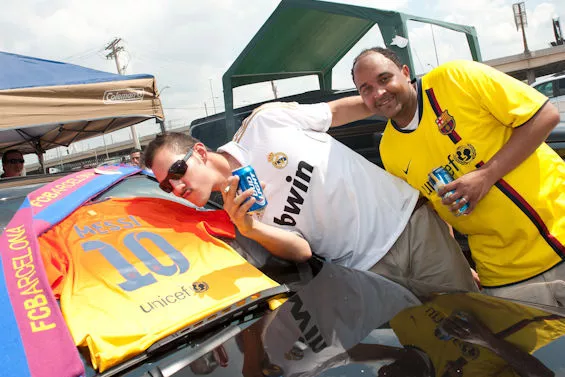 Jon Gitchoff
Fans display (and kiss) a Messi jersey.
See No. 1. Lionel Messi was scheduled to play with the Argentinian national team against Bosnia, but an injury pulled him out. It's possible that Messi, a world-renowned player and insatiable scorer, would have drawn thousands more fans to Busch Stadium if he'd set foot on the pitch. But there's no one like Messi on the national teams for Bosnia or Ivory Coast.
See also: St. Louis Flares Up Over Bosnia Soccer Celebrations at Busch Stadium
4. There's no media coverage. Local and sports outlets were all over St. Louis' first big friendly games. The New York Times even profiled Vedad Ibisevic, the talented Bosnian player with roots in the St. Louis soccer scene, before the big game against Argentina. But for this World Cup preview match, things are much quieter. Some fans may not even know the game is coming.
Read more reasons why sales are slow -- and find out how to get your own tickets -- on page two. 5. There's no Chelsea F.C.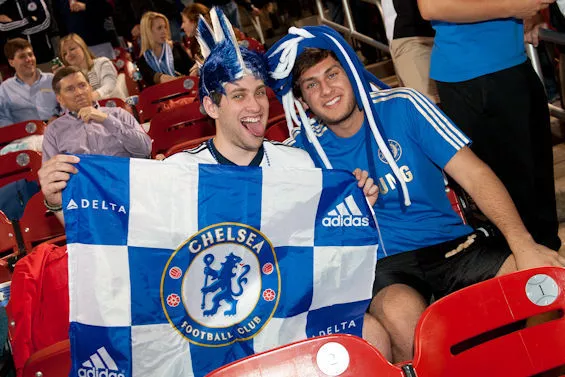 The Chelsea v. Manchester City was a rare opportunity for St. Louis Chelsea fans to witness their beloved team in person. Remember, some of these fans have been waking at the break of dawn for years to stumble down to a soccer-friendly bar that will show their team playing many time zones away. Chelsea fans in St. Louis lost their lids when they heard their favorite team was coming here.
But national teams don't quite work that way. The World Cup only comes around every four years, so fans aren't cheering their national teams through a season the way they do with the English Premiere League. National teams are about celebrating national pride, and ticket sales could start to surge when St. Louis' thriving Bosnian community starts claiming seats.
See also: How Yogi Berra Could Help Bring a Major League Soccer Team to St. Louis
6. There's no C.F. Real Madrid.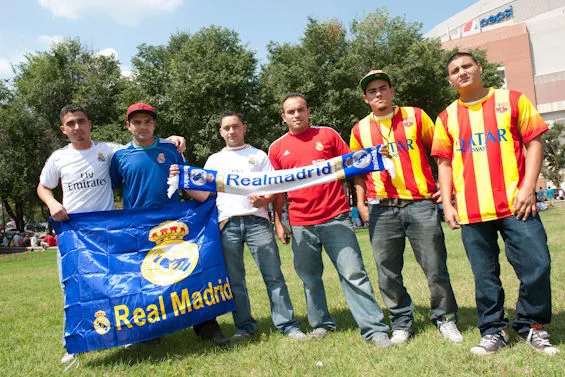 See No. 5.
7. There's no Manchester City F.C.
See No. 5.
8. There's no F.C. Inter Milan. See No. 5.
9. It's the fourth big friendly in a year.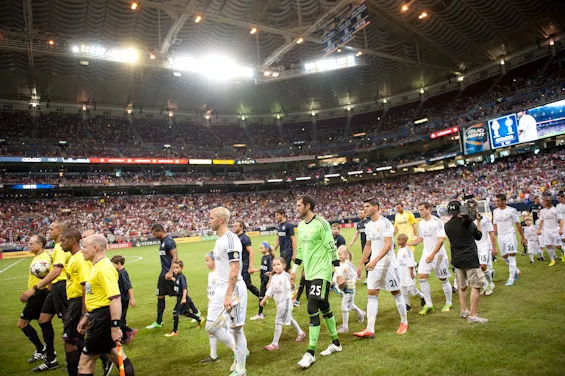 If there were four Justin Bieber concerts in St. Louis in twelve months, would each one really be packed with screaming fans? Well, maybe. But still. We're not saying St. Louis is too spoiled to appreciate this World Cup preview, but it's hard to stay excited for four once-in-a-lifetime events in a row.
10. Everyone is focused on baseball. We don't know if you've heard, but Ballpark Village has a new dress code...
See also: Ballpark Village's Late Night Dress Code Basically Bans All of St. Louis
No one's ready to write off St. Louis' next big soccer match quite yet. Nye says tickets went on sale earlier for this game than for previous ones.
"I think the expectation is that a large majority of these tickets are going t be sold within a short window leading up to the game," Nye tells Fox Sports.
If you want to buy tickets to the May 30 game against Bosnia-Herzegovina and Ivory Coast at the Edward Jones Dome, log on to the Road to Brazil website.
"Because of the success St. Louis had last year with supporting not one, but three matches, I think that really helped us beat out some other more likely markets to host this match," Bye tells Fox Sports. "And with that as a backdrop, we expect it to be successful and we need the word out that, yes, tickets are available and very affordable and reasonably priced."
Follow Lindsay Toler on Twitter at @StLouisLindsay. E-mail the author at Lindsay.Toler@RiverfrontTimes.com.