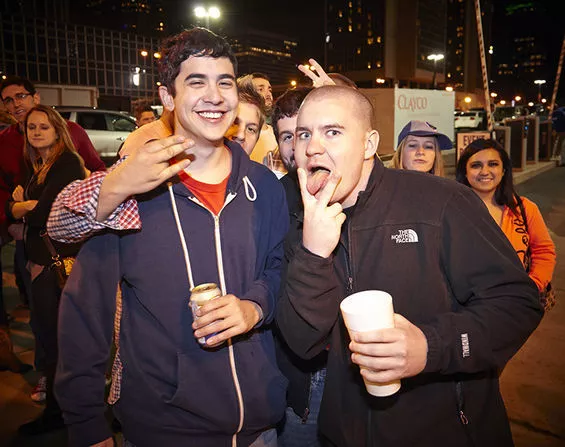 Photos by Steve Truesdell
No one wants to see this. Go home.
Ballpark Village is finally here! It's real, it's happening, and you can even wear a jersey most of the time.
Daily RFT realizes we've been a little rough on Ballpark Village's late-night dress code lately. So this story isn't about the people who would get kicked out for wearing the wrong thing. It's about the people who should get kicked out for so many other reasons.
See also: Ballpark Village: Here's What Happens When You Violate Our Dress Code Here are the ten people who are following the dress code but still need to leave:
1. The Shocker Bros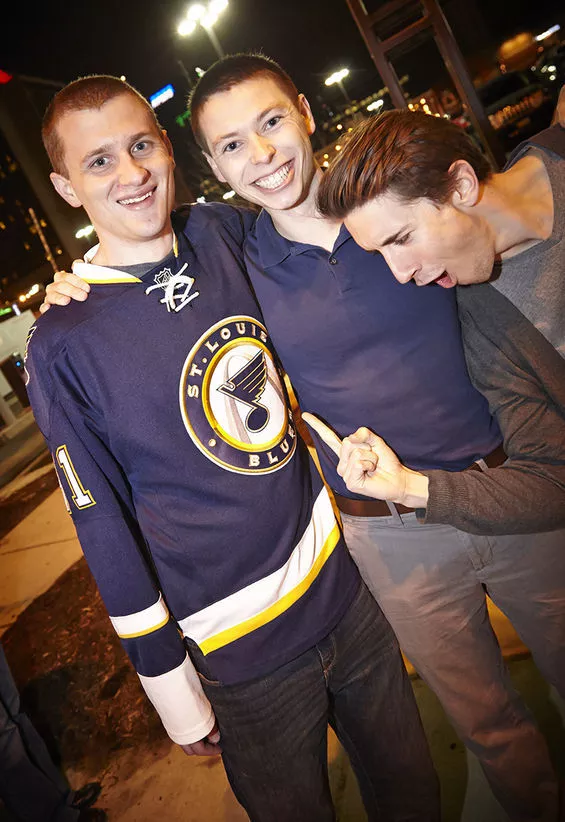 See that blonde lady on the left giving these guys serious side-eye? That's about how we feel. It's late, kids, time to go home.
2. The Happiest Blues Fans Ever
Wearing a hockey jersey is only allowed at seven Ballpark Village restaurants and bars with dress codes if it's on a game day. And since the St. Louis Blues whooped the Minnesota Wild Thursday night, this jersey is doubly allowed. We think these guys should go find a Blues bar and be with their own people. We're thinking south county?
3. The Juggler
Wearing a hat is only prohibited on the second floor of the Budweiser Brew House, which has three total floors. But it's hard to be impressed by juggling when a lady in assless chaps is riding the mechanical bull at the PBR bar. This guy should probably juggle his way back to the six-year-old's birthday party he came from.
See all the Riverfront Times' photos: Will These People Be Turned Away from Ballpark Village?
4. The Ladies' Man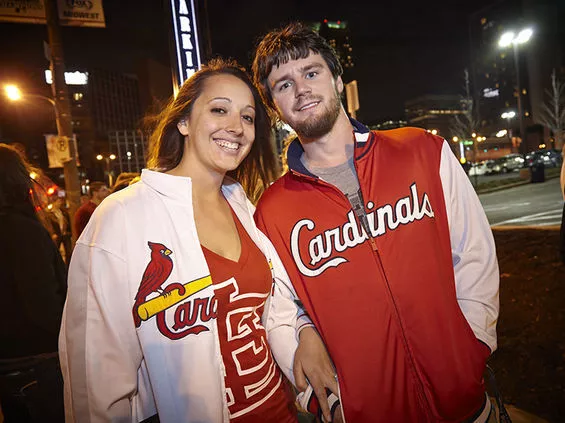 This guy just looks too fly to be partying with all these youngsters in Cardinals sweatshirts. Plus, he can't wear his sick hat on the second floor of the Budweiser Brew House, and we think the hat really makes the outfit. So go find a bar that appreciates your sartorial smarts, sir.
5. The Newly Engaged Couple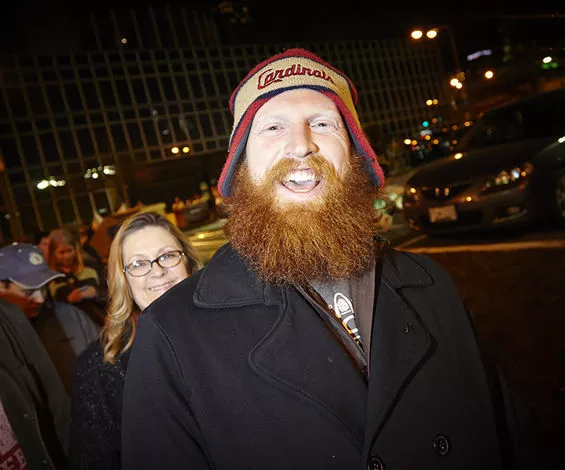 Since these two aren't wearing jerseys, they're allowed anywhere in Ballpark Village after dark. But they look like all they really want to do is bone each other, and we support that. Go home and get busy, lovebirds.
Five more, on page two! 6. The Lumberjack
He'll have to take that hat off on the second floor of the Budweiser Brew House, but first security should make sure his beard is up to their health code.
See also: Half of the Village People Banned From Ballpark Village By Dress Code
7. The First-Time Drinkers
Those rosy cheeks and goofy grins indicate to us that these might not be the world's most experienced drinkers, although nothing about their outfits breaks the Ballpark Village dress code. Still. Go home, boys, before you puke in someone's hair.
8. The Illinois Fan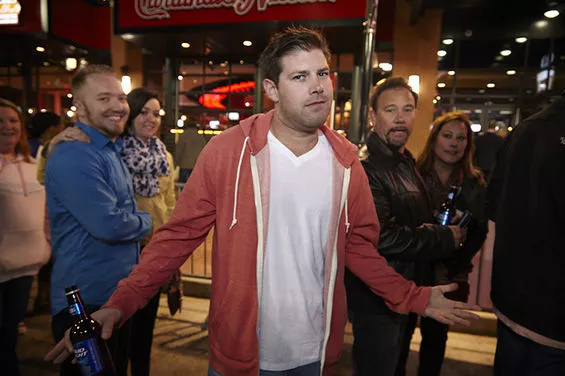 If you love Illinois so much, take yourself back across the river, dude.
9. The Come-At-Me-Bro Bro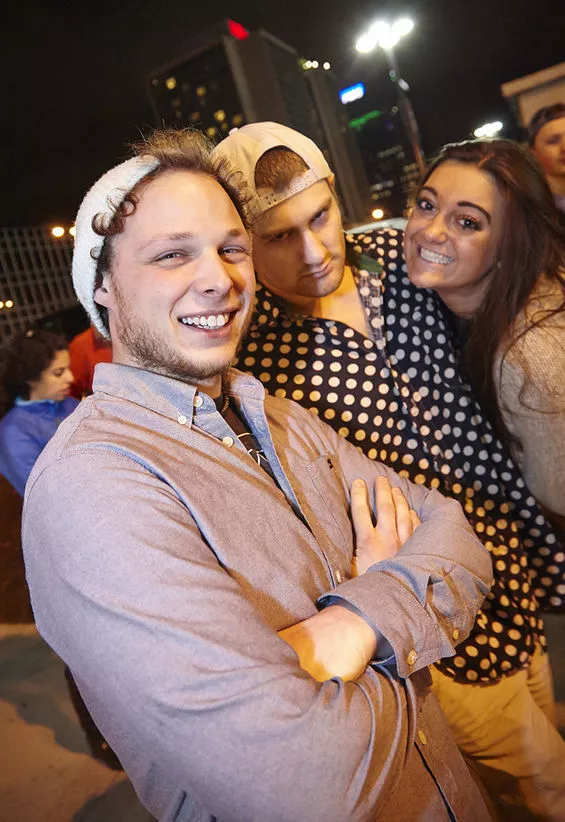 He's ready to get into a fight. Luckily, it won't be a fight with a security guard over his outfit. He's not breaking the dress code, but he's showing too much hostility to stay out much longer. Time to call a cab.
10. The Polka Dot Prince
[image-11]
This guy is about to fall over, and his friends are just getting started. Go home, bro. You're partied out.
Follow Lindsay Toler on Twitter at @StLouisLindsay. E-mail the author at Lindsay.Toler@RiverfrontTimes.com.