Photos by Chris Naffziger
The tower of St. Francis de Sales
After my article about north St. Louis churches, many readers contacted me and asked if I could do a follow up focusing on south St. Louis churches. I realized there are dozens of churches that could fit in this space based on just their sheer beauty, but in the end I decided to focus on churches that for the most part are tucked away on relatively quiet back streets, far from the interstates where commuters fly by every day to and from the city. They are neighborhood anchors, giving names to local businesses and nonprofits, and providing a sense of continuity and tradition in many neighborhoods that have seen rapid upheaval in the last twenty years.
While many north-side churches have struggled and closed over the last 50 years, the picture on the south side remains much more positive. Still, many of these churches have had to fight to remain open -- and relevant. Many parishes once boasted congregations of several thousand each; historically everyone who attended a church lived within walking distance, and attending church meant a five-minute stroll to worship. As attendance dwindled, many of the most famous churches saw the specter of closure and demolition in their future. The churches of the south side embody the spirit of the southern half of the city: gritty, downtrodden, proud and resilient. Instead of outright closure, many churches now serve more specialized congregations of immigrants of religious orders, and their futures look bright.
St Francis de Sales Roman Catholic Oratory
St. Francis de Sales on Gravois in Fox Park.
Long nicknamed the "Cathedral of the South Side," St. Francis de Sales remains one of the truly monumental edifices in St. Louis, over 100 years since its dedication in 1908. While it is hardly off the beaten track on busy Gravois, De Sales seems to miss the attention of passing motorists. Next time you're driving by, stop, get out and just look at this amazing church soaring 300 feet above the street. While no longer a parish, it now functions as an oratory featuring the Latin Mass. That giant tower? It's slowly driving itself into the ground and needs major repairs. Go here to help out.
St. Anthony of Padua Roman Catholic Church
St. Anthony of Padua on Meramec Street in Dutchtown.
Sitting high on a hill looking out over Dutchtown and visible for miles, St. Anthony of Padua has long dominated the view and life of its corner of south St. Louis. While the parish is much older, the current church, in what I would describe as a modified Romanesque Revival style, has stood on the site for about a century, opening in 1910. The parish has endured through tough times, just as its namesake church has; a devastating fire in 1994 tested the will of its parishioners. But just a couple of years later, the church reopened, restored to its former glory. The Franciscan order in St. Louis also chose to stay in Dutchtown at the church, helping to support the community's rebirth.
Continue on for more glorious churches of the south side.
Sts. Peter and Paul Roman Catholic Church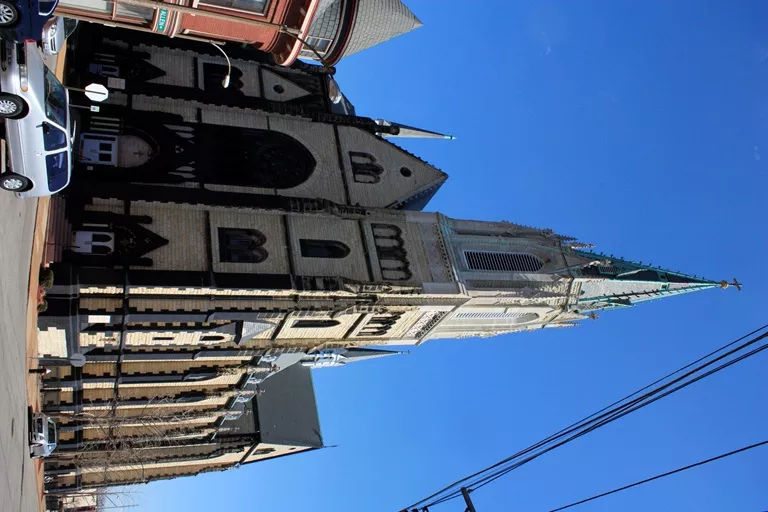 Sts. Peter and Paul in Soulard.
Mardi Gras revelers might know this church as the location where they or their friends passed out last month, but Sts. Peter and Paul Roman Catholic Church bears a much more august history. While not the oldest church in the city, it can trace its construction back to 1875, making it one of the most resilient parishes in St. Louis. The bell tower, with its clearly incongruous stones, rose above the church in 1890. As Soulard struggled through difficult times in the 20th century, the church stayed, and it now remains to serve the homeless in the neighborhood.
Resurrection of Our Lord Roman Catholic Church
Resurrection of Our Lord on Meramec Street in Dutchtown.
Resurrection of Our Lord, shines as another largely unknown gem on Meramec, down the street from St. Anthony. And its design, in the Modernist style popular in the middle of the 20th century, distinguishes it from most of its counterparts in the city. Rejecting the traditional floor plan of a church, Resurrection instead fans out in a wide arc from its high altar. Large windows of both clear and stained glass filter light down into the sanctuary, both bucking tradition while simultaneously embracing it. A tall, slender bell tower rises above church, again speaking to tradition while reinterpreting it. After declining attendance, the church has reimagined itself as the center of the Vietnamese community in St. Louis and is now thriving. A unique feature: a stand-alone baptistry, a rarity in American churches.
Chris Naffziger writes about architecture at St. Louis Patina. Contact him via e-mail at naffziger@gmail.com