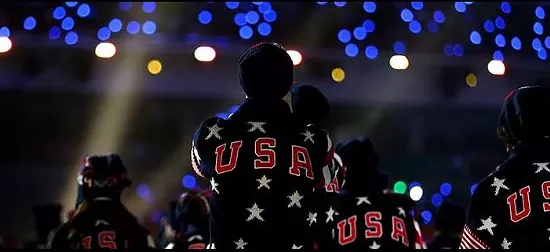 When the United States Olympic Team began asking people to vote for the "Best Winter Olympic Moment," it seemed like a no-brainer to many people that T.J. Oshie's dramatic game-winning shootout goal against Russia should be the clear winner. Those people are wrong.
Oshie became a national hero, darling and sensation all rolled into one when he scored that goal. Even non-hockey fans were proclaiming their love for the Blues winger, including President Barack Obama, even gave Oshie a shout-out on Twitter.
It was definitely an entertaining moment. But "best moment"? No -- and here's why.
The main reason for the attention Oshie's goal got is because it's trendy in the U.S. right now to hate on Russia and especially Putin. Anti-Russia sentiment is in again, and anything Americans can do to poke fun of Russia is considered cool and hip. This includes beating Team Russia at hockey.
See also: 5 Things Blues Fans Need to Know About Ryan Miller
But if Americans were elated that the US beat Russia because the latter country has anti-gay laws similar to Alabama or because Vladimir Putin looks like a Die Hard villain's deadly sidekick, then it doesn't make sense to say Oshie's shootout goal was the best moment. Rather, one should be praising Jonathan Quick.
Praising the Kings goalie might be difficult for Blues fans to do, but this is serious business. When the game was tied 2-2 in the third period, Quick seemingly knocked the net off its moorings on purpose. Nobody else noticed. And when Team Russia's Fedor Tyutin scored a goal to put the Russians ahead 3-2 with only three minutes left, the potentially game-winning goal was disallowed.
Here's Quick kicking the net off the moorings:
And because NBC doesn't allow some videos to be embedded, here's a link to the goal that occurred moments later.
See also: Hull-o? Brett Hull is calling. Will St. Louis answer?
That's some crafty work by Quick. Slava Voynov, Quick's teammate on the Kings and his opponent during the USA-Russia game, knew what happened.
This allowed Team USA to go into the shootout where they used their special weapon -- TJ Oshie, who many hockey observers say was chosen to be on the team solely for his shootout skills. And use him they did -- six times. He scored four times and won the game for his team.
But if it wasn't for Quick's realpolitik statecraft that would have made Putin, the former KGB officer, proud, Oshie never would have won a special place in the hearts of real Americans.
That's what makes Quick's net-kicking so special. His cheating beat Russia and helped create a quintessential American story: One American versus Russia...and the one American prevailed for all Americans...or something like that.
And in a time of Cold War-like distrust between the US and Russia, it makes the victory even sweeter.
That's why Obama tweeted at Oshie. The president doesn't like hockey -- he hasn't even gone to a Washington Capitals game. No, that tweet was all about spiting Putin, who would get back at Obama by taking Crimea, but that's another matter.
See also: Hockey Player Convicted of Murder-for-Hire Saves Teammate
Choosing Quick's stealthily patriotic net-kicking over Oshie's inspiring shootout goal might be a tough pill to swallow for Blues fans. However, it must be considered for America's sake.
Follow Ray Downs on Twitter:
E-mail him at [email protected].