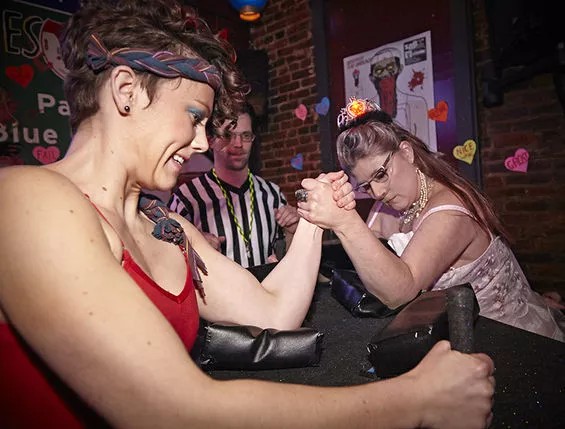 Steve Truesdell
Get physical with the St. Louis Lady Arm Wrestlers.
Move over, Michelle Obama. There's a new group of badass babes with great arms teaching America how to get healthy.
The St. Louis Lady Arm Wrestlers released their first workout video on YouTube this month -- a basic pull-up routine taught by Olivia Newton Brawn, the champion of the Heartbreakers Brawl arm-wrestling championship.
The workout in the video is very basic: just five pull-ups for folks who can do them, or a fifteen-second hang for those who can't. But it's not the calisthenics that make this video fun; it's the tough-yet-welcoming energy Brawn brings to set, all while looking '80s-tastic in American flag leggings and a wrestling-championship belt.
The arm-wrestling crew says it will be releasing more workout videos in the coming weeks.
"Our focus in doing these videos is to entertain our audience as well as to encourage people, particularly women, to get involved," says Elizabeth VanWinkel, who goes by Sigourney Reaper when she's arm wrestling.
See more photos: Lady Arm Wrestlers at Ye Old Haunt
When the lady arm wrestlers aren't challenging each other to feats of strength, they're raising money for charities and building community through "theater, philanthropy and the pure power of ladyhood," VanWinkel says.
Steve Truesdell
Arm-wrasslin' ladies at the Heartbreakers Brawl.
The group raised nearly $1,000 for Karen House, a north St. Louis shelter for homeless women and children, at the Heartbreakers Brawl in February.
The St. Louis Lady Arm Wrestlers are holding another event -- part arm-wrestling competition, part drag show, all party -- at 8 p.m. on Saturday, April 12, at the Upstairs Gallery in 2720 Cherokee.
"We're going larger," says VanWinkel, "more space, more wrestlers, more awesome."
Follow Lindsay Toler on Twitter at @StLouisLindsay. E-mail the author at Lindsay.Toler@RiverfrontTimes.com.