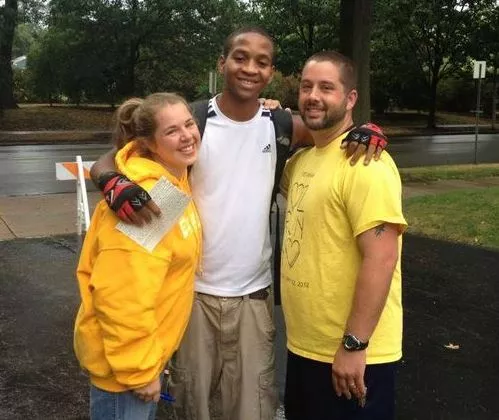 Facebook/Justice for Cornell McKay
Cornell McKay (center) with Pastor Chris Douglas and his wife, Tayra, in August 2012.
Cornell McKay is running out of options.
Yesterday, his lawyers' petition to the state appeals court was denied almost immediately, within hours of filing. That means McKay will likely be sentenced tomorrow for an August 2012 armed robbery he insists he was framed for. McKay's lawyers are now aiming to appeal to the Missouri Supreme Court.
Last week, the same judge who presided over his original trial denied McKay's lawyers' request to stay the sentencing date; both Judge Robin Vannoy and the circuit attorney's office stand by the results of McKay's trial in December 2013, when evidence linking the armed robbery to Megan Boken's killer -- Keith Esters -- was largely kept from the jury.
See also: Cornell McKay Attorney: Police Framed Man For Robbery, Ignored Megan Boken's Killer
Esters is serving a 50-year sentence for shooting Boken during a botched robbery on August 18, 2012, in the Central West End. The murder occurred just a few blocks from a similar robbery on August 10, 2012, for which McKay is facing 10 to 30 years.
In the appeal, McKay's lawyers characterize Vannoy's decision to limit evidence pointing to Esters as "ironic in the extreme," since she allowed Esters' girlfriend to testify that her boyfriend had told her he acquired the August 10 victim's cell phone in a robbery. However, Vannoy did not allow the jury to hear testimony from homicide detective Jerone Jackson, who stated in a previous deposition that he informed the lead detective investigating the August 10 robbery about Esters' admitted link to that crime. According to Jackson's deposition, Esters claimed he was in the immediate area of the robbery, knows who did it, and that it wasn't him or McKay.
In previous interviews with Daily RFT, McKay's lawyers expressed hope that a higher court would reevaluate Vannoy's decision to heavily restrict the evidence pointing to Esters. But if the state supreme court sides with Vannoy, they say they will take their case to the federal courts.
This case is anything but simple: Both the circuit attorney's office and McKay's lawyers caution that trying to make sense of the case's many components -- the stolen cell phone from the August 10 robbery, the victim that ID'd McKay, Esters' incriminating statements to Post-Dispatch reporter Jennifer Mann, the general lack of material evidence, etc -- is ultimately the court's responsibility.
That being said, one aspect of the case that remains unresolved is McKay's alibi for the evening of August 10, 2012. A recently filed affidavit from the pastor McKay was living with prior to his arrest raises the question: Did police fully investigate McKay's alibi?
Continue for Pastor Chris Douglas' allegations that police ignored McKay's alibi.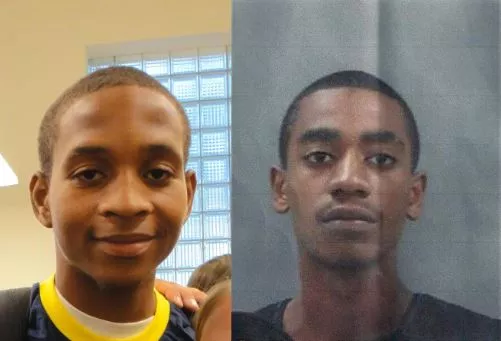 Chris Douglas says this side-by-side comparison of McKay and Esters shows how easily they could be confused for each other.
Douglas, an ex-cop, ministers to a congregation of around 750 in the town of Washington. During the week prior to Boken's murder, McKay had been living in Douglas' basement while working at a local graphic-design company. It was Douglas who drove McKay to the District 9 headquarters on August 21, 2012, to voluntarily turn himself in.
At the time, Douglas assumed McKay's weeklong stay in Washington would clear him as a murder suspect and the police would leave him alone. That didn't happen. On August 20, the victim of the August 10 robbery ID'd a mugshot of McKay as the man who'd stolen her cell phone and $50. When McKay arrived at the station on August 21, he was immediately arrested.
But Douglas continued to reach out to the robbery detectives and homicide detectives investigating the Boken murder. McKay told Douglas that he had stayed at the house of three family friends the night of August 10, and had told police about his alibi.
But when Douglas inquired about those three witnesses, he says police informed him that there had been no attempt to bring them in for questioning. Douglas decided to get the witnesses himself and bring them to the station.
Here's an excerpt from Douglas' affidavit.
Later that week, on August 31st, we spoke to Detective Paul Lankhaus at District 9 to ask him about the other witnesses that were with Cornell that evening of August 10th. We found out that they never even spoke to them yet...

That day, John Huff and I drove to the witnesses home and brought Bridgette, Kiara and Crystal to the police station to give a statement. Detective Stamper, Detective Lankhaus and Detective Boeteheimmer were all present when they took John and I in the back and told us they were not going to take their statements.
Douglas did not testify about this incident during McKay's trial. His lawyer at the time, James Hacking, told him that such testimony would be hearsay. However, Douglas says he later sent a statement to the circuit attorney's office.
Douglas recorded part of the August 31 meeting mentioned in the affidavit. The quality of the recording is poor and did not capture most of the meeting. One voice on the recording (allegedly either Detective Lankhaus or Detective Stamper) can be heard telling Douglas he will pass McKay's alibi information to the detectives investigating the August 10 robbery.
Douglas tells Daily RFT the witnesses were later interviewed by the circuit attorney's office, but Hacking chose not to call them to testify during McKay's trial. The issue of McKay's alibi will likely become another component of his appeal in a higher court.
Citing department policy, St. Louis Metropolitan Police Department spokeswoman Schron Jackson declined to comment on pending litigation. The circuit attorney's office has repeatedly declined to answer questions about the case and stands by the original trial.
Continue for the full text of McKay's lawyers' writ of appeal.
Here's the full text of McKay's appeal, which was denied yesterday.
McKay Writ: Missouri Court of Appeals
Follow Danny Wicentowski on Twitter at @D_Towski. E-mail the author at Danny.Wicentowski@RiverfrontTimes.com