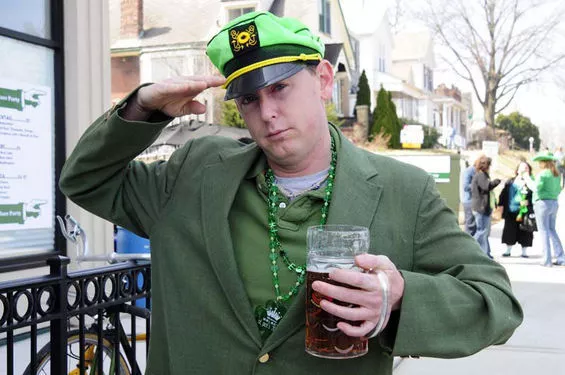 David Walthall
Ahoy! It's St. Patrick's Day!
Sure, St. Patrick's Day isn't technically until Monday, but who says we can't party now? Prep your liver for green beer and corned beef now so you're ready for the big day.
Here's our official Daily RFT guide to the best St. Louis St Patrick's Day celebration ever:
Friday, March 14 7 p.m. - Guinness Sampling Night at Tigin Irish Pub. Guinness Girls are on hand to celebrate Ireland's famous creation.
See also: Photos: St. Patrick's Day Party in Dogtown Erupts in Drunken Brawl
David Walthall
If you missed St. Louis' Mardi Gras celebration, make it up to yourself by going to St. Patrick's Day.
Saturday, March 15 7 a.m. - Breakfast at the Precinct Sports Bar. Eggs, bacon, smoked ham, hash browns, pancakes and biscuits and gravy.
9 a.m. - 36th Annual St. Patrick's Day Parade Run. More than 13,000 people turned out last year for the annual five-mile run in St. Louis' downtown and midtown.
Noon - St. Patrick's Day Parade. More than 120 floats and gigantic balloons will be parading through downtown. Families can watch the balloons being inflated at 8 a.m. at 18th and Chestnut streets. The Irish Village in Kiener Plaza, at Broadway and Market Street, starts serving food and drink at 9 a.m.
2 p.m. - Party at Laclede's Landing. Take the shuttle from Laclede's Landing to the downtown St. Patrick's Day Parade starting at 9 a.m. Once the parade is done, come back for live music and food and drink specials, including corned beef and cabbage, Irish stew, soda bread and Irish car bombs.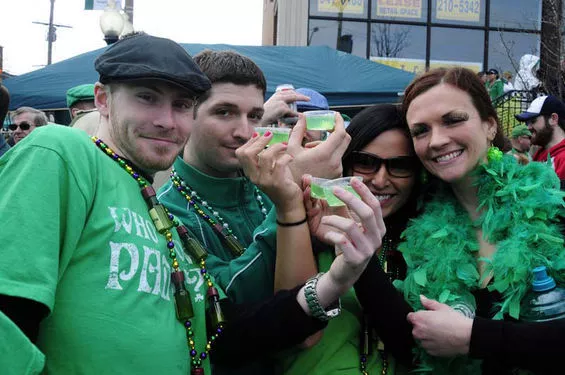 David Walthall
St. Patrick's Day: The only day when drinking green alcohol seems normal.
Sunday, March 16 8:30 a.m. - Sunday Bloody Sunday at Tigin Irish Pub. Get a special brunch of biscuits and gravy with a bloody mary for $10 until 3 p.m. The Liverpool v. Manchester United soccer game will be on at 8:30 a.m.
Monday, March 17 St. Patrick's Day
8 a.m. - Free Breakfast Buffet at The Dubliner. Breakfast ends at 11 a.m., but the party runs until 3 a.m.
8 a.m. - "Pints and Pancakes" at Tigin Irish Pub. $5 buys your cover all day and pancakes until 11 a.m. After breakfast, party all day in the pub's heated tent.
12:30 p.m. - St. Patrick's Day Parade. The perennial favorite, Dogtown's St. Patrick's Day celebration has been going strong every year since 1984. The parade starts at Tamm and Oakland avenues and ends at Tamm and Manchester. Remember: No coolers allowed.
All day - Last chance to enter Llywelyn's Pub's giveaway for a free trip to Ireland.
Follow Lindsay Toler on Twitter at @StLouisLindsay. E-mail the author at Lindsay.Toler@RiverfrontTimes.com.