If you bought some weed in St. Louis between 2006 and 2010, the man your dealer probably got it from has been sentenced to 30 years in prison.
On Thursday, David Ingram Henderson, 39, of Maryland Heights, was sentenced after having been convicted last November of one felony count each of "conspiracy to distribute and possess with intent to distribute over 1,000 kilograms of marijuana; conspiracy to manufacture over 100 plants of marijuana, and the manufacture of 100 marijuana plants."
See also: Meet Jeff Mizanskey, Missouri's Only Inmate Sentenced to Death in Prison for Pot
According to the Department of Justice, Henderson ran an organization that transported more than one ton of marijuana from Arizona to the St. Louis area starting in the summer of 2006 and end ending in June 2010 when he and several others were arrested for the conspiracy. Here's how he did it:
Henderson devised a system in which he would use members of the conspiracy to drive multiple rental vehicles with license plates from various states back from Arizona. One of these vehicles would be loaded with a large amount of marijuana intended for distribution in the St. Louis area and the other vehicles would travel in tandem with the loaded vehicle to serve as decoys designed to direct law enforcement attention away from the loaded vehicle. Additionally, Henderson headed another conspiracy that operated indoor marijuana growing operations at various locations in St. Louis City and County.
Henderson was arrested with 23 other codefendants. And as Daily RFT reported back in 2010, they had some pretty interesting names, including "Soup," "Nut" and "Tommy Guns."
See also: Feds Bust Major St. Louis Marijuana Network; 24 People (with Intriguing Aliases) Indicted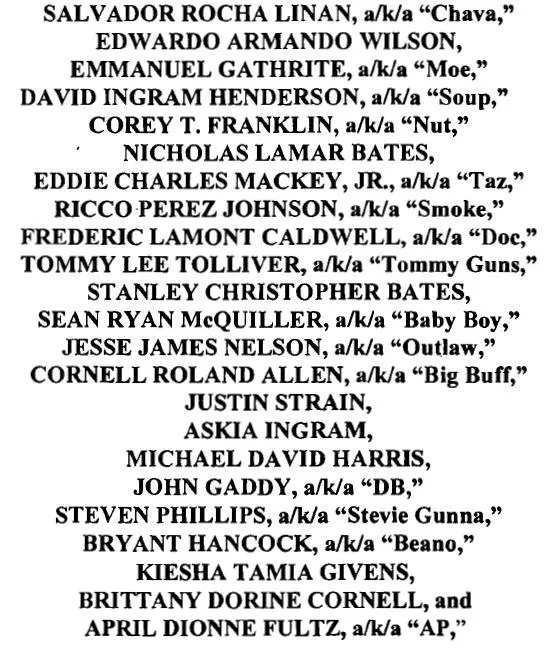 Each person had previously pleaded guilty and has been sentenced, according to the Department of Justice.
Incarcerating Henderson will cost taxpayers more than $800,000 at an average of about $27,000 per year.
Meanwhile, in Colorado, the state collected about $3.5 million in taxes from recreational marijuana sales in the month of January alone.
Follow Ray Downs on Twitter:
E-mail him at Ray.Downs@RiverfrontTimes.com.