Wikimedia/Sardaukar Blackfang
Vyvanse is one of several medications used for ADHD.
Express Scripts, a St. Louis-based medication prescription company, has released a report saying usage of ADHD meds have risen substantially over the past few years -- and it's adult women, not young boys, who have increased their pill popping the most.
The study looks at 400,000 pharmacy claims out of 15 million patients with ages ranging between 4 and 64. The time frame was 2008 through 2012. Overall, the number of Americans using ADHD medication rose 36 percent during those four years.
People of all ages are using ADHD medication in greater numbers, including children. But adults have seen a rise by 53.4 percent between 2008 to 2012, according to the study. And while male usage "plummets" after the age of 18, women between the ages of 19 and 25 actually increase their usage, with 4.5 percent of women in that age group taking ADHD medication versus 3.5 percent of women 18 and under.
ADHD usage decreases for women over time, but it remains higher than males' usage. Here's a chart from the study that compares female to male usage: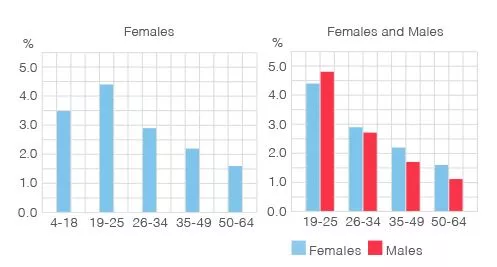 Express Scripts offers several explanations for the increased usage among females. First, females are less likely than males to show signs of having an ADHD disorder while children, so they might not know they have it. As they get older, they notice symptoms and seek treatment.
See also: Got Drugs? St. Louis Officials Would Like Your Unwanted Prescription Medications
Other possible reasons include females being more likely to adhere to a prescribed medical plan, abusing ADHD meds to lose weight (because stimulants decrease appetite), and finally, according to Dr. Joseph Austerman of the Center for Pediatric Behavioral Health at Cleveland Clinic, simple coffee just not doing the trick.
"Another factor that has an appreciable effect in driving ADHD drug use, especially in career women, is the 'superwoman syndrome,'" Austerman says in the study. "For some women, stimulants may provide the extra energy and focus they need to perform at a high level both at home and on the job." Click on the next page to read about Missouri's ADHD usage...
There is also a regional trend in the study. The Southern region of the US takes ADHD medication at the highest rate, with the Midwest coming in at a close second. Missouri is toward the higher end of the ADHD usage spectrum, with between 3 and 3.5 percent of Missourians of all ages taking medication for the disorder:
These numbers reflect the usage among children and adults. But among children, Austerman says, the regional differences might be due to states' lack of behavioral specialists available for children while also over-testing kids at school.
"There is also evidence that high medication use is correlated with states that put a great deal of emphasis on high-stakes testing and where schools and teachers are penalized for students' poor performance," he says. "Furthermore, many of these school systems lack the resources to properly address behavioral problems, making them more apt to label kids as having ADHD."
See also: Drug Companies Fight Missouri Effort to Make Sudafed a Prescription Drug
Whatever the reasons are for the increase in ADHD medication usage, there's no question that the business is booming for the companies that make it. In December 2013, the New York Times published a lengthy article outlining how the pharmaceutical industry has made a greater push to market ADHD medication among adults, as well as children.
Between 2002 and 2012, sales of ADHD medication had risen by $6 billion.
Follow Ray Downs on Twitter:
E-mail him at Ray.Downs@RiverfrontTimes.com.