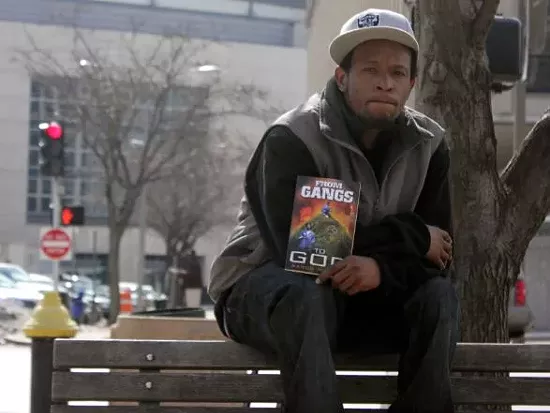 Danny Wicentowski
Aaron Morris, the lowest salaried St. Louis city employee.
The salaries of St. Louis' 5,766 city employees are public and easily searchable online. Though it's easy to get lost staring at the six-figure salaries pulled in by top officials, we wondered...who's at the bottom?
It turned out to be Aaron Morris, a 34-year-old reformed gang member and Program Worker II for the city's health department. He pulls in $24,492 a year, the very lowest among salaried city employees.
"I was in a gang from the age of nine years old to the age of seventeen," Morris begins. "Getting out, I had to face death."
See also: Rapper's Sheet: Gang life inspired Yo Banga's music. Now it threatens to derail his career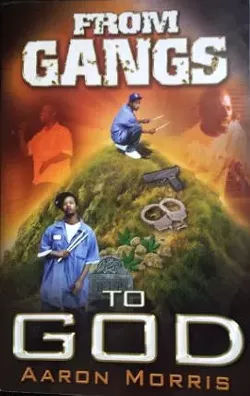 The health department hired Morris in 2006, three years after he enrolled in a gang-abatement program called Youth Empowerment Services; it was there that he caught the eye of Bishop Eddie Stallings, a former gangster himself.
"I came from the street," says Stallings, who now works as a program supervisor with the public safety department. When Morris entered the program, Stallings and his bosses were looking to train a youth outreach specialist, someone possessing social pull with at-risk youth; they wanted to reach kids whose lives were dominated by gang allegiances and turf lines.
Morris stood out. He was in midst of transitioning from that life, leaving the easy money of the game behind. After joining the health department, Morris was made supervisor of his own youth outreach efforts. His old street connections came in handy.
"It was hard trying to believe that I could make it without hustling," Morris recalls. "You really have to believe in hope, and ain't many people teaching you how."
But after three years in the program and keeping his nose clean, Morris arrived for his first day at work with the health department. He remembers the date: October 8, 2006. Over the next four years, Morris says, his programs have reached thousands of kids. He organized community talent shows, gang truces and STD prevention events. But in 2009, the funding for these programs dried up.
"They shut us down," he says.
Continue for how Morris faced death to escape gang life.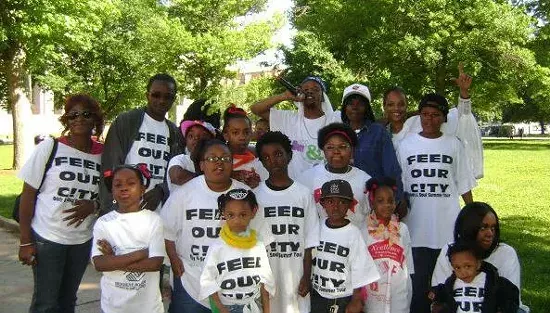 Aaron Morris
Morris started the "Feed Our City" program, part a larger four year campaign to lower STD rates and stop gang violence.
See also: Battle Lines Gangs keep their murderous hold on the streets of St. Louis. And kids like Lil' Robert Walker pay the price.
By 2011, Morris says, his outreach efforts were "hanging by a thread." Nowadays, he tries to keep in touch with the teens -- many of them gang members -- who once were his interns. It was a good gig for a teenager, Morris recalls, because they could make $12 an hour.
"I don't want them to lose hope," he says. "I still have connection with those children, and they still come see me. They still talk to me, and they see me struggling with no money, trying to put things together."
Last year, the Youth Empowerment Services program dissolved due to funding problems of its own, says Stallings. Today, the door Morris escaped through -- from gang life to city employment -- is now closed.
"It is hard," Morris continues, "when those youth call me and tell me, 'Mr. Morris, I think I want to move this little package,' or 'I'm finna make this move.'"
Aaron Morris
Morris' "Body and Soul" program sought to lower STD rates through awareness and prevention events.
Morris still organizes outreach and empowerment programs for at-risk youth, just without city funding. He gives speeches at churches and community centers, spreading the Good News and recounting his life as a gang member.
In 2012, Morris published a slim memoir of that life, From Gangs To God. In the book, he describes how he was nearly killed in 1997 when he tried to leave his gang. He was seventeen years old at the time.
"I know this will sound crazy, but my head was set upon some concrete stairs and stomped on three times, and my skull was cracked in half. I had an out-of-body experience, and I saw everything."
"I watched everybody beat me up and leave me there. I saw --" he pauses for a moment. "It's going to sound crazy," Morris continues, "but I saw the spirit of my deceased grandfather come to me, escorted by angels. He walked toward me."
Morris says he later woke up on a family member's couch, covered in blood. The experience left him filled with gratitude to God and, he says, a profound desire to help kids like he was, those with lives bereft of belief and hope.
"Now, the funds for at-risk prevention, the funds for the STD campaign, the funds for these different programs, they are gone," he says. "But I'm still remaining. As I live for a purpose."
Follow Danny Wicentowski on Twitter at @D_Towski. E-mail the author at Danny.Wicentowski@RiverfrontTimes.com