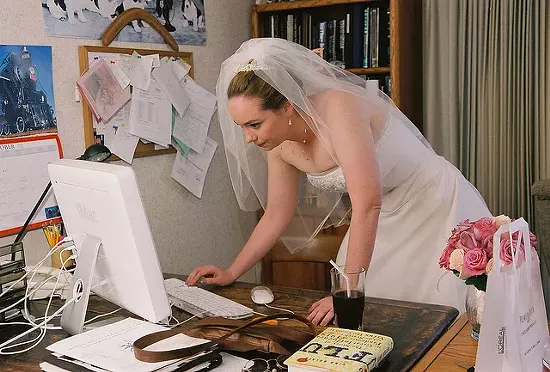 madprime on flickr
A new report picks the ten St. Louis neighborhoods where married people are looking for a boyfriend/girlfriend online.
More married St. Louis women are looking for a little somethin' on the side, according to a new report from AshleyMadison.com, the dating site for married folks.
The social network for infidelity released some choice statistics from its 61,000 St. Louis subscribers, including the ten cheatingest neighborhoods in the Lou:
See also: Best Place to Meet Married Women in St. Louis
1. Oakville (8.2 percent of AshleyMadison subscribers in St. Louis are from here.) 2. Maryland Heights (7.8) 3. Creve Coeur (7.6) 4. Clayton (7.4) 5. Affton (7.1) 6. Overland (6.6) 7. Kirkwood (6.3) 8. St. Louis Hills (5.7) 9. North Hampton (5.4) 10. Princeton Heights (4.9)
AshleyMadison offers a map with this data, but it's pretty astoundingly inaccurate, geographically speaking. Affton looks like it might actually be in the Mississippi River: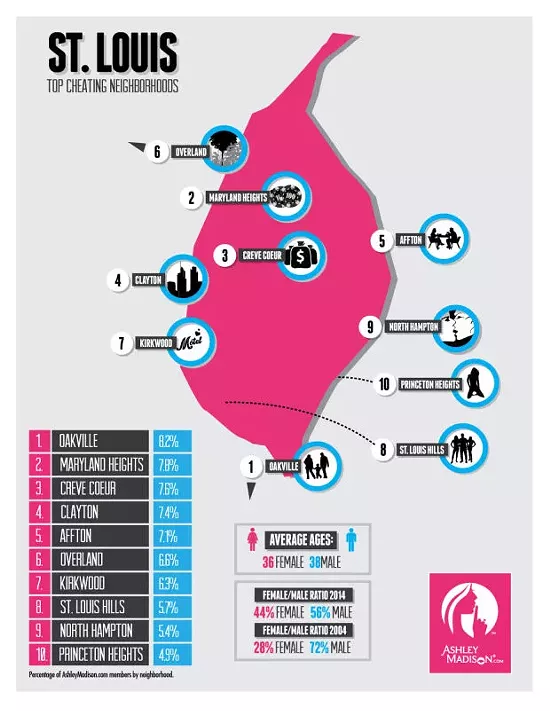 AshleyMadison.com
Here's the data behind St. Louis' married folks who can't keep it to themselves.
According to the data, the percentage of St. Louis women using the site has bumped up to 44 percent from 28 percent ten years ago. Fifty-six percent of the site's users in St. Louis are men.
The average women using the site is 36 years old, and the average guy is 38.
In total no-duh news, Noel Biderman, the founder of AshleyMadison, says having an affair and keeping it hidden is easier when you're making bank.
"Those with discretionary income and freedom to travel are even more likely to stray," says Biderman.
Oakville subscribers have the most children, and St. Louis Hills subscribers are gettin' it on with the most people, according to the data.
Follow Lindsay Toler on Twitter at @StLouisLindsay. E-mail the author at [email protected].