Matt Perry
Matt Perry, seventeen, with his "illegal" truck.
Matt Perry, a seventeen-year-old senior at Lafayette High School, worked two jobs to buy his dream car, a 1965 cream-and-green Ford F100.
There's just one problem: He doesn't have anywhere to park it.
Valley View subdivision in Wildwood, where Perry lives with his mother and father, prohibits pickup trucks parked overnight more than four times a year, and his neighbors are making it very clear they won't tolerate rule-breaking.
"I've lived in this house since I was 1," Perry says on the Facebook page he's created for his truck. "It is the only home I know. I guess it is a fight or flight situation. In this case, I choose to fight for my truck and for the next generation of kids, like me, who want their first car to be a truck. The rule is wrong. It needs to change."
See also: Found on Craigslist: 1975 Electric Car Looks Part-Golf Cart, Part-Cheese Wedge Perry faces a $25-per-day, or $9,000-per-year, fine for parking his truck in his own driveway. One neighbor even threatened to call the police and have it towed, Perry says.
Perry took his cause to the board of trustees, who put the anti-truck law up for a vote. Angry neighbors circulated a letter saying trucks like Perry's would lower property values: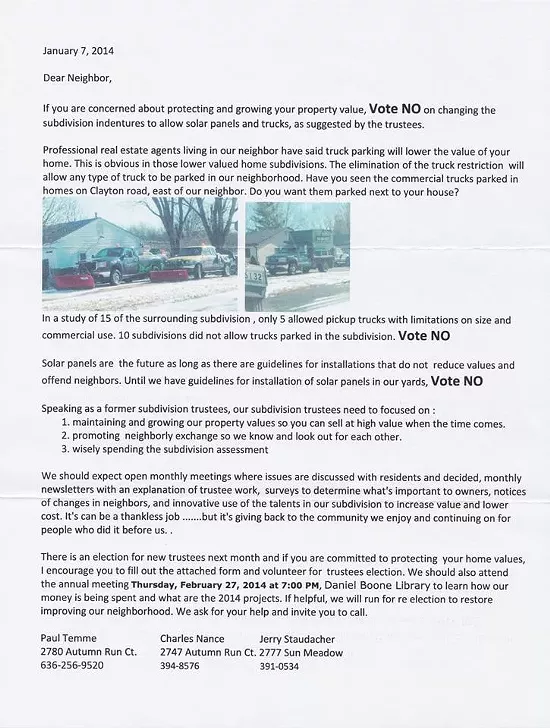 Eighty-five people voted to change the law and allow Perry to park his truck in the neighborhood, beating the naysayers by 33 votes. But even that wasn't enough.
"We found out we actually lost the vote even though we won the simple majority," Perry tells Daily RFT. To change the rules, Perry would have needed a super-majority of 130 votes.
Continue reading on the next page.
Perry thought he had a second chance when the trustees agreed to change the voting rules. Under the new system, Perry only needs a simple majority to keep his truck, but the trustees say they still won't put the issue back on the ballot.
"Instead of needing a super-majority, we would need a simple majority, but they are saying that we lost the truck [vote] anyway," Perry says.
Perry took his fight to Facebook, where more than 3,500 people have liked the page "Save Matt's Truck."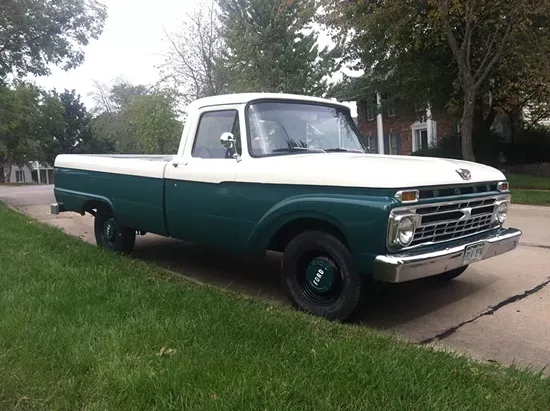 Matt Perry
Do you think this truck would lower property values?
Perry may be graduating high school, but that doesn't mean he and his truck are leaving anytime soon.
See also: Red Light Cameras Capture St. Louis' Worst Car Crashes of 2013: Video
He's earned two free years of tuition in a local community college through the A+ program, which rewards students for earning good grades, volunteering 50 hours of community service and steering clear of drugs and alcohol. He plans to study next year at Wildwood Community College.
Until the rules change or he gets towed, Perry's truck is still parked in his driveway. He's considering circulating a petition to get 130 signatures -- that magical supermajority number -- to change the law, but with school and two jobs, that's difficult to do.
Follow Lindsay Toler on Twitter at @StLouisLindsay. E-mail the author at Lindsay.Toler@RiverfrontTimes.com.