Jon Gitchoff
USA Today suggests Vintage Vinyl and Euclid Records for your hipster music needs.
The word "hipster" is used so often now we're not totally sure what it means anymore.
In USA Today's latest weekend travel guide, "hipster" means eating donuts, shopping for vinyl and drinking craft beer. (Actually, that sounds pretty great.)
The national newspaper offered readers its top picks for a hipster getaway to St. Louis on Monday, touting places like Cherokee Street, Courtesy Diner, Vintage Vinyl, the Heavy Anchor and Strange Donuts.
See also: Southern Living Names Cherokee Street "Next Great Neighborhood"
"If you're too cool for school, you'll find no shortage of the hip and happening in St. Louis," the article starts.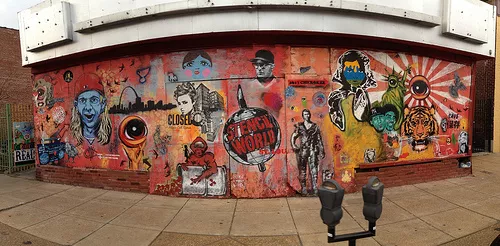 Street art on Cherokee Street.
USA Today gives special attention to the up-and-coming neighborhood of Cherokee Street, especially the stretch west of Jefferson Avenue that's now attracting just as many visitors as the east side's "bevy of antique and specialty shops." The newspaper credits the authentic Mexican food spots, especially El Torito and Carniceria Latino Americana, as well as the city's latest whiskey bar, the Whiskey Ring, and the eclectic arts venue 2720 Cherokee for the neighborhood's rise.
"With all of this going on, it won't be long before east meets west," USA Today says.
Unfortunately, it wasn't St. Louis' hipster appeal that drew the eye of USA Today. Clearly, some editor in a USA Today conference room asked her reporters to write travel stories that made them seem au courant: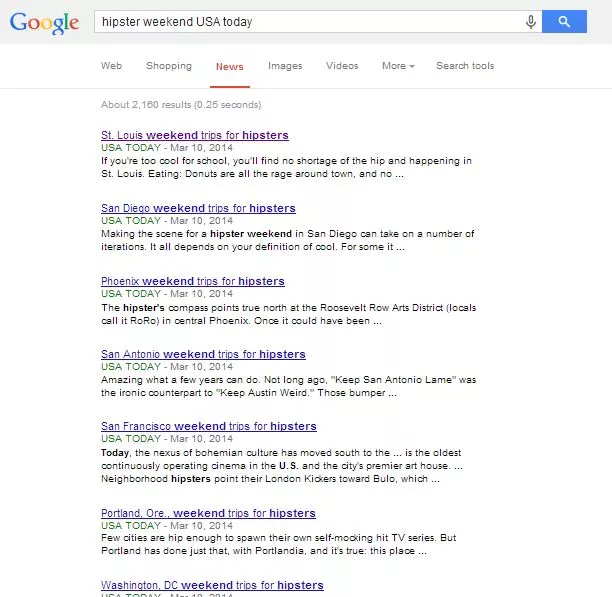 Up next: Hipster vacations in Dubuque and Salt Lake City.
But we'll take what we can get.
See also: KSDK (Channel 5) Investigates Quirky, Totally Unexplored "Hipster Culture" in St. Louis
Want to spend the most hipster day ever in St. Louis? Here's how to do it, following USA Today's advice (and assuming you can travel via teleportation):
Go to the next page for our USA Today-inspired travel guide. Want to spend a hipster day in St. Louis?
Get an early start with a Strange Donuts doughnut, which come in classic iterations like glazed and fritters, as well as custom creations, including the "Chicken and Waffle" or the "Hog Burger." Wash it down with a cup of Sump Coffee. "Don't even think about asking for cream or sugar," says USA Today.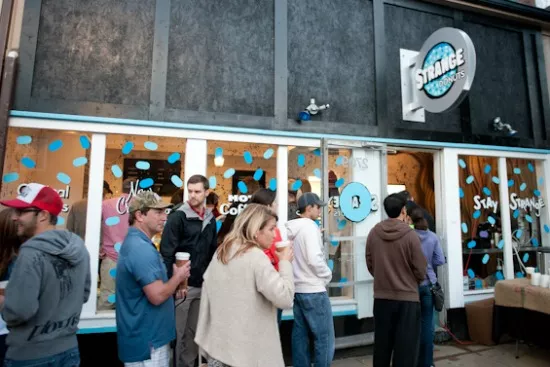 Jon Gitchoff
Strange Donuts draws crowds in the morning and at night.
Beat the crowds to the sales with a morning of shopping for vintage clothing, throwback furniture, hats, records and books. USA Today singles out three businesses in the Delmar Loop for hipster tourists with money to burn: Avalon Exchange for "modern, gently used apparel," Vintage Vinyl for "your favorite music on wax," and the "new and used tomes" at Subterranean Books.
Lunch break. "Uncle Bill's Pancake and Dinner House is open 24/7, and has become a tradition for local night owls," USA Today says. "The country fried steak is truly a site to behold."
Then, let's make your St. Louis memories permanent, USA Today suggests.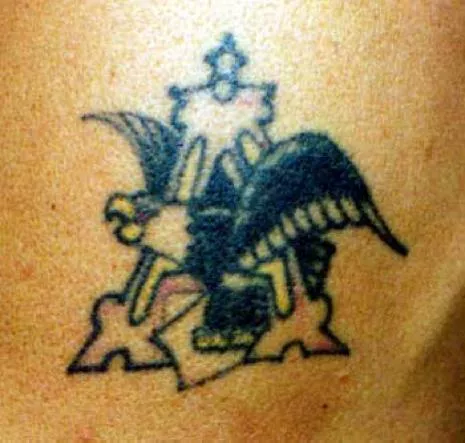 badtattoos.com via
A-B may not be headquartered in St. Louis anymore, but it still makes for a hell of a tattoo.
"Why not commemorate your St. Louis visit with some fresh ink?" the newspaper says. "Trader Bob's Tattoo Shop, TRX Tattoos and Piercings and Tower Classic Tattooing have some of the best body artists in the business."
See also: Portland Laments Losing "Hipster" Streetcars to St. Louis
Nightlife in St. Louis is all about catching "the best in local and national bands you've probably never heard of and all manner of alcohol-fueled revelry," USA Today says.
USA Today seems particularly impressed by St. Louis' local brew scene: "St. Louis also has a booming craft beer scene, and many of the breweries have tasting rooms where you can kick back and enjoy a well-crafted pint, like 4 Hands Brewing Company, The Civil Life Brewing Company, Perennial Artisan Ales and Urban Chestnut Brewing Company."
So welcome to St. Louis, hipsters of the world. We hope you try a Slinger.
Follow Lindsay Toler on Twitter at @StLouisLindsay. E-mail the author at Lindsay.Toler@RiverfrontTimes.com.