Jeremiah Raber (right) really believes in his product.
Jeremiah Raber is your typical early-stage entrepreneur. He's invested thousands of dollars out of pocket, works from his basement and struggles to meet demand for his product.
Oh, the product? An unbreakable, bullet-proof groin protector called Nutshellz.
Raber believes in Nutshellz so fully that he took a swift kick to the crotch as part of a Discovery Channel segment last year. Now, he's got his eyes on the ABC reality show Shark Tank, where he hopes his business pitch will convince the show's panel of jaded investors to hit him right in the bank account.
See also: Video: A Test of "Nutshellz," the Saint Louis-Invented Groin Protector That Can Take a Bullet
ArmoredNutshellz.com
Jeremiah Raber (right) with UFC fighter Lance Benoist.
"If I got thousands of orders I would be screwed," says Raber, who says he needs about $500,000 to build up production of Nutshellz. He works a day job at the Metropolitan Sewer District; at night, he slaves over a machine press. The finished cup is fashioned from layered Kevlar and Dyneema, "the world's strongest fabric," Raber says.
For those who aren't familiar with Shark Tank, the show features a panel of real-life investors -- including Dallas Mavericks owner Mark Cuban -- who listen to a succession of business pitches from entrepreneurs in dire need of funding.
Raber tells Daily RFT that he's been in touch with the show's producers, though with filming schedules it might be a while before the episode airs.
In the meantime, the musclebound Raber, of High Ridge, is trying to attract attention from the world of sports.
"You can get a $700-to-$800 pair of hockey skates, $1000 carbon fiber stick, but everyone is still using a $15 plastic cup imported form China, " he says. "I think its just a matter of changing the culture, getting people to realize there's a high end cup here."
Raber's had some success getting Nutshellz under the shorts of male athletes: Late last year he saw a tweet from Connor Knapp, a goalie for the minor league hockey team Buffalo Sabres. Knapp apparently took a slap-shot straight to the cup, destroying it.
See also: Nutshellz, Local Company, Makes "Guardian Angel" Bulletproof Inserts for Kids' Backpacks
Raber ended up contacting Knapp, and the goalie is now one of Raber's more high-profile clients. Raber also sponsors a small stable of UFC and mixed-martial arts fighters.
However, most of Raber's business comes from police officers and the military. For cops and soldiers, the danger of having your boys blasted off in a gunfight provides ample motivation to shell out the couple hundred bucks for premium protection.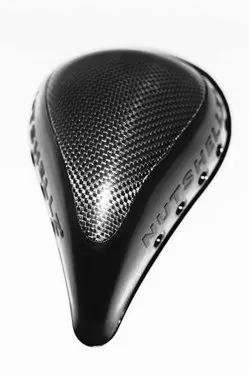 ArmoredNutshellz.com
The Nutshellz groin protector.
"When I first launched, I talked to everyone who purchased and they were a pretty even mix between police, military and sports, with a lot of hockey and mixed martial artists. So I started looking into the sports world," says Raber.
"That's why I need either investor capital or Shark Tank."
Raber claims he's spent nearly $200,000 since developing Nutshellz in 2006. The best scenario going forward, he says, would involve outsourcing parts of the manufacturing process to lower cost. Eventually, he envisions Nutshellz branching out into hockey pads and even helmets.
Until then, Raber will spend his nights and weekends in his basement, cranking out cups.
"I pretty much spent all the money I made last year," he admits. He laughs and says, "Thank God for my wife, she let us live."
Follow Danny Wicentowski on Twitter at @D_Towski. E-mail the author at Danny.Wicentowski@RiverfrontTimes.com