Adrien Goulet
Judah Friedlander, lover and hater of Imo's Pizza.
The first time Judah Friedlander -- who plays Frank Rossitano, the guy with all the hats on 30 Rock -- ate an Imo's pizza, he thought it was a joke.
"I thought I was on a prank show where someone had given me the worst pizza in history, and then I realized, 'Oh, this is how they actually make it,'" Friedlander tells Washington University's Student Life Newspaper.
See also: 6 People Who Should Take David Freese's Place as Imo's Pizza Spokesperson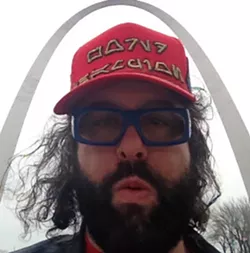 Judah Friedlander on Instagram
Judah Friedlander hits up the Arch.
Student Life reporter Eliana Goldstein caught up with Friedlander after his packed show Wednesday, and he couldn't miss a chance to rib the cracker-crust and provel-cheese creation St. Louisans love so much.
"I love making fun of Imo's Pizza," he says. "It's such a divisive topic because it's specific to St. Louis."
As much as Friedlander jokes about the square beyond compare, it's clearly getting under his skin.
"I've come to actually like it," he says. "Legally, it's not even like pizza. The cheese they use is, like, not even real cheese. It's a cheeselike product. I think legally, you're not allowed to call it cheese."
When he came to St. Louis to perform at the Firebird last year, Friedlander bought Imo's Pizza for the crowd. He even tweeted a photo to arguably the biggest Imo's Pizza detractor in America, Jimmy Kimmel, who responded:
See also: Judah Friedlander Buys Firebird Crowd Imo's Pizza After Show, Jimmy Kimmel Still Hates It
But don't worry. St. Louisan and uber-hottie Jon Hamm is sticking up for us to Jimmy Kimmel:
Follow Lindsay Toler on Twitter at @StLouisLindsay. E-mail the author at Lindsay.Toler@RiverfrontTimes.com.