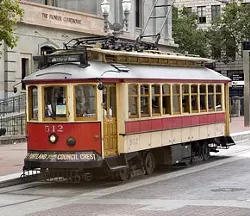 Portland's Vintage Trolley #512 is on its way to St. Louis.
St. Louis' gain is Portland's loss.
After twenty years running in the City of Roses, Portland's old-timey streetcars are moving to St. Louis as part of a ten-year lease deal, according to KGW News in Portland, Oregon..
St. Louis will lease two of Portland's cars, which are currently running only eight days a year, for $80,000. A new streetcar costs more than $1 million.
See also: Loop Trolley Project Slapped with Second Lawsuit
But Portland -- a city with a deep love for public transit, nostalgia and all things hipster -- is already dreading the loss of their iconic downtown streetcars.
"Once they're gone, they won't come back," says Bill Failing, whose group, Portland Vintage Trolley, helped bring streetcars to the city two decades ago, to KGW. "People will not realize what they've lost, until it's lost."
Keeping the streetcars "would have added to the whole hipster vibe of the city," says Hannah Stewart, a twenty-year-old student, to KGW. "It would have been fun to ride them."
Portland revitalized its trolley system in 1991 to bolster a struggling downtown district. But since then, business has picked up and a new electric streetcar line has rendered the streetcars into little more than a tourist attraction -- one the city says it simply can't afford.
"Transferring them to St. Louis will put them in daily use on a new heritage streetcar line," says TriMet spokeswoman Mary Fetsch. "They will be the centerpiece of the city's efforts to revitalize the Loop Business District. If someone else can make better use of them, that's exciting."
The trolleys should arrive in St. Louis mid-summer. The Loop trolley project aims to build a streetcar line from Forest Park through the Loop Business District, and the Federal Transit Administration has committed $25 million to the project.
Follow Lindsay Toler on Twitter at @StLouisLindsay. E-mail the author at Lindsay.Toler@RiverfrontTimes.com.